Los Angeles Dodgers: Why Don Mattingly Needs a Banner Year to Keep His Job
Although Los Angeles Dodgers manager Don Mattingly led his team to a winning record in his debut season, he needs a banner year in 2012 if he hopes to keep the position long-term.
There is no chance of him walking away from the organization. Back in September, Mattingly made it clear that he wants to manage the Dodgers "until it's time to retire."
His tenure, though, could end with an abrupt termination for any of the following reasons.
Momentum from August/September 2011 Doesn't Carry into 2012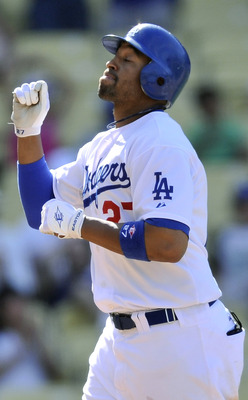 No Los Angeles Dodgers fans were hoping for an 82-79 record at this time a year ago.
However, L.A.'s third-place finish in the National League West was an accomplishment considering where they stood through mid-August.
They were nearly a dozen games below .500 before catching fire and winning 25 of their final 35 regular-season contests!
Oddly enough, most of those victories down the stretch came in the absence of stud right fielder Andre Ethier.
Matt Kemp, Clayton Kershaw, Dee Gordon and Kenley Jansen were instrumental and all are back in Dodger blue for 2012.
There will be sky-high expectations for Don Mattingly and this club because the players he was able to win with in August and September 2011 are still at his disposal.
Laid-Back Losers Don't Survive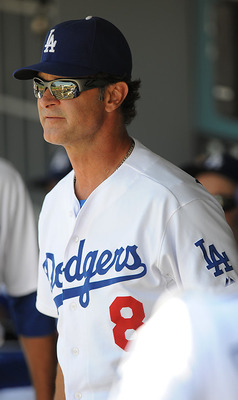 Regardless of his managerial success, nothing can alter Don Mattingly's laid-back style.
He doesn't yell or throw tantrums or flip off the media. If he needs to vent, he does so privately.
He is the Phil Jackson of baseball. . .only without the championships.
This is partly why Mattingly's job is on the line in 2012. A chilled demeanor often comes off as apathy and people naturally get riled up if a losing team doesn't appear to be playing with any urgency.
Nobody will second-guess Donnie Baseball if the Los Angeles Dodgers are in World Series contention this season. But Los Angeles will be calling for his head if his unusual calmness doesn't yield victories.
GM Ned Colletti Could Exercise "Out" Clause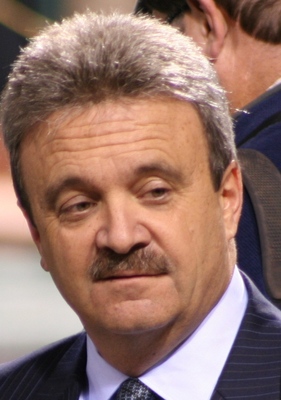 Ned Colletti—the longtime general manager of the Los Angeles Dodgers—is among Don Mattingly's top supporters. After all, he promoted Mattingly in the fall of 2010 to succeed Joe Torre at the helm.
But what if Colletti skips town after a disappointing 2012 season? Who then would convince ownership to retain Mattingly for the following campaign?
We will see this hypothetical scenario play out if Colletti exercises his "out" clause. It was specifically written into the multi-year extension he signed during the 2009 playoffs.
Don't expect the GM to stay aboard a sinking ship if other opportunities present themselves.
The Angels Make the Dodgers Play Second Fiddle in Los Angeles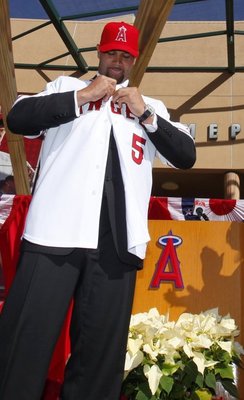 Across town, Los Angeles Angels of Anaheim spent money few people knew they had this offseason on marquee players like first baseman Albert Pujols and starting pitcher C.J. Wilson.
The good publicity from these signings alone is helping them capitalize on the disarray of the Los Angeles Dodgers. Imagine the excitement that will ensue if they actually win games with their big names!
Already I've mentioned Don Mattingly's zen-like approach and how it won't inspire many articles (no complimentary ones, at least).
If he doesn't dominate the competition and the Angels do, then the Dodgers will finally lose the hold they have had on L.A. for the last 50-plus years.
Failing to Back Up His Comments from February 28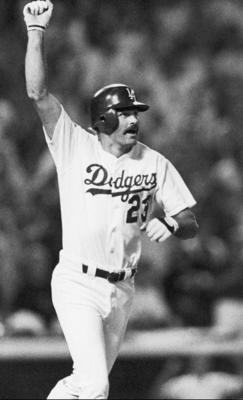 Don Mattingly himself spoke about the Los Angeles Angels-Dodgers rivalry early in spring training 2012.
From camp in Glendale, Arizona, he compared his current team to the New York Yankees and the Angels to the New York Mets. "The Dodgers are the Dodgers," he said, "and that's not going to change."
It's true that the Dodgers have the richer history of the two. Consistency through the decades has allowed them to pick up fans whose grandparents may have gotten hooked on the team back in the day.
But we're living in the present.
The Dodgers have not totaled more wins than the Angels in any season since 2004.
Their last National League pennant? 1988. That needs to change immediately for Mattingly to validate his comments.
New Ownership Will Have Money to Afford a Bigger Name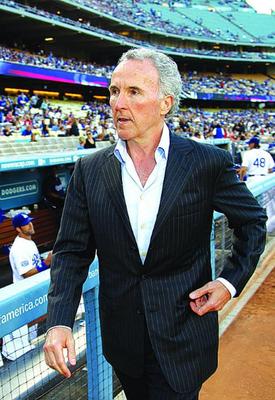 The impending Los Angeles Dodgers ownership change could have countless consequences.
While some are unpredictable, we can conclude with 99 percent confidence that the franchise will once again have the means to behave like a large-market team.
With the sale expected to close on April 30, the Dodgers should be active at the 2012 non-waiver trade deadline and even more so in the offseason.
They will consider upgrading at every position. . .including manager.
Don Mattingly is popular in Los Angeles, but the criticism about his inexperience is legitimate.
He must show dramatic improvement this season or else pray that a more respected, veteran manager doesn't become available.
Keep Reading

Los Angeles Dodgers: Like this team?