Super Rugby: A Positional Breakdown of Chiefs vs. Blues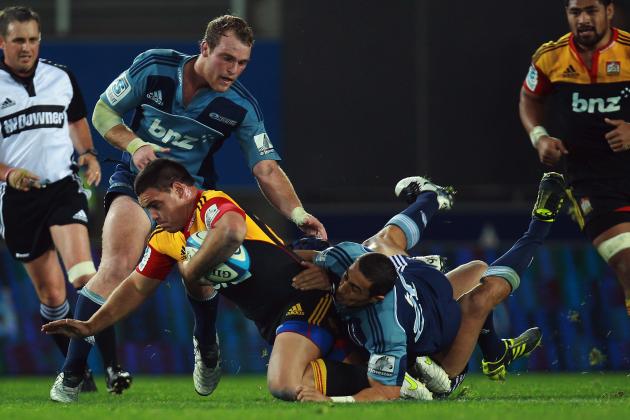 Hannah Johnston/Getty Images

On Friday, the Chiefs will be hosting their northern neighbours at Waikato Stadium for what should be a great matchup. The two teams are known for playing exciting rugby, despite not always succeeding in the win column.
Last week was similar for both sides. The Blues lost to the Crusaders after having an early lead and almost won, had it not been for Israel Dagg's fingertips. The Chiefs lost to the Highlanders after controlling a good portion of the match.
They both lost at home and will be looking to get their seasons back on track. Both teams suffered some injuries in opening week, the Chiefs in particular coming out pretty beaten up especially in the front row.
Here is a closer look at the positional battles...
Begin Slideshow

»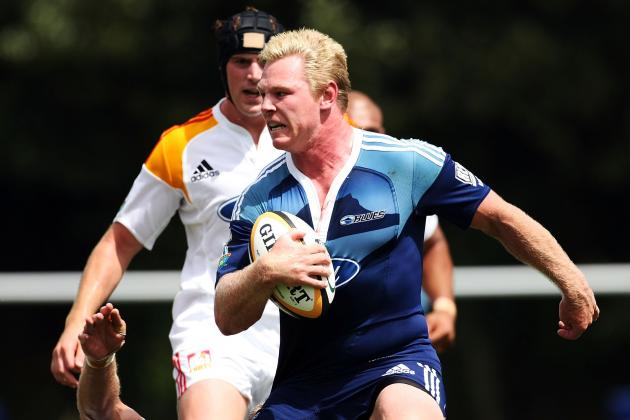 Hannah Johnston/Getty Images

Chiefs: 1. Sona Taumalolo 2. Mahonri Schwalger 3. Ben Tameifuna

Taumalolo had an impressive World Cup playing for Tonga. His scrummaging was solid and his play in the loose was great, showing hard tackling and a willingness to run the ball. The David Tua look-alike was lucky to not succumb to injury like his fellow props.
Samoan captain Mahonri Schwalger gets the nod this week, making his Chiefs debut over All Black Hikawera Elliot. While not as athletic as Elliot, he brings leadership and physicality to the position and is a more accurate line-out thrower.
Due to long-term injuries to both Ben Afeaki and Toby Smith, rookie Ben Tameifuna will be making his Super Rugby debut. He is massive at 134 kg and was a part of last year's New Zealand Under-20 team.
Blues: 1. Tom McCartney 2. Keven Mealamu 3. Tevita Mailau

Last week, McCartney was surprisingly effective against a strong Crusaders scrum. The regular hooker is undersized for a prop, but his amazing strength has more than compensated. After struggling to find game time behind the durable Keven Mealamu, he has a chance to cement himself as a regular loose-head once Woodcock goes.
Mealamu picked up where he left off with his high work-rate and hard running. His line-out throwing has been deteriorating over the years but he is still New Zealand's first choice hooker. The Blues skipper will be playing against the team he played 11 games for in 2002.
Charlie Faumuina injured his knee during training so his Auckland teammate Tevita Mailau will be starting. Mailau used to be ahead of Faumuina a couple of years ago and is a solid prop in the loose with ball in hand.
Verdict
Tameifuna is unproven and the Blues have most of the front row that gave the Crusaders a hard time in opening week. As good as Schwalger is, Mealamu is better. This is an easy choice.
Advantage: Blues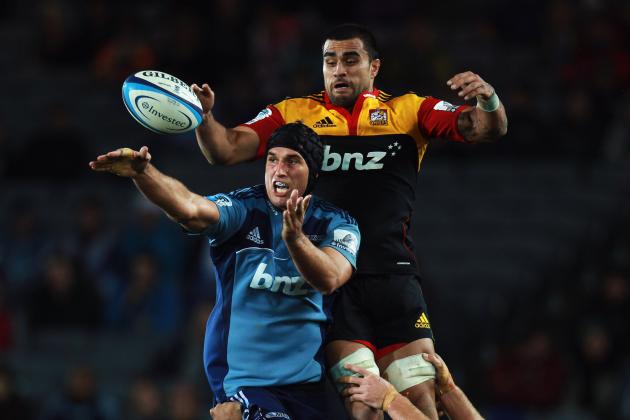 Hannah Johnston/Getty Images

Chiefs: 4. Craig Clarke 5. Brodie Retallick
Taranaki captain Craig Clarke is one of the better locks in New Zealand. He is a good line-out winner with a high work-rate. He will have to play at his best against the All Black pair of Boric and Williams.
Brodie Retallick was another member of last year's triumphant Under-20 side. The brother of Culum, Steamer Brodie had a solid debut but will face a bigger challenge this week in the Blues.
Blues: 4. Anthony Boric 5. Ali Williams
Last week the Blues second row was outclassed in the air by a Crusaders pair that featured Sam Whitelock and Tom Donnelly. But they should have a chance to rebound. Anthony Boric is one of the most mobile locks in the country and is a great scrummager as well as line-out winner.
Ali Williams has managed to go through a game without getting injured (with sighs of relief from Aucklanders everywhere). He seems to be on track to being his old self, but is still not the Ali Williams everyone grew to love.
Verdict
While losing to the Crusaders' second row last week, the Chiefs' second row is not of the same calibre. The Blues should definitely have an advantage in the second row as well.
Advantage: Blues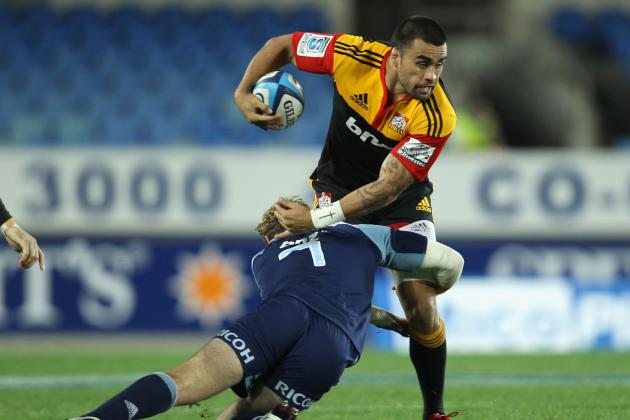 Phil Walter/Getty Images

Chiefs: 6. Liam Messam 7. Tanerau Latimer 8. Kane Thompson
Messam's problem in the past has always been his consistency. The Chiefs and Waikato captain is incredibly athletic, great at the breakdown and is one of the best ball-running forwards in the country, but he has a habit of making mental mistakes on defense, with untimely missed tackles.
Latimer is just one of the few people to have worn the No. 7 jersey for the All Blacks in recent years. He is still a great openside, winning turnovers and running the ball well, but since making his All Black debut he has not been as outstanding. He better play well because he is keeping rookie sensation Sam Cane on the bench.
Samoan international Kane Thompson is normally a lock, but will be playing No. 8 this weekend. He gives the Chiefs and extra line-out option at the back and brings the Pacific Island physicality to the mix.
Blues: 6. Chris Lowrey 7. Daniel Braid 8. Jerome Kaino
Lowrey appeared to be back to his old self last week against the Crusaders. He ran very well, scoring a try and did a great job at the breakdowns. He did miss a couple of tackles, but that was opening week and most people do have problems with missed tackles.
Braid had a great game last week and will be starting once more instead of his brother Luke. He was beaten in the breakdown battle by Matt Todd, and now has to face another standout in Tanerau Latimer. Maybe his competition with his brother will encourage him to continue playing at a high level.
Kaino was narrowly beaten by Kieran Read last week, but it was his first time playing at No. 8 in a while. The All Black hard-man had a couple of missed tackles and will be looking to re-establish himself as a monster loose forward.
Verdict
Against anyone else, the Chiefs' loose forwards would probably have the upper hand. Against the likes of Braid and Kaino however, they will face a stern challenge. Their lack of consistency is normally what lets them down in the season, but if they have a good day, they might be able to beat them.
Advantage: Blues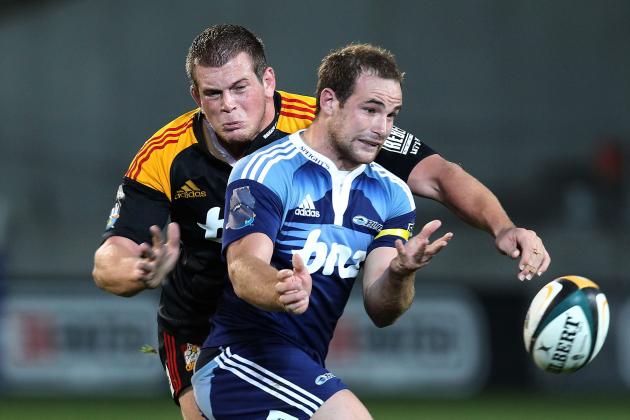 Phil Walter/Getty Images

Chiefs: 9. Tawera Kerr-Barlow 10. Aaron Cruden
Kerr-Barlow has overtaken the inconsistent and injury-prone Brendan Leonard as the Chief's No. 1 halfback. The 22-year-old had a great debut last season and has been continually improving. He is a great ball-runner who played for the Baby Blacks a couple of years ago.
Aaron Cruden is the fore-runner to be Dan Carter's backup. Though he only had two games worth of game-time at the World Cup, he did enough to convince the country that he is worthy of the position.
His first year was nothing special, but in the knockout rounds he showed a good eye for the hole in the defense, improved kicking and great tackling. He will have to play well to ensure the Chiefs can get the most out of their talented backline.
Blues: 9. Alby Mathewson 10. Michael Hobbs
Mathewson brings great mobility to the halfback position. The nippy runner can sneak through gaps around the ruck and always ensures the defense is watching. However, his passing has always been inconsistent, and passing is a halfback's job after all. He must be accurate against an emerging Kerr-Barlow.
Hobbs proved last week that he deserved his starting spot over Piri Weepu. His goal-kicking was average, making 60 percent of them, but his ball running and distribution were both solid.
He also did an outstanding job on defense, something many pivots seem to have problems with. If he keeps up his defensive game he may be able to neutralize the threat of Cruden.
Verdict
The Chief's young playmaking duo should have the edge here. Mathewson holds the edge in the half-back battle, but Cruden is on another level to Hobbs. Unless Hobbs can show improvements with ball in hand, Kerr-Barlow and Cruden are the better pair.
Advantage: Chiefs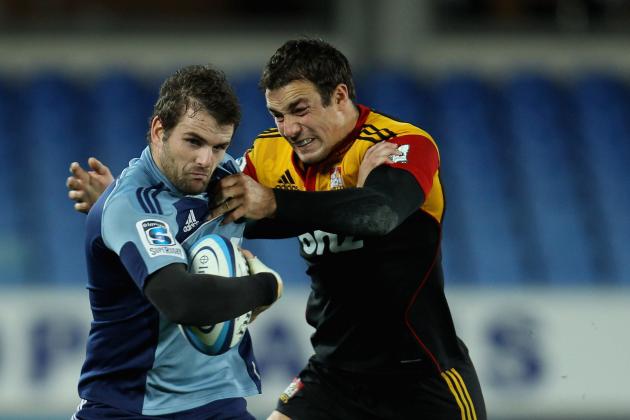 Phil Walter/Getty Images

Chiefs: 12. Sonny Bill Williams 13. Richard Kahui
At Super Rugby level, Sonny Bill's off-loading ability shines a lot more than it does on the test level. His trademark one-handed off-loads are helpful for keeping play alive. However, against a backline like the Blues, he better defend well.
While he has the potential to make a big hit, at times he takes the wrong angle and goes for the big hit instead of the leg tackle. He also sometimes appears slow when re-joining defensive lines.
When healthy, Kahui is one of the best backs in New Zealand. Although Henry liked him on the wing, at centre, his combination of size and speed make him a threat break the line at any time and can also make him a dangerous try scorer.
He is also a punishing hitter on defense. Just ask New Zealand's favourite Wallaby Quade Cooper.
Blues: 12. Benson Stanley 13. Rene Ranger
Stanley had an average game last week against the Crusaders by his standards. He may not have had any outstanding line breaks or big hits, but he hustled hard on defense, passed well and showed off a powerful boot.
Against Sonny Bill, who likes to run it at the defense, it will be interesting to see who comes off second-best.
Ranger had an outstanding game last week and seemed to want to erase all memories of the leg injury that ended his season. The powerful tackle breaker has outstanding speed and great defense. The mental lapses are still there, but are decreasing as he goes on.
Verdict
This matchup looks to be an exciting one. While Stanley and Ranger are All Blacks themselves, the Chiefs pair has more test experience and will have the home crowd on their side.
The way these guys attack and defend however, it will be interesting to see who wins the physical battle.
Advantage: Chiefs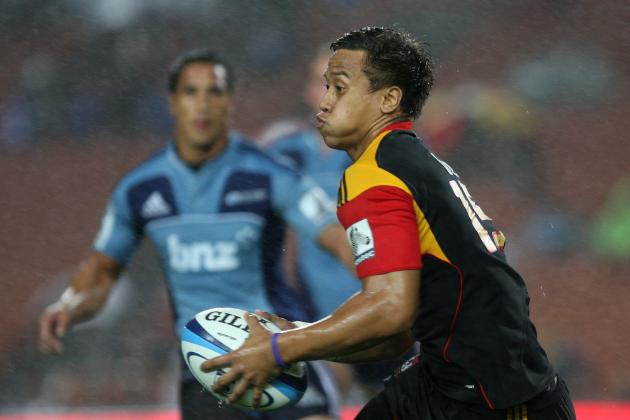 Sandra Mu/Getty Images

Chiefs: 11. Tim Nanai-Williams 14. Asaeli Tikoirotuma 15. Robbie Robinson
Former Sevens star Nanai-Williams is an exciting talent in the backline. The slippery runner also has a great boot and has played fullback and five-eighth in the past. He definitely has the speed to finish on the wing and is confident under the high ball. He will threaten on every touch of the ball.
Asaeli Tikoirotuma will be starting in place of the injured Lelia Masaga. The big Manawatu winger is making his debut and will have to play well in place of Masaga and his scoring ability.
Robinson's first year of Super Rugby was an inconsistent one. He has great agility and pace, but he has some mental lapses. He does have a great boot, however, and should pose a threat in the counter-attack either through ball-running or bomb-kicking.
Blues: 11. Rudi Wulf 14. David Raikuna 15. Isaia Toeava

Rudi Wulf's return to the Blues' lineup was seamless. He finished as the Blues' top linebreaker and was making players miss with every touch. If he keeps this up. he might be able to regain his place in the All Blacks once test season comes around.
Raikuna looked a lot like a young Joe Rokocoko in his debut. He may not have touched the ball much, but when he did, he made some good metres. Even his side-stepping motion resembled Rokocoko's.
He did have some handling errors, but also made up for them with some great catches. His debut should've given him some confidence.
Toeava is one of the best counter-attackers in Super Rugby. He showed that when he decided to run the ball back at the Crusaders.
However, he went for a lot of terrible bombs, ones that either went too high or didn't go far enough. If he decides to hold on to the ball more on the counter attack, he can pose a danger to the Chiefs' defense.
Verdict
Had Lelia Masaga been playing, this would've been a lot harder to decide, but the Blues' back three is a lot more experienced. They are coming off a great game in a losing effort and will look to bring that form to Hamilton tonight.
Advantage: Blues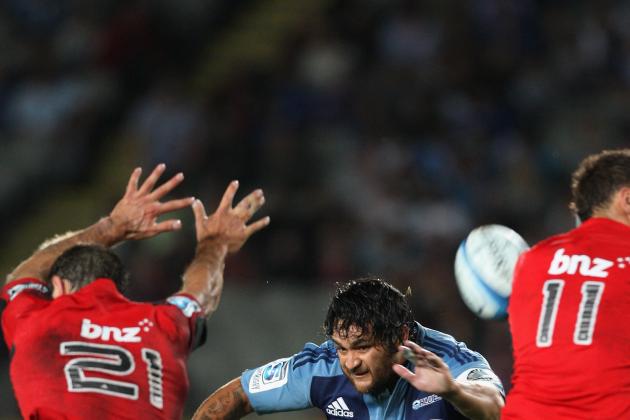 Sandra Mu/Getty Images

Chiefs: 16. Hikawera Elliot 17. Shane Cleaver 18. Fritz Lee 19. Sam Cane 20. Augustine Pulu 21. Andrew Horrell 22. Declan O'Donnell
The Chiefs bench is full of impact players. Hikawera Elliot will be on the bench to make way for Schwalger, but should make an instant impact through his ball running.
Fritz Lee and Sam Cane are both great loose forwards, with Lee being the more physical tackler and Cane being the fetcher.
Counties product Augustine Pulu is a great halfback who has impressed in the past provincial seasons. Big-booted Andrew Horrell can come on in case the Chiefs have goal-kicking issues.
Sevens Declan O'Donnell is sure to impress off the bench with his great speed and agility and nose for the try-line.

Blues: 16. Pauliasi Manu 17. Angus Ta'avao 18. Brad Mika 19. Luke Braid 20. Piri Weepu 21. Gareth Anscombe 22. Sherwin Stowers
The presence of Brad Mika and Luke Braid on the Blues' bench can rival the pairing of Lee and Cane. Mika hasn't played Super Rugby in a while, but the former All Black still brings physicality and experience to the table.
Braid might still be recovering from offseason surgery, but once he comes on, he better play well or else his brother will keep him there.
Weepu was the biggest disappointment of Super Rugby weekend, being poorly conditioned and shocking on defense. If he can regain some fitness, he could regain the form that made him a player of the year nominee.
Anscombe will make his first appearance on the Blues roster after having an outstanding game for the Blues second XV, while former sevens star Sherwin Stowers rounds off the bench.
Verdict
The Chiefs have more talent and experience on every level of the bench except maybe in the loose forwards, which is still very close talent-wise. Unless Piri Weepu can show he's in form or Anscombe can show he is Super Rugby ready, the Chiefs' bench has an advantage in the backs as well.
Advantage: Chiefs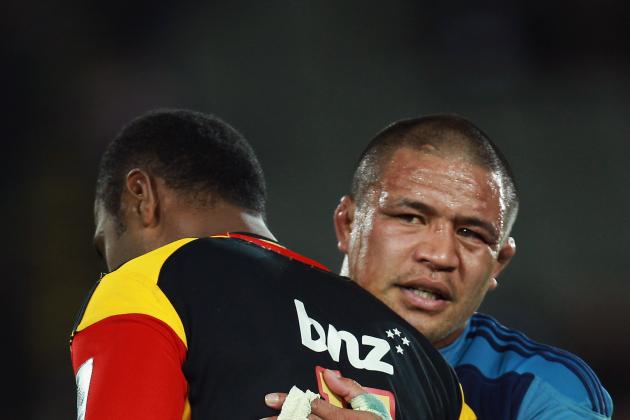 Hannah Johnston/Getty Images

Both teams are coming off close losses and another consecutive loss could make their season more difficult.
The Chiefs are dealing with some injury problems while the Blues are still relatively healthy. Under Cruden, the Chiefs' backline will have a fighting chance, but the Blues' forward pack and exciting backline of their own should be able to beat the Chiefs on their home turf.
While both teams have reputations for inconsistency, the Chiefs are known for poor starts to the season, whereas the Blues usually start off strong.
Advantage: Blues