2012 NFL Draft: Seattle Seahawks Won't Panic & Trade Up from 12th Pick
February 25, 2012

Christian Petersen/Getty Images
It's becoming de rigueur.
For the fourth straight year, the Seahawks will be drafting back-to-back with the Kansas City Chiefs. And for the third time, the Hawks will be picking after the Chiefs, thanks to losing the coin flip for the 11th and 12th spots in this year's draft.
In 2009, the Chiefs drafted third overall (defensive end Tyson Jackson) and the Hawks fourth (linebacker Aaron Curry).
In 2010, the Chiefs drafted fifth (safety Eric Berry) and the Hawks sixth (left tackle Russell  Okung).
In 2011, the Seahawks picked 25th (James Carpenter) and the Chiefs selected 26th (Jonathan Baldwin).
We already knew they would be drafting consecutively yet again, and the coin flip this morning determined that Kansas City will pick 11th and Seattle will draft 12th. (Per NFL rules, though, they will alternate each round, so the Hawks get the 43rd overall choice and go first in the even rounds.)
In 2009 and 2010, there was some concern the Chiefs would take Curry or Okung, leaving the Hawks with their second choice. But it turned out the way the Hawks wanted in both cases (even if Curry, stunningly, did not work out in Seattle).
This year, the Hawks will have enough options that it won't matter who the Chiefs take, even though they also figure to be leaning toward linemen.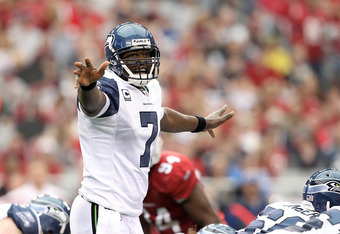 Christian Petersen/Getty Images
Don't Expect the Seahawks to Use that 12th Pick on a Quarterback
General manager John Schneider gave some great insight into the Seahawks' QB position in comments to reporters this week. Reading between the lines, you can tell the Hawks are not that satisfied with Tarvaris Jackson, they are not going to trade up in the draft to try to get Andrew Luck or Robert Griffin and they're not going to overpay Matt Flynn or Peyton Manning.
"I just know if you panic at the position, it can set the organization back. So we're not going to do that," Schneider told Clare Farnsworth before the Combine, basically ruling out spending a bunch of draft picks to get one of the top two QBs in this draft. "We're going to try different things at the position all the time, but we're never going to get ourselves in a situation where we just completely panic."
Then, at the Combine yesterday, Schneider reiterated: "I'm talking about giving up draft choices to go get somebody or guaranteeing somebody a ton of money that you're not quite sure is the guy that's going to get you over the hump. If you do that, then you can set the organization back."
Schneider gave props to Jackson for his performance under adverse circumstances last season (short turnaround, patchwork line, chest injury). But the front office seems to understand that Jackson is not the long-term guy. Pete Carroll previously lamented the fact that Jackson failed to rally the Seahawks in the fourth quarter in any of his five chances last season. And then Schneider listed a bunch of qualities Jackson has not shown at all.
"What is the perfect quarterback? You have to think it's a guy that first of all has a presence about him and can tilt the room or tilt the field his way."
Jackson rarely did that last season.
"It's somebody that is smart, poised, tough, can move—a guy that can make quick decisions."
Jackson was lauded for his toughness because he played through a chest injury (which he brought on himself with an ill-advised run), but he did not prove to be smart, poised or quick-thinking.
"And somebody that the rest of the guys in the locker room can look at and say, 'Hey, that's the guy. That's the guy we're going to be able to go win games with.'"
Jackson certainly didn't prove he's that guy. But he figures to start next season anyway, and the Hawks will develop Josh Portis and perhaps a rookie behind him.
Is Rice another Branch of the Same Broken WR Tree?
The Seahawks have proven time and again why signing free-agent receivers is a horrible idea. It rarely works for any team, but they have struck out more than anyone in the last six years.
First, they gave Deion Branch a $39 million deal, and he was paid about $29 million for playing 51 games in four-plus seasons. Then T.J. Houshmandzadeh was given a $40 million deal and received $13.5 million, despite playing only one year with the team. Now, it is Sidney Rice.
It's starting to look like Rice will be one of those supremely talented players who just can't stay on the field. He labored through hip, knee and shoulder problems last year and then missed the last five games after suffering two concussions. He had two shoulder surgeries in January, and Schneider said the goal is to have him ready for training camp. Good luck.
Rice signed a five-year deal worth $41 million last year, and he was paid $8 million in 2011. His $7 million salary this year is guaranteed, so the Hawks will just have to hope he gets healthy enough to make an impact in 2012. If not, they can cut him in 2013 to avoid his $8.5 million salary, and he'll go the way of the other high-priced receivers.
Giacomini Has Bumped Carpenter to Left Guard
While Rice is extremely overpaid, Breno Giacomini could be a major bargain. The Hawks were very smart to ink him to a two-year deal worth $6 million, considering he figures to be the starting right tackle in 2012 and possibly beyond. He was a big part of the line's improvement over the second half of last season, after rookie James Carpenter tore an ACL.
And now Schneider reportedly says Carpenter could move to left guard, which is where we have said he would end up anyway.
"It's an option for us, depending on what happens in the draft or free agency," Schneider told reporters.
A source told Pro Football Weekly that the right-tackle job is Giacomini's and that Carpenter will have to win it back once he is healthy.
"There are probably a lot of people around the league wondering why they would spend that kind of money on a guy like (Giacomini), but the Seahawks honestly feel they're lucky to be getting him so cheap," the source said. "Basically it will be up to Carpenter to win back the starting job—at whatever point he's ready to go again."
Carpenter probably won't be back until training camp at the earliest -- that would be eight months removed from the injury -- and PFW reports that he might start the season on the PUP (thus missing the first six games).
And, when he comes back, he probably will end up at left guard, perhaps replacing the injury-prone Robert Gallery in 2013.
Hey, as long as he ends up starting somewhere on the line, he won't be a wasted first-round pick.
EX-HAWK TALK
Just when we were wondering about Lofa Tatupu, we saw a report that says he is going to try to get back in the league after sitting out this season. And then we saw that he worked out for the Saints recently.
Tatupu reportedly talked with the Eagles after the Hawks cut him last year, but Philadelphia wanted to see its young linebackers in action and Tatupu's surgically repaired knees weren't ready.  
Other teams that reportedly might be interested are Chicago, Washington and Oakland (a possible reunion with Aaron Curry?).
It will be interesting to see whether Tatupu is able to come back with another team this year or whether he ends up calling it a career after just six years—the last three plagued by injuries.
And no, he's not coming back to the Hawks.
Another injured former Seahawk is not so lucky. The Seahawks spent three years developing Leonard Weaver, only to see him turn into a Pro Bowl fullback in Philadelphia in 2009. But a devastating knee injury in the 2010 season opener seems to have ended his career.
Weaver suffered a torn ACL and nerve damage in his left knee. He has had three surgeries and doctors reportedly have told him there is a 99 percent chance he will never play again. Really too bad for a good guy who turned himself (with help from Seattle coaches) from a college tight end into a very good NFL fullback.
Another former Seahawk is back with the team. Marquand Manuel was an underrated safety who filled in admirably for Ken Hamlin in the 2005 Super Bowl season after Hamlin had his head bashed during a street brawl. Manuel got hurt in the Super Bowl, and his inexperienced replacement turned into the goat (along with Jerramy Stevens and the refs) when he was out of position on two big touchdowns. Manuel was hired by the Seahawks to help with special teams, and his savvy should help.
Speaking of savvy and great linebackers in Seahawks history, Keith Butler has been the linebackers coach of the Pittsburgh Steelers since 2003. And it looks like he will remain in that position until Dick LeBeau retires, after Butler turned down a chance to become Chuck Pagano's defensive coordinator in Indy.
Butler has been making other linebackers better ever since his playing days, when he covered for freelancing Freddy Young and helped him make two Pro Bowls. In Pittsburgh, Butler has helped Joey Porter, James Farrior, James Harrison, Lawrence Timmons and LaMarr Woodley keep alive the Steelers' long tradition of great linebackers.
Butler is way overdue to become a defensive coordinator in the NFL, but he apparently is happy biding his time in Pittsburgh.
To find out why the Seahawks should consider using the transition tag instead of the franchise marker, go Outside The Press Box.