World Football: What Greece Needs to Address Before Euro 2012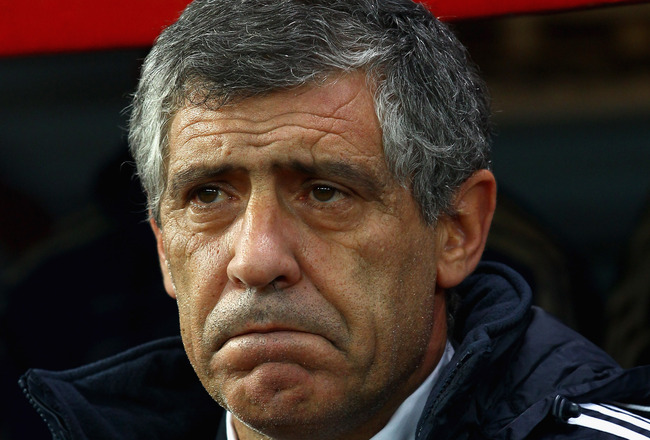 Julian Finney/Getty Images
After winning the 2004 European Championship, Greece has gotten the best from their opposition. No longer a pushover, Greece has qualified for the last three European Championships and the 2010 World Cup.
Since taking over for Otto Rehegal, Fernando Santos has guided the Greeks to an incredible 10-7-1 record with wins against Croatia and Serbia, to name a few. The record also includes several draws against teams like Russia and Poland, who they will face in June in the European Championship.
Santos has done well mixing in some youth to the national team. Players like Kyriakos Papadopoulos, Ioannis Fetfatzides, Stefanos Athanasiadis and Soriris Ninis have all become regular call-ups to the national team before the age of 23.
Greece will have three games to finalize its roster beginning with a game against Belgium on Wednesday and tune-ups against Slovenia and Armenia just before opening the 2012 European Championships in Poland on June 8.
Who Will Be in Goal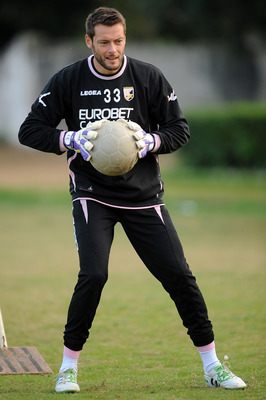 Tullio M. Puglia/Getty Images
Goalkeeper has been a revolving door since the retirement of Antonios Nikopolidis in 2008. There have been several keepers who have started at least10 games for the Greeks. Kostas Chalkias has started the most games since 2008, but hasn't played in any games for PAOK since November 2011.
Michalis Sifakis, who started the third amount of games since the 2008 form, hasn't been real solid for Aris this season. Even with that, Sifakis is still in contention for the team because no one has yet to establish themselves as a No. 1.
Stefano Kapino, at the age of 17, already earned his first cap for Greece back in November. Kapino played well for Panathiniakos from October to December to keep PAO in first place in the Greek Superleague.
Stefano though hasn't seen the pitch in 2012, which will probably cost him a chance to make this team.
That leaves us down two Alexandros Tzorvas and Orestis Karnezis. Tzorvas was between the pipes during most of qualification. Tzorvas moved from PAO to Palermo over the summer and has played well for them when given the chance.
Unfortunately for him, he hasn't seen much time with the return of their No. 1 goalie Emiliano Viviano.
Orestis Karnezis inherited the starting spot at PAO and has played outstanding football in the last two months. After losing his spot at PAO to Kapino, Karnezis has only conceded one goal in his last 12 games. His play has kept PAO in first place in the Greek Superleague.
Can Anyone Else Score
Julian Finney/Getty Images
Greece has never been any offensive juggernaut. While the perception around the world is they sit back and play defense, that is not the case under Santos.
Santos uses a 4-3-3 system, allowing for more offense. Greece has one proven reliable scorer Theofanis Gekas. That is not enough to cut it to advance out of the group stage. Georgios Samaras, Dimitri Salpagidis or Stefanos Athanasiadis will need to do more for this team.
Samaras has 51 caps for Greece but has only found the back of the net seven times. Samaras will need to use his size and skill to create more chances for Greece to be successful.
Salpagidis, who has scored several important goals for Greece, also hasn't found the back of the net as often. With 54 caps, Dimitri has just six goals. As a complementary player for the Greeks, Salpagidis is looked to run under long balls and stretch the defense.
Stefano, who has emerged as a reliable scorer for PAOK over the last two years, has earned a call-up to the squad. He has scored 10 goals in 24 games for PAOK in all competitions, including a game-winner against Tottenham to allow PAOK to advance to the knockout stage of the Europa League.
Santos can also call upon Kostas Mitroglou who is having another solid season for Artromitos. The former Olympiacos striker has scored several times in the Champions League before falling out of favor at Olympiacos.
Recently added to the squad, Lazaros Christodoulopoulos has returned to national team after being away for a couple of years. Lazaros just returned from a severe knee injury that kept him out since August.
Since his return to PAO, Lazaros looks not to lost a step and is another quality player that Santos can call upon to insert a different pace to the game.
Which Newcomer Will See Plenty of Minutes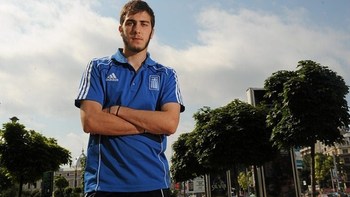 Kostas Fortounis will be giving his first chance at impressing coach Fernando Santos in the game against Belgium on Wednesday night.
Fortounis is having a solid season for Kaiserslautern in the German Bundesliga. While not lighting up the score sheet with goals and assists, the offense does run through him.
Other youngsters that can be called up to the squad:
1) Andreas Tatos, Midfielder, Atromitos
The Olympiacos midfielder playing on loan at Atromitos has guided Atromitos to fifth spot in the Superleague. While yet to crack the midfield of the national team, his play has caught the attention of all the Greek media outlets. Only 21, Andreas has a bright future on the national team.
2) Apostolos Vellios, Striker, Everton
The 20-year-old striker who has struggled to get time at Everton, but is still tied for the team lead at three goals. Playing on the Under-21 team, Apostolos has two goals in four games and will be the featured player for Greece against Germany.
3) Thanos Petsos, Midfielder, Kaiserslautern
Teammates with Fortounis, Thanos is more of a defensive midfielder who can play several positions on the field. On the Under-21 team, Thanos is more of a distributor than defender.
If he is able to make the team, his versatility can come in handy and allow Santos to take more offensive-minded players if needed.
Is There Anything Left in the Tank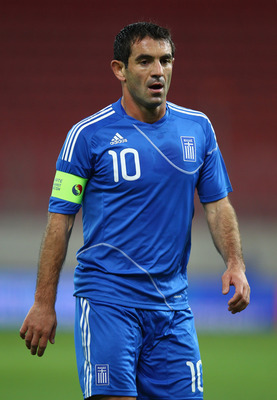 Julian Finney/Getty Images
Georgios Karagounis, the captain of Greek national team, is 34 years old and has seen his playing time for PAO be diminished greatly.
He has appeared in just 12 games this year totaling a mere 335 minutes of action. Even though on the club level, Georgios' role has been reduced; it is not the case on the national team.
On pace to be the most-capped Greek international, Georgios is still an adept free-kick taker. With Greece being so deadly on set pieces, Giorgios will still have an important role in getting Greece out of the first-round games.
Georgios is the only one getting up there in years.
Kostas Katsouranis, Theofanis Gekas, Dmitiri Salpagidis and Giorgios Fotakis are also into their 30s. While Fotakis' role is more of a substitute, the others are key members of the team. All will be expected to perform if Greece is going to advance.
Will Sotiris Ninis Be Ready

Ninis dances around Israel

Sotiris Ninis burst on the soccer stage five years ago when at the age of 16 he debuted for Panathinaikos. Since his debut, Ninis has been looked as the future of Greek soccer.
Ninis hasn't disappointed, either.
At the age of 17, Sotiris almost got Greece its first Under-19 championship, losing to Spain 1-0. Sotiris was named Player of the Tournament.
He earned his first national team call-up against Cyprus back in 2008 and scored in his first appearance. Sotiris game has continued to develop and improve and is now the most important player on the national team.
Unfortunately for him, Sotiris has only played in one game since his goal against Israel. Sotiris tore his ACL back in that game. While Ninis is scheduled to return to the pitch in the coming days, what will his skill level be at as the Euro inches closer?
Hopefully, for Greece's sake, Ninis will come back without missing a beat. If not, it will drastically hurt the Greek chances of moving on out of the group phase.
Who will fill in if Ninis is unable? Feftazides? Fortounis? Tatos? These are some of the questions that need to be answered as the games approach.
Keep Reading