New England Patriots Position by Position Offseason Preview: Defensive Line
February 25, 2012

Jim Rogash/Getty Images
Addressing the front seven comes down to numbers: 4-3 or 3-4. As in, will the Patriots continue to play a 4-3 defense or revert back to the 3-4 defense that head coach Bill Belichick preferred until last season?
Belichick has explained the switch from an odd front to even, saying that a 4-3 is easier to teach than his 3-4. With all the new additions to the defense and a short training camp, Belichick felt it was the best way to get the whole defense going in the same direction.
Now that labor strife won't get in the way of offseason preparations, will Belichick bring back the 3-4?
Labeling New England's defense with either front is misleading, as Belichick built the defense to be flexible. They're able to switch from one front to another to suit the tailor-made game plans on a week-to-week basis.
That will continue in 2012, but I expect New England to play in a 3-4 most of the time.
Viewing the defensive line as if they will play with three down linemen, the unit looks pretty good. NT Vince Wilfork had his best season last year. With one-gap responsibilities allowing him to be more aggressive, Wilfork had a career high in sacks with 3.5 and two interceptions, and he scored his first touchdown on a fumble recovery.
Unfortunately, in a 3-4, DEs Andre Carter and Mark Anderson would be misfits on the defensive line. Their situations are interesting conundrums for the Patriots.
New England has some good, young linemen. Kyle Love, Brandon Deaderick, Myron Pryor and Ron Brace are all 25 years or younger. Used situationally, they can be grouped with Wilfork for the best results: Love and Pryor on the pass-rush unit would quickly collapse the pocket. And if the Patriots can tap into Brace's potential, he would be an anchor when defending the run with Deaderick.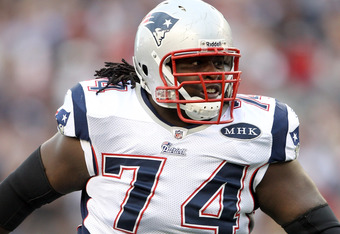 Elsa/Getty Images
If the defense is switched, the Patriots won't need as many linemen as last year. That could spell doom for Shawn Ellis and Gerard Warren. For one, Ellis didn't produce enough to warrant the contract New England gave him. Secondly, it's unknown know how much they have left in their tanks. Warren will be 34 by the season opener, Ellis 35.
Warren and Ellis are free agents, but don't rule out retirement for them. The Patriots might try to talk Warren into playing one more year if Brace doesn't perform well. This might be Brace's last chance to retain his roster spot.
Sadly, New England couldn't hold a space for Mike Wright. From being an undrafted free agent out of Cincinnati, Wright fashioned a productive six-year career out of his long-shot opportunity. His career might be over because of concussions.
Wright suffered his first concussion in 2010 and was placed on injured reserve, missing the rest of the season. He returned for the season opener in 2011, but Wright couldn't finish the game. Wright was placed on IR again.
Earlier this week the Patriots released Wright. He's free to sign elsewhere, but he is a medical risk. It's doubtful any team will give Wright a chance to continue his career. Wright is taking his health seriously and may decide to retire for his own sake.
There are a lot of quality defensive tackles that project as good fits in an odd front in this year's draft. New England could have their choice between the likes of Jerel Worthy, Fletcher Cox or Devon Still by the 27th pick.
Question? Comments? Send to talktome@randolphc.com.