WWE Bleacher Report Card: Grading the Current Title Belts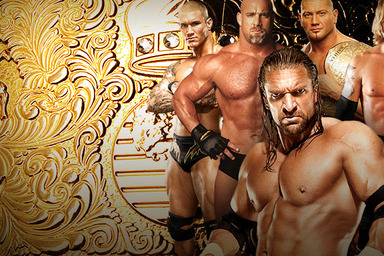 Courtesy of WWE.com
Hello fellow Bleachers!
For some time now, I've wanted to start an arbitrary rating system for the minutiae of the WWE.
After seeing a plethora of ratings articles on this site (and others) I've decided to change the game up a bit. Most people use a 0-10 scale to rate what they feel is worthy in the WWE, but numbered ratings have never really sat well with me.
In the following weeks I will grade everything from ring attire to commentary ability in the WWE using a school grade system, with an "A" being near perfection and an "F" representing a miserable failure.
In this, the first of a hopefully successful series of ratings articles, I will grade based on my personal opinion the designs of the title belts currently being used in the WWE.
Begin Slideshow

»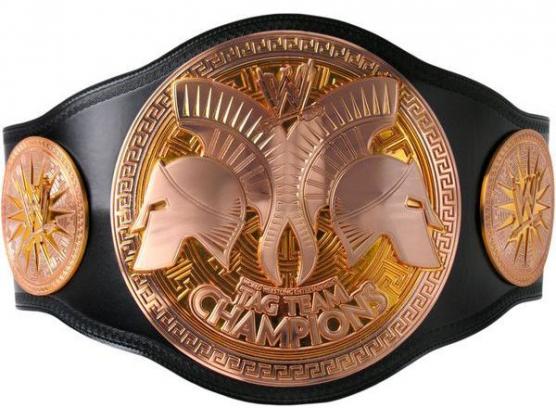 Courtesy of WWEShop.com
At Night of Champions in 2010, the WWE debuted a new title belt for its tag team division.
I, among others in the IWC, was underwhelmed by the new design.
If the entire goal was to make the belt unique and recognizable, then I could call it a success, but I have a serious problem with this design—it isn't gold!
For many years the term "championship gold" has meant something specific in the world of professional wrestling, and this belt does not deliver on the ideal picture.
The main plate of this belt looks like a giant penny when viewed from afar, and unlike the former ECW championship belt, the design is not intriguing enough to compensate for its incorrect color.
Final Grade: C-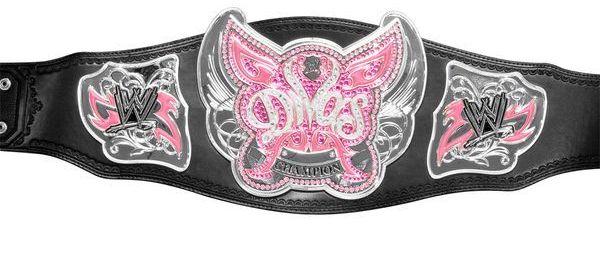 Courtesy of WWEShop.com
I'm not sure I can say enough bad things about the Divas championship belt.
I get that they wanted a title that would stand out among the other belts in the business. I could understand incorporating the pink color, or a slightly feminine design. Honestly, I could.
This atrocity, however, has almost no redeeming qualities. A horrible mix of a pink background, an awful text font, and an unforgivable butterfly design makes this the worst belt in recent wrestling history.
Why would the WWE take something as simple and elegant as the women's championship and replace it with this garbage?
Final Grade: D-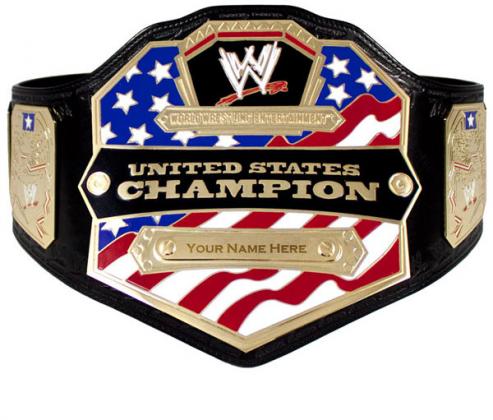 Courtesy of WWEShop.com
I find it hard to dislike the look of the United States championship belt.
While the color scheme is a bit gaudy, I feel the WWE has accomplished their intended goal with this belt. The person wearing this is the champion of the United States of America, and has proudly displays their stars and stripes.
I will say, however, that whenever a non-American wins this title, I laugh a bit. Imagine the All-American American Jack Swagger sporting this with an Italian flag in the background. What about Kurt Angle wearing the flag of Sri Lanka?
The validity of a championship specific to the USA is strange to me, but I suppose the belt itself isn't to blame, though.
Final Grade: B+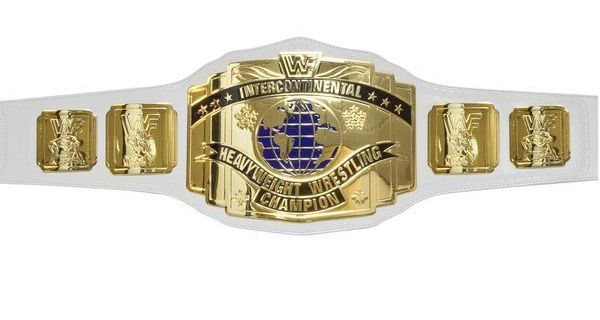 Courtesy of WWEShop.com
If tomorrow, Cody Rhodes were to leave the WWE forever, I would place him as an amazing Intercontinental Champion if only for bringing back this incredible belt.
Look at that thing! The white leather strap demands attention, and the golden plate screams "I am a champion!"
I always felt the previous Intercontinental belt was a bit lackluster, but after the debut of this belt, I think any superstar should strive to wear it around their waist.
If only we could get Rhodes to, you know, actually defend the thing once in a while.
Final Grade: A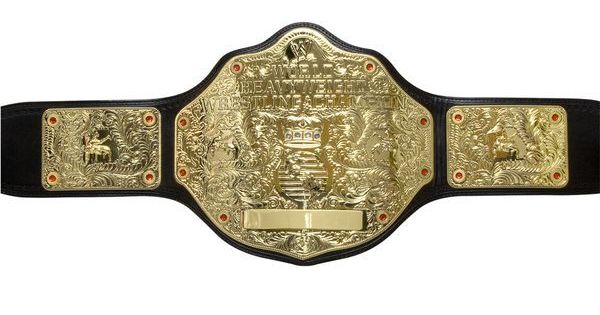 Courtesy of WWEShop.com
"The Big Gold Belt"
In my opinion, there has never been a more recognizable title belt in professional wrestling history.
From the days of the NWA to the nWo spray painted title in WCW, this belt has prestige and history written all over it.
When the WWE brought this belt on as its own World Heavyweight Championship, I was thrilled, and seeing it still calls back to watching the Monday Night Wars as a child.
The only thing I have against this design is that with its gold-on-gold design, the fine details of its craftsmanship are hard to make out, especially on television. Perhaps I'm being too picky...
Final Grade: A-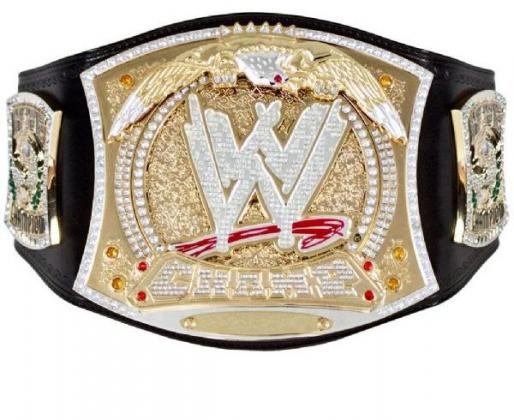 Courtesy of WWEShop.com
If there is one thing the IWC likes to complain about, it would be the WWE Championship belt.
I get it, I really do. The thing looks like Goldust threw up on Flavor Flav and had the result made into a belt by the Million Dollar Man.
My problem with all the complaints comes in when I look at other major title belts. Take a look at UFC's heavyweight belt, then look at what TNA has around the waist of Bobby Roode. If you were across the room, could you tell them apart?
This belt is gaudy, but when someone sees it, they immediately know that its the WWE Championship. Even non-wrestling fans recognize this as the biggest prize in the game.
Isn't that what they strive for? People know this belt, and the kids buy the hell out of the replicas.
Still, the thing really is ugly, isn't it?
Final Grade: C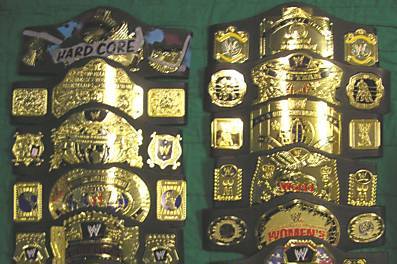 Courtesy of wwecollections.blogspot.com
Attitude Era WWF/E Championship belt: A
Attitude/PG Era Intercontinental Championship belt: C-
Hardcore Championship belt: A-
Cruiserweight Championship belt: B-
US Spinner belt: D-
Silver ECW Championship belt: A
Gold with blue ECW Championship belt: C+
Women's Championship belt: B
Million Dollar Championship belt: A-
WWE Tag Team Championship belt: C
World Tag Team Championship belt: D+
Undisputed Championship belt: B
European Championship belt: C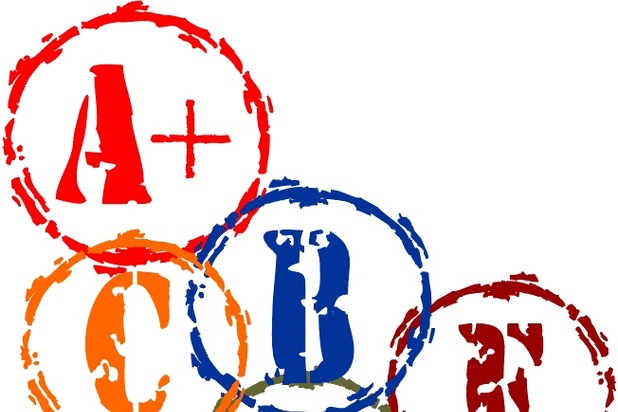 That is all for the first edition of Bleacher Report Card!
Disagree with any of the grades? Have an idea for a topic you'd like to see graded? Feel free to be your own Bleacher Teacher and give me your grades in the comment section!
Bobby "The Bleacher Teacher" Brandi is on Twitter! Follow him @BleacherTeacher for live coverage of WWE events and general complaining.