2012 NFL Draft Projections: 8 Veterans That Will Be Disposable After the Draft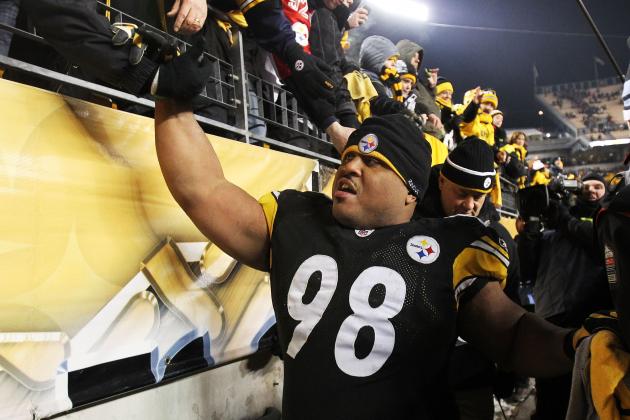 Ronald Martinez/Getty Images
Casey Hampton has been one of the centerpieces of the Steelers' elite defense for years, but it may be time for them to start looking for his replacement
The NFL Draft is every team's chance at hope. Teams have the opportunity to add young players with upside in the hopes they become the new faces of the franchise. This usually means, however, that veteran players' roles are usually usurped by this younger crowd.
Sometimes veteran players become replaceable because they are nearing the end of their career and cannot play at the level they previously could. Some vets are jettisoned due to large contracts that no longer match the caliber of their play.
Many veterans are replaced simply because the rookies drafted to take their position are better players than they are.
Come this April, many NFL veterans will find themselves battling to keep their roster spots following the draft. Here are some of them:
Begin Slideshow

»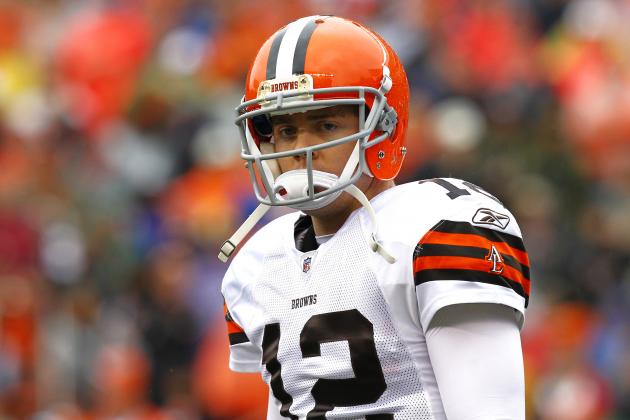 Tyler Barrick/Getty Images

The Cleveland Browns haven't had a legitimate franchise quarterback since Bernie Kosar during the previous iteration of the franchise prior to their move to Baltimore. Make no mistake, they've tried to find one.
Tim Couch, the former second overall pick, was a huge bust. Derek Anderson performed well for one season, following which his performance fell off a cliff. Brady Quinn never really had a chance, but his performance to date suggests he wasn't really deserving of one anyway.
Colt McCoy is the team's most recent attempt at finding a long-term franchise quarterback, and though he's performed admirably given his physical limitations, he's simply not that guy. 6.3 yards per attempt and a 20:20 touchdown to interception ratio just isn't going to cut it as a starting quarterback in the NFL.
While he's the best they've had in a while, McCoy should become disposable following the NFL Draft. The Browns seem like the most logical fit for star Baylor quarterback and Heisman Trophy winner Robert Griffin III, and though it may take a high-priced trade into the second spot to obtain him, he would instantly make McCoy obsolete.
If the Browns sign Matt Flynn in free agency as opposed to waiting until the draft, McCoy may find himself on the scrap heap even earlier than expected, but either way, the chances of McCoy entering the 2012 season as the Browns' starter are slim to none.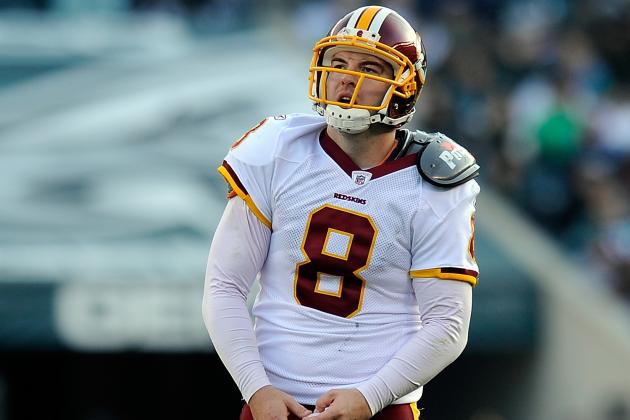 Patrick McDermott/Getty Images

If Robert Griffin III doesn't end up in Cleveland replacing Colt McCoy, the other most likely destination for the Baylor star is in Washington replacing Rex Grossman as the Redskins' starting quarterback. Washington has swung and missed on quarterbacks dating back to Mark Rypien, and the team hasn't had a legitimate star at the position since Sonny Jurgensen in the '60s and '70s.
The last several attempts at patching the quarterback position have led the Redskins to such names as John Beck, Donovan McNabb, Jason Campbell, Mark Brunell, and Brad Johnson. Grossman is by no means a clear step below those options, but he's nowhere near the solution, either.
Grossman is already 31 and is coming off a 16 touchdown, 20 interception campaign. Though quarterback rating is a flawed stat, Grossman's pitiful 72.4 rating in 2011 still accurately portrays the mediocrity of his play.
In nine years in the NFL, Grossman has only thrown for more than seven touchdowns twice, and his career 6.6 yards per attempt rating is subpar at best. Basically, he's an average backup option at best.
The Redskins should be in the running for both Flynn and Griffin, similar to the Browns, and no matter which option the team ends up going with, Grossman should find himself headed for either a backup role or the unemployment line sooner rather than later.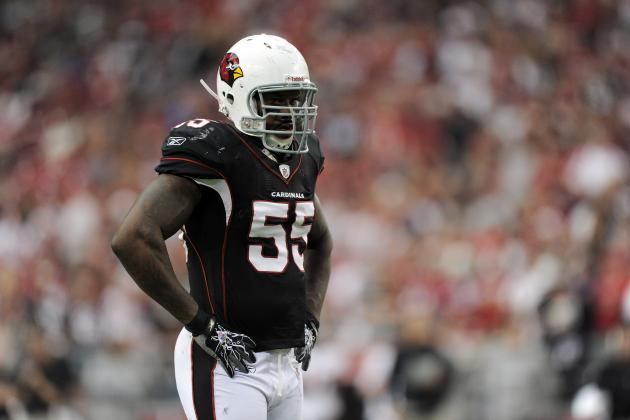 Harry How/Getty Images

Joey Porter used to be a star pass-rusher. The former Steeler has racked up 98.0 sacks in his career, was elected to the Pro Bowl four times, and was named a first-team All Pro in 2002.
Turning 35 this March, Porter seems to be running out of steam. His stats took a turn for the worse upon arriving in Arizona in 2010, as he has only picked up six sacks in 20 games.
Porter played 14 games in 2010 and ranked near the bottom in Pro Football Focus' pass-rushing productivity stats, notching a sack, hit, or pressure in only 31 of 371 pass-rushing snaps. His productivity took yet another step backwards in 2011, as Porter only pressured the quarterback a paltry four times in 125 pass-rushes. In only six games, he graded second-to-last in PFF's 3-4 outside linebacker rankings.
Porter's contract calls for him to make $5.75 million in 2012, but his time in Arizona is most likely nearing its end. Though the Cardinals tied for seventh in the league with 42 sacks, that total should be even greater in 2012 if they replace Porter with a younger pass-rusher.
Porter has likely outlived his usefulness to the Cardinals. Expect them to draft a young pass-rusher and send the veteran on his way.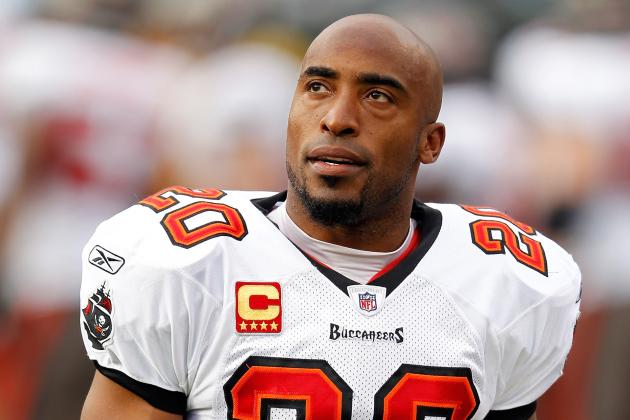 Streeter Lecka/Getty Images

Ronde Barber was once known as one of the NFL's elite cornerbacks. The five-time Pro Bowler and three-time first-team All Pro selection was one of the few true shutdown corners in the league, and has been an iron man as well, playing every game in each of the last 12 seasons. That's right, the last time he missed a game was 1999.
At the age of 36 last year, Barber's performance slid backward to the point that he was no longer effective as a starter. Among cornerbacks, he missed a league-high 22 tackles and gave up 340 yards after the catch, third-worst in the NFL.
Barber's 86.8 passer rating allowed isn't the worst of the worst, but it's not very good, either. To sum it all up: Barber simply isn't that good anymore.
With the Buccaneers holding the fifth overall pick in the draft, LSU cornerback Morris Claiborne could make a lot of sense for a team that allowed the second-most yards per attempt in the league with 8.2.
Barber is a free agent, but Tampa Bay has expressed interest in bringing him back. That said, if the Buccaneers are able to solve their cornerback problem in the draft, it might be time for Barber and the Bucs to part ways.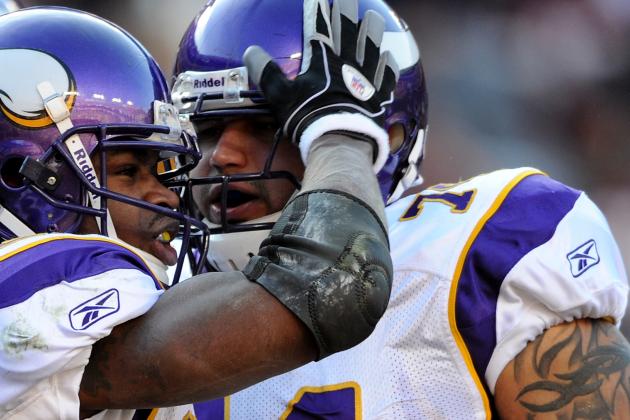 Patrick Smith/Getty Images

Were there worse tackles in the league than Charlie Johnson? Absolutely. But there were also much better ones.
With rookie quarterback Christian Ponder on board, the Vikings need to do all they can to make sure he's successful. He's got an elite running back, a talented receiver in Percy Harvin, and center John Sullivan, one of the league's most underrated players. What he doesn't have, however, is a dependable left tackle.
Protecting a rookie quarterback is one of the most important things a team can do to help him be successful, but the Vikings weren't successful keeping defenders off of Ponder; they allowed 49 sacks, tied for fifth-most in the league.
Johnson failed in that department as well, surrendering eight sacks, nine quarterback hits, and 32 pressures. Pro Football Focus ranked him 42nd among offensive tackles in pass-blocking efficiency.
Though Johnson is relatively young (he'll be 28 this year), his play profiles him as nothing more than a backup "swing" tackle, and the Vikings should be looking to replace him. Fortunately, USC left tackle Matt Kalil should be available with the third overall pick, and should be an ideal fit for a team that needs to give their young signal-caller time to make plays.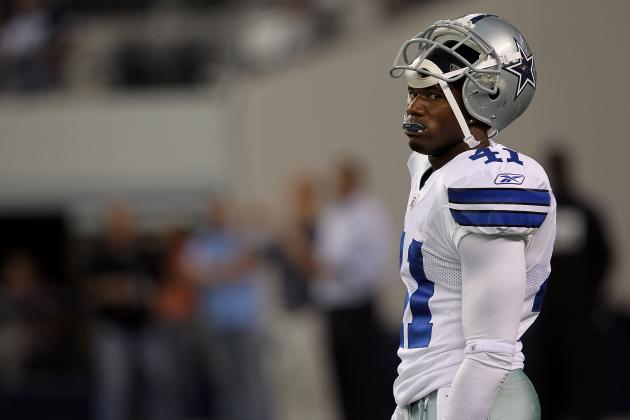 Ronald Martinez/Getty Images

Terence Newman used to be somewhat of a star cornerback. The two-time Pro Bowler has 32 career interceptions and defensed 122 passes over the course of his nine-year career.
Now 33, Newman isn't quite the player he once was. He rated in the bottom 10 of Pro Football Focus' coverage rankings in 2011, and is due to make over $6 million in 2012 and over $7.5 million in both 2013 and 2014.
The Cowboys already have problems in the secondary; they ranked in the bottom 10 in both passing yards (23rd) and yards per attempt (24th) allowed. There are many talented cornerbacks in this draft, and Alabama cornerback 'Dre Kirkpatrick or North Alabama corner Janoris Jenkins could make sense for the Cowboys with the 13th overall pick.
Newman's contract is simply too big for a player his age to wait around and see if he'll return to what he once was. If the Cowboys can upgrade the cornerback position through the draft, Newman might find himself on the outside looking in.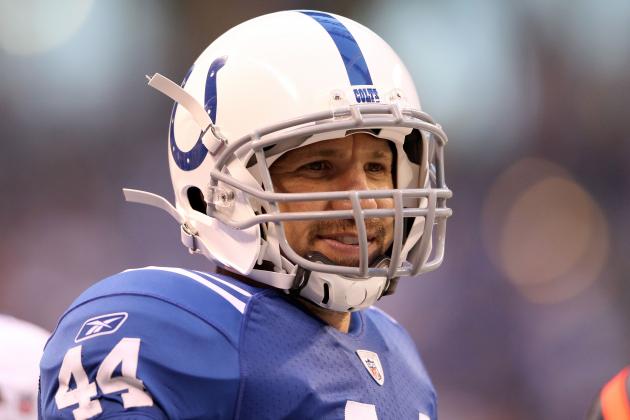 Andy Lyons/Getty Images

The 32-year-old Clark used to be one of the league's elite tight ends. With Peyton Manning feeding him the ball, Clark racked up 100 catches for 1106 yards and 10 touchdowns in 2009, his best season. From there, it's been nothing but struggles.
Clark suffered a wrist injury six games into the 2010 season and was unable to return. In 2011, Peyton Manning was unable to play due to neck surgery, leaving Clark to fend with the likes of Curtis Painter and Dan Orlovsky at quarterback.
As expected, his stats suffered. Clark only picked up 352 yards on 34 catches with Painter/Orlovsky under center, and his lack of run-blocking ability left him watching many more plays from the sidelines than in years past.
Dallas Clark isn't a prototypical tight end; he often splits out wide or in the slot, drawing linebackers away from the middle of the field and creating mismatches for his offense. With new Colts head coach Chuck Pagano wanting to install a more run-oriented offense, though, Clark's role with Indianapolis might be smaller than he'd like.
With almost $10 million owed to him over the next two seasons, the Colts may decide to find a new starting tight end in the draft. Likely new franchise quarterback Andrew Luck's teammate Coby Fleener would make a lot of sense at the top of round two for the Colts, likely leaving Clark in the lurch.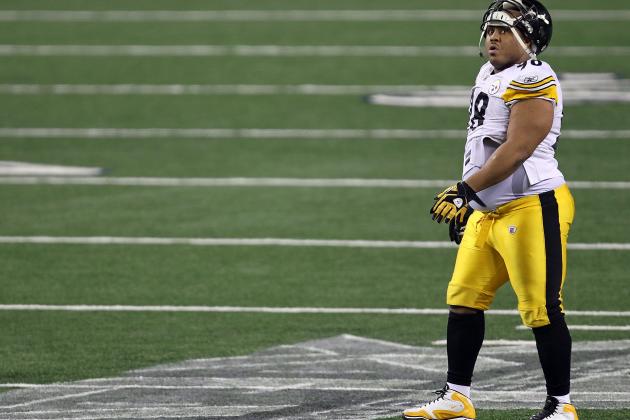 Mike Ehrmann/Getty Images

Hampton is one of the faces of the Steelers' elite defensive unit. The mammoth nose tackle has anchored the Pittsburgh run defense for years and helped the Steelers finish eighth against the run in 2011.
Though he has never been an every-down defender, Hampton has reached the point in his career where he is fully a part-time player. He is seldom on the field on passing downs and simply functions to clog space in the middle against the run. Even worse, he is now coming off a torn ACL suffered against the Broncos in the playoffs.
The 34-year-old Hampton is a five-time Pro Bowler and has been the linchpin of an elite defense for years, but he's not the same player he was anymore. He had literally zero quarterback pressures in 2011, and only ten total in 2010. Hampton is completely one-dimensional at this point in his career.
Though he's still an effective player stopping the run, it's time for the Steelers to find their nose tackle of the future. They have very little depth at the position, and need to move on from Hampton. The Steelers have expressed interest in bringing him back in 2012, but it's time for them to find their nose tackle of the future.