Ryan Braun PED Suspension Overturned: Will He Ever Truly Clear His Name?
February 24, 2012

Norm Hall/Getty Images
The baseball world was stunned by yesterday's shocking news that Milwaukee Brewers' left fielder, and reigning National League MVP, Ryan Braun won the appeal of his 50-game suspension for violation of Major League Baseball's Performance Enhancing Drug policy.
There is still a ton of uncertainty surrounding Braun's case and the details of his appeal, but one of the biggest questions going forward will be what does this mean for his legacy?
From what we know so far, the reason that Braun won his appeal was based on a "chain of custody" objection that amounts to little more than a technicality that is totally unrelated to his actual guilt or innocence.
While Braun has consistently denied any wrong doing, and is visibly happy with the outcome of his case, this has to be somewhat of a bittersweet outcome.
The victory is historic—and conceivably sets a dangerous precedent for future appeals—in that Braun is the first player to successfully win an appeal of this kind. Unfortunately the way in which he won the appeal leaves plenty of doubt in the court of public opinion.
You have to applaud his counsel for pursuing what was likely the easiest path to a victory here, and as Pop Fly Boys contributor Matthew Mahaffey pointed out in this piece yesterday, the accuser in any case is still obligated to follow the rules of due process to secure a conviction, or in this case a suspension.
However, just as a legal case that is dismissed due to a prosecutor's failure to abide by the letter of the law says nothing of the defendant's guilt or innocence, such is the case with Braun regarding possible PED use.
Much less credible defendants like Barry Bonds, Roger Clemens, and Rafael Palmeiro have all steadfastly denied any use of performance enhancing drugs, but that hasn't stopped the general public, the sports media, or Hall of Fame voters from believing otherwise.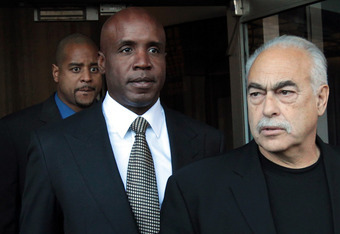 Justin Sullivan/Getty Images
I'm inclined to believe that Braun will suffer a similar fate.
In a press conference held today at the Brewer's spring training facility, Braun proudly stated that "Today is for everybody who has ever been wrongly accused," but is that really true, and are we positive the accusations are indeed false?
MLB is in a tough position because of Braun's stature as one of the brightest, most-likable young stars in today's game (not to mention the star player of the team formerly owned by MLB commissioner Bud Selig), but that hasn't stopped them from blasting the decision to reverse the suspension.
No MLB official has gone on record as of yet, but according to this ESPN story, they are steadfast in their belief that Braun's sample was not tainted, and are furious that the policies that they have worked so hard to strengthen over the past few years have been cheapened by the successful appeal.
Baseball has worked hard to erase the stains left by former stars like Bonds, Clemens, and even current players like Alex Rodriguez and Manny Ramirez, and Braun was supposed to be one of the leader's of a new generation of clean stars.
I've long felt that only two players in baseball could test positive for PEDs and the resulting fallout would absolutely crush the game (Albert Pujols and Derek Jeter).
The circumstances of Braun's case prove that I was very wrong about that, because even though this case is resolved, the lingering effects could damage the reputations of Ryan Braun and Major League Baseball for a very long time.
Contact Geoff at geoff@poplfyboys.com, follow him on Twitter @snglemarriedguy, and read more of his takes on sports and pop culture at popflyboys.com