NFL Rumors: Has Jeff Fisher Closed the Door on Trading Sam Bradford?
February 24, 2012
Dilip Vishwanat/Getty Images
A year after winning the Offensive Rookie of the Year award, St. Louis Rams quarterback Sam Bradford had a season he'd like to forget in 2011. He was battered and bruised for much of the year, ineffective in the rest.
Since the Rams have a new head coach in town in Jeff Fisher, might they consider trading Bradford and starting from scratch with a new quarterback?
Um, no.
"That wouldn't be an option," said Fisher on Friday at the NFL scouting combine, according to the USA Today.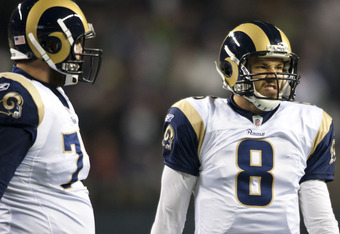 Jay Drowns/Getty Images
This should not be surprising. In fact, the only reason this is news is because somebody bothered to ask the question. My guess is that Fisher did not hesitate at all before saying, in so many words, that the answer is no.
It's waaaaay too early for the Rams to give up on Bradford. Instead of trading him, they're better off surrounding him with as much talent as possible. Only then will they know how good Bradford is, as the poor guy has played his first two seasons with lousy wide receivers and a horrid offensive line. 
Besides, the Rams probably couldn't get all that much in a Bradford trade at this point anyway. Not after the season he just had. If they are going to trade him, they'd be wise to wait until he builds up his value a little.
In case you're wondering, Fisher did admit that trading the No. 2 overall pick in the draft is a possibility. 
"There's a lot of options," he said. "(If) the deal's good, it could be done before the draft."
This is another thing that should come as no surprise. Using the No. 2 pick will mean getting one stud player. Trading it would mean getting a couple established players or more picks with which to draft even more stud players. Seeing as how the Rams need help in several different areas, they may very well conclude that's the way to go.
What's really interesting is that Fisher said he's "interested in keeping" wide receiver Brandon Lloyd in St. Louis, and he didn't even rule out adding Albert Haynesworth and/or Randy Moss. He's coached both of them before.
That part surprises me. You'd think Fisher has had just about enough of Haynesworth and Moss. But since he's keeping them on his radar, it's clear that Fisher is ruling out nothing when it comes to ways to rebuild the Rams.
Good for him.