NFL Combine 2012: Players to Watch in Each Combine Drill Saturday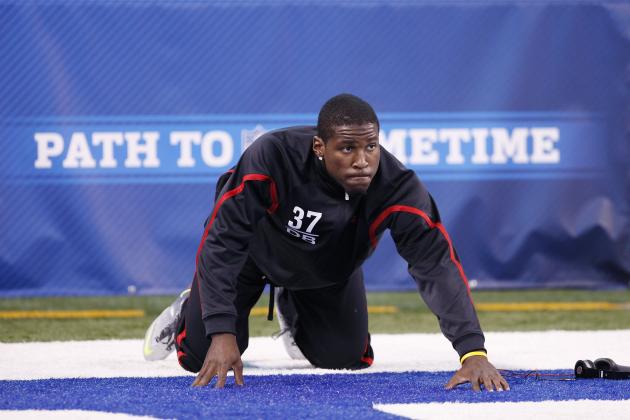 Joe Robbins/Getty Images

Workouts at the 2012 National Football League Scouting Combine begin in earnest on Saturday, when the offensive linemen, tight ends and special teams players take the field to be put through their paces in a number of drills.
Saturday's combine action will feature everything from first-round locks to late-draft fliers trying desperately to make a good impression on scouts and coaches, and here's a look at one player you should keep an eye on during each of the combine's drills.
Begin Slideshow

»
Player to watch: Orson Charles - TE, Georgia
Given the group of players who's running Saturday, it's highly unlikely that any records are going to broken in the 40-yard dash, but that doesn't mean there's nothing to watch.
Georgia tight end Orson Charles is one of the top prospects at his position in this year's draft class, and the 6'3", 241-pound All-SEC performer can stake his claim to be the first tight end off the board by showing off the speed that gave linebackers and safeties fits last season.
Player to watch: Cordy Glenn - OG, Stanford
At 6'5" and 345-pounds offensive guard Cordy Glenn of Georgia is a behemoth of a man who is one of the best run blockers in the nation and a likely first round pick.
Given his mammoth size any sort of vertical leap would be very impressive.
Christian Petersen/Getty Images

Player to watch: David DeCastro - OG, Stanford
If there's one guard in the 2012 draft ranked more highly than Glenn, it's David DeCastro of Stanford, as the two-time consensus All-American is considered one of the better prospects to come along at his position in quite some time.
Given his 6'4", 316-pound frame, DeCastro isn't going to fly through the air with the greatest of ease, but the broad jump will allow him to show off the leg strength that's so essential while run blocking.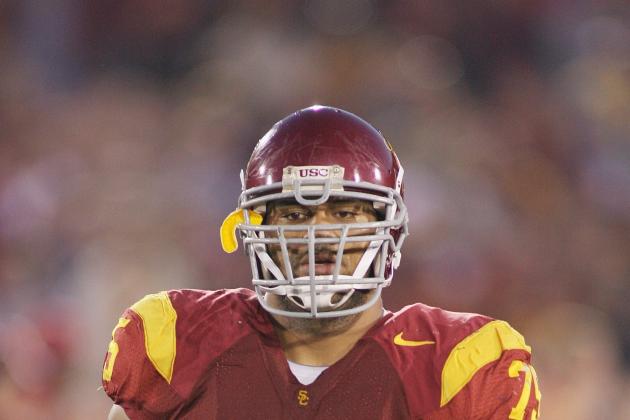 Jeff Golden/Getty Images

Player to watch: Matt Kalil - OT, USC
The kick slide is a drill for offensive linemen that showcases the lateral agility that's vitally important when in pass protection.
The drill should be right in USC offensive tackle Matt Kalil's wheelhouse, as the 6'6", 306-pound junior, who was voted the top offensive lineman in the Pac-12 in 2011 and is projected as a potential top-five pick in April's NFL draft, is arguably the most athletic blocker at the combine this year.
Player to watch: Tom Compton - OT, South Dakota
The three-cone drill is another exercise that tests a player's agility and ability to change direction quickly.
Offensive tackle Tom Compton may have toiled in relative obscurity at the University of South Dakota, but if the 6'5", 316-pound FCS All-American can display the agility required of all solid pass blockers in the National Football League, he won't be an unknown much longer.
Player to watch: Ladarius Green - TE, Louisiana-Lafayette
The gauntlet is a drill for receivers, as the pass-catchers highlight their soft hands by grabbing passes being thrown at them from multiple directions as they race across the field.
Small-school standout Ladarius Green displayed those soft hands in reeling in 51 receptions, 606 yards and eight touchdowns for Louisiana-Lafayette last season. A strong showing at the combine will put the 6'6", 238-pound Ragin' Cajun squarely on the middle-round map.
The shuttle drill is the last of the agility exercises, as the lateral agility of players is once again tested by NFL scouts and coaches.
Peter Konz of Wisconsin is the top center in this year's draft class. The shuttle drill will offer him the opportunity to both display the ankle injury he suffered last November has completely healed and to redeem himself after an off day at the combine on Friday.