Rising Stars 2012: Surprising Candidates Who Will Make a Run at MVP Award
February 24, 2012

It's Team Shaq vs. Team Chuck in the inaugural Rising Stars Challenge in Orlando during All-Star weekend, and it will be very interesting to see which former big man is the better decision-maker when it comes to constructing a roster.
Some guys like Blake Griffin and Kyrie Irving are popular picks to come home with the MVP award, but how about those who could be flying under the radar?
Let's take a look at some dark-horse candidates.
MarShon Brooks, Team Chuck
Brooks is a scorer and has shown that throughout the course of his rookie campaign.
An absolute steal as the No. 25 overall pick of the draft, Brooks is out to prove that he should've been taken a lot higher in a very weak draft class.
The Nets have a really strong asset in Brooks, and the team should feel very comfortable about its future on the wing position as long as he can remain healthy.
He takes his competition very seriously and despite the fun event on Friday night, there is no doubt he'll be looking for his own.
Markieff Morris, Team Shaq
Morris' role in Phoenix has been inconsistent throughout the year, but he's really proving to be a solid pick for the Suns.
It will be interesting to see if he gets the rock in his hands frequently enough in order to make a legitimate case for MVP, but his sweet stroke from outside could have him catching fire if he comes in with a bang for Team Shaq.
With all of his point guards as teammates, Morris should have a sound opportunity to roam the perimeter and spot up in a favorable position every minute he's on the floor.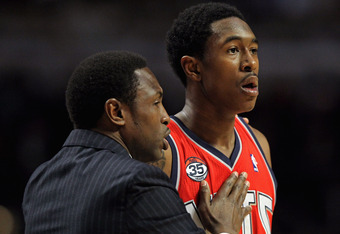 Jonathan Daniel/Getty Images
Derrick Williams, Team Chuck
Williams' rookie season has been disappointing because he just playing isn't a lot of minutes, but he should get plenty of burn on Friday night.
A highly athletic, versatile forward who is capable of scoring in a litany of ways, Williams has the ability to really be an impact player in this one.
Williams' game is perfectly suited for an up-and-down contest where defense won't be emphasized, and the only thing holding him back from garnering serious consideration is, once again, playing time.
Brandon Knight, Team Shaq
There were a lot of skeptics about Knight's game prior to the Pistons tabbing him as the pick, but he's quickly quieted many critics who were hounding Detroit for the pick.
The turnovers have been a concern early this season, but he's really improved in that aspect of his game of late and has found surprising success from behind the three-point line.
Another solid young player for Detroit to build around, the Pistons can pair Knight with Greg Monroe and be staring at a very bright future going forward.
The surplus of point guards on the Team Shaq roster may prevent Knight from getting the run he should, but there may be some unorthodox lineups deployed which could benefit Knight's chances at playing time.