Lakers Trade Rumors: Michael Beasley Isn't Worth Headache for LA
February 24, 2012

Elsa/Getty Images
The Los Angeles Lakers are obviously not looking like the team they have been in the past, but that cause for concern should not make the team run out and make desperately drastic decisions. One of those potential moves they should avoid is going after troubled Minnesota Timberwolves forward Michael Beasley.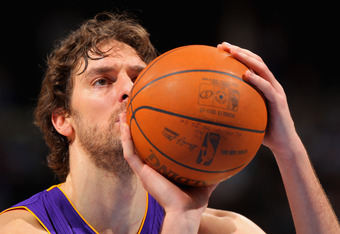 Doug Pensinger/Getty Images
It is no secret that the Lakers have been shopping around, with the talk mostly centered around them dangling power forward Pau Gasol to any team interested.
According to ESPN's Chris Broussard, the Lakers have shown interest in Beasley, the former No. 2 overall pick out of Kansas State. There has been no word on what they would give up. Most would assume the deal would involve Gasol, as that would free the Lakers of the drama they have created, as well as giving the Timberwolves a quality piece.
Beasley is a talented player, and he has seen a resurgence in his game since joining the T-Wolves, but he just isn't worth the potential headache that he can bring to the Lakers organization.
I mean, they already have Ron Artest.
But in all seriousness, Beasley has a history of off-court issues, including possession of marijuana multiple times. While it seems he has cleaned up his behavior, there is always potential for the forward to find trouble again.
According to Broussard:
Minnesota is looking to move Beasley, who they feel has matured very little (if at all) since he's been there, according to sources
Beasley is athletic, and is averaging 12.2 points per game this season. Which is much less than what Gasol is putting up in 17 points and 10.6 rebounds a night.
While the Lakers are looking to add any talent they can to this unclear future of a team, the front office has to be smart with their moves. There is always going to be a risk with any move they make, but their risks are best to avoid players with troubled pasts.
Jeff Chase is a Featured Columnist for the Chicago Cubs and Arizona State football.
Follow @Real_Jeff_Chase