2012 NHL Trade Deadline: Carolina Hurricanes' Deadline Preview
February 25, 2012

Grant Halverson/Getty Images
For the Carolina Hurricanes, a lot has changed since January 20th.
Coach Kirk Muller's aggressive forecheck style has caught on in glorious fashion.
Up-and-coming goaltender Justin Peters has earned his first shutout and gone 2-0-1 in place of Cam Ward.
Divisional rival Washington has been beaten twice by a combined score of 8-0.
Jiri Tlusty, riding an ongoing nine-game point streak, has found his place on the first line.
And the 'Canes have earned points in 11 of their 13 games since that date to climb within eight points of a playoff spot.
Back on that 20th day of 2012's first month—a wet one, in fact, with Raleigh receiving close to half an inch of rain—underperforming winger Alexei Ponikarovsky was dealt to the New Jersey Devils for prospect defenseman Joe Sova and a fourth-round pick.
It was Carolina GM Jim Rutherford's second trade in three days, as he had sent Mattias Lindstrom and AHL All-Star Jonathan Matsumoto to the Florida Panthers earlier in the week in exchange for A.J. Jenks and flashy Russian youngster Evgenii Dadonov.
The intent of those trades was brutally clear: the 'Canes wanted to unload their current set of players and start anew. And, for the most part, the club's fanbase was in total consensus.
Nowadays, however, the current team outlook, in both on-ice and off-ice terms, is dramatically different.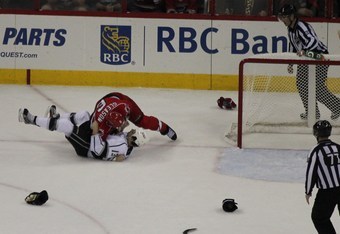 Although a postseason berth remains a long shot, it's sudden appearance on the radar screen is a minor miracle on its own. Additionally, as the team begins to reformulate the chemistry they were lacking earlier in the year, the anticipated rebuilding movement has been utterly thrown out the window.
Instead, Rutherford & Co. are looking to build on the solid base that they already have.
Physical D-man Tim Gleason and versatile forward Tuomo Ruutu, both one-time recipients of trade rumor frenzies, have both been re-signed to very well-paying four-year contract extensions in the past month.
With salary cap hits of $4.0 and $4.75 million, respectively, the 'Canes are clearly willing to add them to the likes of Eric Staal and Cam Ward on the "franchise cornerstones" list, too.
As both originally hot trade targets have been taken off of the market, it is simply difficult not to wonder if the Hurricanes' once-definite trade deadline status has reversed from a set-in-stone "seller" into a tenative "buyer".
Indeed, the trade rumors enveloping the team have taken a similar turn. Rather than high-profile names like Joni Pitkanen, Jussi Jokinen, the aforementioned Ruutu, Gleason and even Staal mostly populating Carolina's speculated trades, less valuable assets such as Chad LaRose and Jaroslav Spacek are now getting the bulk of the attention.
We'll thoroughly break down all of the rumors surrounding the 'Canes this weekend in the coming sections.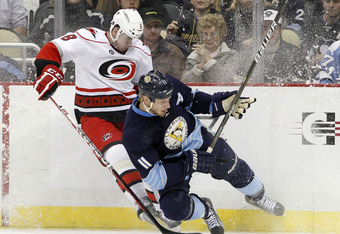 Justin K. Aller/Getty Images
Spacek to the Bruins?
Spacek has been rumored to be especially receiving strong interest from the Boston Bruins. Writes James Murphy of ESPN Boston:
The Bruins saw a lot of Spacek during his last two-plus seasons spent in Montreal before he was dealt to Carolina earlier in the season. He still can help a power play and is a good dressing room presence based on reports out of the Montreal dressing room. The 38-year-old unrestricted free-agent-to-be would be a depth move for sure, but could put pressure on [Joe] Corvo to play better if Corvo isn't dealt away himself.
[Context Note: Corvo, another former 'Cane, has just three goals (one on the power play) this season and a miserable 2.1 shooting percentage.]
For the 'Canes, Spacek has played suitably since being acquired in the Tomas Kaberle deal. The 38-year-old veteran has three goals (two on the power play), six assists and a plus-one rating in 24 games played.
If a deal sending Spacek to Massachusetts capital does work out, Rutherford's steep asking price was once expected to land the 'Canes a noteworthy prospect like Jordan Caron or Jared Knight.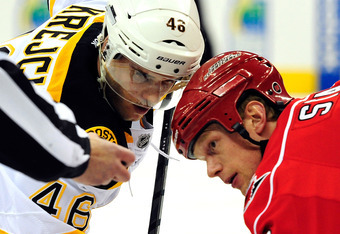 Grant Halverson/Getty Images
The 'Canes' newfound interest in established NHLers changes that perspective, however. With the second-line center and first-line right wing spots gaping open, slightly half-baked, albeit enticing, target ideas include centers David Krejci (age 25, 12 goals, 28 assists) and Chris Kelly (age 31, 15 goals, 14 assists).
Of course, acquiring any of those household names would require not only Spacek, but also a secondary trade bait item like Zach Boychuk, Zac Dalpe or an upper-round draft pick.
LaRose to the Canucks?
An intriguing rumored deal that would send energy winger Chad LaRose to the Vancouver Canucks has emerged out of the woodwork in recent days. Despite a lack of much substantial insider confirmation, the idea has seeped virally into thousands of blogs, newspapers and Twitter discussions this past week.
LaRose's case is undoubtedly an interesting one. The 29-year-old undrafted Michigan native has a respectable total of 11 goals and 22 points on the year, actually the exact same numbers that well-known scorer David Booth has in a Vancouver jersey in '11-'12. It is LaRose's fifth straight campaign with double-digit goals.
On the other hand, his atrocious minus-18 rating will definitely drive down Vancouver's offer—in fact, the worst plus/minus mark on the entire Canucks roster is a mere minus-eight (belonging to Manny Malhotra, in case you were wondering).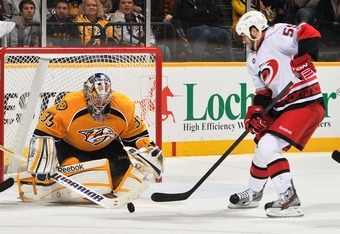 Frederick Breedon/Getty Images
Coming the other way could be Mason Raymond, an underperformer the 'Nucks would love to get rid of, but it's uncertain if he'd fill any holes for the Hurricanes. After scoring 25 goals in '09-'10 and 15 goals last season, the 26-year-old winger has just seven goals and 15 points this time around.
Preferably, the 'Canes would grab right winger Jannik Hansen (age 25, 14 goals, 16 assists) instead—but again, he'd probably cost a lot more than just LaRose.
Other Potential Trades
Outside of Spacek and LaRose, rumors have truly become scarce. After so much hype about Carolina's expected fire sale, their winning ways of recent weeks have all but eliminated the widespread trade talk coming out of Raleigh.
In purely speculatory manner, players like Toronto's Mikhail Grabovski (age 28, 18 goals, 22 assists), Tampa Bay's Teddy Purcell (age 26, 16 goals, 26 assists), Philadelphia's Wayne Simmonds (age 23, 22 goals, 17 assists), and St. Louis's T.J. Oshie (age 25, 15 goals, 24 assists), do all fit the billing. Predicting a trade for any of them, however, carries needle-in-the-haystack odds.
Joni Pitkanen is expected to return from a three-month injury leave soon, which might spike some sprinkled interest in the offensively talented but tremendously overpaid blueliner. Don't count on a trade for him popping up at the last minute, though.
What to Watch For
Two or three deals.
That's what the Hurricanes' trade deadline outlook has boiled down to, and it's a far cry from the amount that was anticipated back in late 2011.
Changes will still happen, certainly, yet Caniacs must be prepared to see a quite familiar-looking roster even once Monday's 3 p.m. deadline has passed. In all truthfulness, the Carolina Hurricanes just won't be doing too much, tradewise, this time around.
But given their victorious ways of late, that might not really be a bad thing. 
Mark Jones is currently Bleacher Report's featured columnist and community leader for the NHL's Carolina Hurricanes. In his 40 months so far with the site, he has written more than 345 articles and received more than 415,000 total reads.