2012 NFL Mock Draft: Projecting the Potential First-Round Linebackers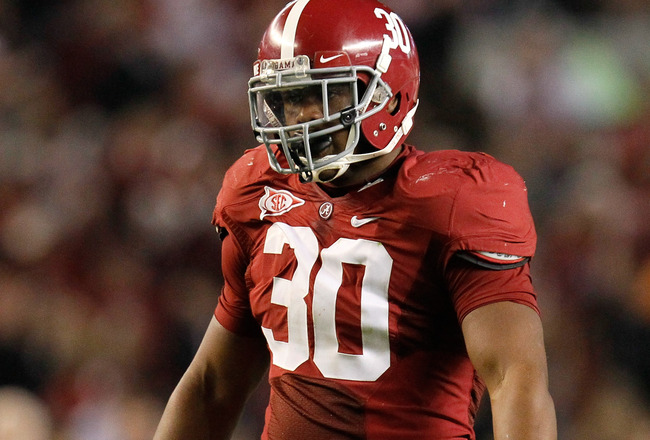 Kevin C. Cox/Getty Images
As we've seen throughout his career, having a linebacker like Ray Lewis really is comparable to having a franchise quarterback under center.
The same goes for San Francisco's Patrick Willis, and we continually see the Ravens and 49ers with top-tier defenses every season.
To that end, here's a look at the first-round linebackers in the 2012 NFL draft.
After all, for as much as pro football teams needs an explosive offense, championships don't happen without a defense.
Cleveland Browns (From ATL): Courtney Upshaw, Alabama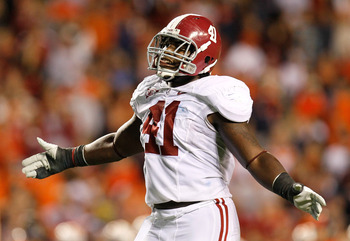 Kevin C. Cox/Getty Images
To fit Cleveland's 4-3 scheme, Alabama's Courtney Upshaw couldn't be more appealing.
For starters, Upshaw has excellent size at 6'2", 270 pounds and will be the perfect outside-presence complement to inside linebacker D'Qwell Jackson.
He has great explosion and power coming off the edge as evidenced by recording 17.5 sacks between 2010 and 2011. Upshaw's also better than advertised as a pass defender, but because of his instincts and consistent ball awareness, he provides the Browns with the luxury of running a 3-4 front.
There, Upshaw can play middle with Jackson or outside and simply pass-rush and react.
It's a win-win situation since 2011 rookies Jabaal Sheard and Phil Taylor need an outside presence to help stop the run and set the edge to keep contain. Last season, Cleveland ranked No. 30 against the rush and allowed almost 150 rush yards per game.
Adding Upshaw to the front seven will only pay dividends, because his dynamic ability to play inside and out will take pressure off the pass defense.
Detroit Lions: Luke Kuechly, Boston College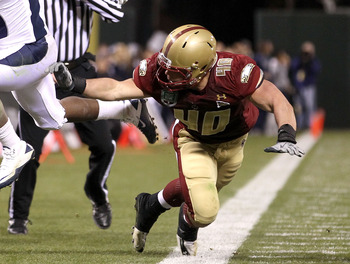 Ezra Shaw/Getty Images
The Detroit Lions desperately need a linebacker who can dominate against the run and defend well against the pass.
And that man is Boston College's Luke Kuechly.
In three seasons with the Golden Eagles, Kuechly recorded 532 tackles, seven interceptions and defended a total of 17 passes. More than anything, Kuechly's instincts against the run are among the best in the draft, and that would significantly boost the Lions' front seven.
Last season, it was pick your poison, so to speak, against the Detroit defense, as it allowed almost 240 passing and 130 rushing yards per game (ranked No. 22 and No. 23, respectively).
So, with Kuechly patrolling the middle behind defensive lineman Ndamukong Suh, Cliff Avril (if the Lions can re-sign him) and Corey Williams, the Lions will shut down all opposing rush offenses.
Another option for Detroit with Kuechly, though, would be to move him to outside linebacker and retain Stephen Tulloch as the middle 'backer.
Both would complement one another quite well and make the Lions defense a lot quicker against the rush, as well as more aware against the intermediate passing game.
Green Bay Packers: Zach Brown, North Carolina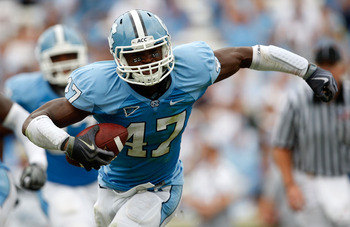 Streeter Lecka/Getty Images
Another guy who is really solid at defending the run and pass, North Carolina's Zach Brown.
And if there's anything we can take from the 2011 season about the Green Bay Packers, it's that anything on defense is a need.
After a great 2010 campaign, in which they won Super Bowl XLV, the Packers took a vehement step backward on defense. The unit ranked dead last by allowing 411.6 total yards per game. It also ranked dead last against the pass (allowing almost 300 per game) and No. 26 in allowing 4.7 rush yards per carry.
Not to mention, the Cheese recorded just 29 sacks, which ranked No. 27, after getting 47 in 2010 (which ranked No. 2).
With Brown working at either inside or outside linebacker, the Packers will see a guy who knows how to defend the run. Between 2010 and 2011, Brown recorded 177 tackles and had a career 19 tackles for loss.
His explosion at the snap and quickness will benefit against weaker rush offenses, but his anticipation against the pass is impressive. In 2011 alone, Brown defended seven passes, recorded three picks and forced three fumbles.
So, another area the Packers can use him in is to blitz opposite of Clay Matthews. Then, in long-down distances, move him to inside linebacker, and anywhere from seven to 20 yards over the middle will be taken away.
Baltimore Ravens: Dont'a Hightower, Alabama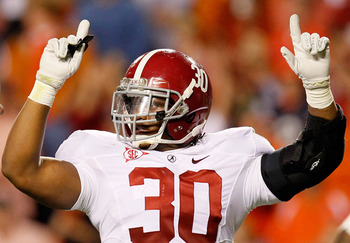 Kevin C. Cox/Getty Images
Sooner or later we know that Ray Lewis is going to retire. And whenever that day comes, the Baltimore Ravens better have his replacement well prepared to take the reins.
Well, that player is Alabama's Dont'a Hightower, who was basically the quarterback of college football's most dominating defense. After all, the Tide do have potentially four defensive first-rounders.
As for Hightower in Baltimore, the Ravens need a young linebacker who can read and react immediately. Hightower, right now, possesses sound run defense skills to make solid contributions as a rookie.
Under the wing of Ray Lewis, he will develop faster and better, so there's no concern. Plus, the man did record 64 tackles as a freshman in 2008, then after an injury-shortened 2009, 69 tackles happened in 2010.
Head coach Nick Saban then saw even more improvement in 2011 with 85 tackles, plus four sacks and seven quarterback hurries. Therefore, Hightower can provide inside pressure to complement Terrell Suggs, which will then pay dividends when setting up pass defense.
It's definitely an area of work for Hightower, but with good awareness in the zone and running backs trying to leak out, the potential is unlimited.
2012 First-Round NFL Mock Draft
| | |
| --- | --- |
| 1. Indianapolis Colts: Andrew Luck, QB (Stanford) | 17. Cincinnati Bengals (From OAK): Trent Richardson, RB (Alabama) |
| 2. Washington Redskins (From STL): Robert Griffin III, QB (Baylor) | 18. San Diego Chargers: Cordy Glenn, OG (Georgia) |
| 3. Minnesota Vikings: Matt Kalil, OT (USC) | 19. Chicago Bears: Dwayne Allen, TE (Clemson) |
| 4. Cleveland Browns: Justin Blackmon, WR (Oklahoma State) | 20. Tennessee Titans: Alshon Jeffery, WR (South Carolina) |
| 5. Tampa Bay Buccaneers: Morris Claiborne, CB (LSU) | 21. Cincinnati Bengals: Mike Adams, OT (Ohio State) |
| 6. St. Louis Rams (From WAS): Riley Reiff, OT (Iowa) | 22. Cleveland Browns (From ATL): Courtney Upshaw, LB (Alabama) |
| 7. Jacksonville Jaguars: Michael Floyd, WR (Notre Dame) | 23. Detroit Lions: Luke Kuechly, LB (Boston College) |
| 8. Miami Dolphins: David DeCastro, G (Stanford) | 24. Pittsburgh Steelers: Kendall Wright, WR (Baylor) |
| 9. Carolina Panthers: Quinton Coples, DE (North Carolina) | 25. Denver Broncos: Alfonzo Dennard, CB (Nebraska) |
| 10. Buffalo Bills: Janoris Jenkins, CB (Northern Alabama) | 26. Houston Texans: Jerel Worthy, DT (Michigan State) |
| 11. Kansas City Chiefs: Nick Perry, DE (USC) | 27. New England Patriots (From NO): Whitney Mercilus, DE (Illinois) |
| 12. Seattle Seahawks: Devon Still, DT (Penn State) | 28. Green Bay Packers: Zach Brown, LB (North Carolina) |
| 13. Arizona Cardinals: Jonathan Martin, OT (Stanford) | 29. Baltimore Ravens: Dont'a Hightower, LB (Alabama) |
| 14. Dallas Cowboys: Dre Kirkpatrick, CB (Alabama) | 30. San Francisco 49ers: Mark Barron, S (Alabama) |
| 15. Philadelphia Eagles: Melvin Ingram, DE (South Carolina) | 31. New England Patriots: Stephon Gilmore, CB (South Carolina) |
| 16. New York Jets: Michael Brockers, DT (LSU) | 32. New York Giants: Coby Fleener, TE (Stanford) |
John Rozum on Twitter.
Keep Reading