Bold Predictions for NBA's 2nd Half
February 24, 2012

Brett Deering/Getty Images
D.J. Augustin Gets Traded.
A restricted free agent at the end of the season, the Charlotte Bobcats have expressed extreme hesitancy in committing to Augustin as the long-term answer at the position.
With Kemba Walker sitting behind Augustin, the Bobcats don't appear poised to shell out a new multi-year deal for Augustin.
With Charlotte quickly going nowhere this season, the Bobcats would be wise to explore the trade market for Augustin as there are a number of teams that could use an upgrade at point guard.
An interested team could send back a young player or two in addition to draft considerations in order to potentially sew up a deal.
Ryan Anderson Wins Most Improved Player.
There are a lot of good candidates for this particular award, but the season Ryan Anderson is having in Orlando is going largely unnoticed.
And that's really a major shame.
Averaging career-highs in points (16.1), rebounds (7.3), steals (0.9) and three-point percentage (43.4), Anderson is draining nearly three treys per game at a remarkably efficient rate.
He's had multiple games where he's drained at least five three-pointers, and Anderson should be drawing a lot more attention in the public spotlight than he has been all season.
Although players like Jeff Teague, Paul George and DeMarcus Cousins have strong cases, Anderson's performance this season has been incredibly consistent.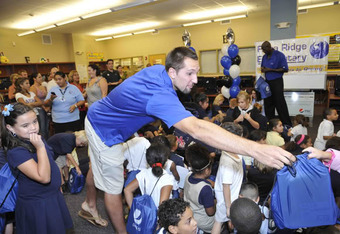 James Harden Wins Sixth Man of the Year.
This one might not be too bold for some, but there are a long list of candidates who deserve consideration for the award.
Louis Williams (Philadelphia), Mo Williams (Los Angeles) and Andre Miller (Denver) all have intriguing cases, but Harden has been absolutely brilliant and a big reason why Oklahoma City has been so good in the first half of the campaign.
Averaging 16.8 points on just 10.8 shots per game, Harden is shooting a career-high 47.2 percent from the floor and averaging the most minutes (nearly 32) per game of his young career.
Harden's impressive conversion rate at the foul line (85.9 percent) is not something that should be overlooked, and this 22-year-old has an extraordinarily bright future ahead.
Indiana Pacers Make a Strong Push for Steve Nash.
Steve Nash may wind up not being shopped by Phoenix, but the Suns could explore a really intriguing deal with the Indiana Pacers.
Indiana harbors young talent like Darren Collison, Tyler Hansbrough and George Hill who could all appeal to the Suns, a club that would be wise to admit that it needs to pursue cost-controlled talent after whiffing in free agency so thoroughly.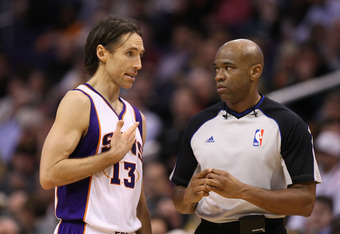 Christian Petersen/Getty Images
With the Pacers looking to make a strong push in the postseason with a young core of talent, adding a dynamic playmaker like Nash would certainly add an element that the team doesn't currently possess.
Raymond Felton Is Traded.
Raymond Felton was ecstatic in the offseason to be dealt to the Trail Blazers, but his first season in Portland hasn't gone as he might have expected.
Now finding himself coming off the bench behind Jamal Crawford, Felton would likely welcome an opportunity to play where he'd be the unquestioned starter.
Felton has been traded twice since initially signing his current contract with the New York Knicks, and the third time might be the charm for his long-term outlook.
Pau Gasol Is Traded to the Houston Rockets.
Take this one with a major grain of salt.
If and only if Houston is willing to give up a monstrous package for Pau Gasol, it would not be surprising to see him wind up with the Rockets.
General manager Daryl Morey has always had an affinity for Gasol, and he nearly acquired him before the season in the vetoed Chris Paul trade.
In that scenario, Houston had been prepared to send Kevin Martin, Luis Scola and Goran Dragic to New Orleans in order to facilitate the deal, and that is a package that could really appeal to the Los Angeles Lakers.
With problems in the second unit and at point guard, acquiring Martin and Dragic would address two major needs while Scola's arrival would fill the void left by Gasol.