NBA All-Star Weekend 2012: Meet the Dunkers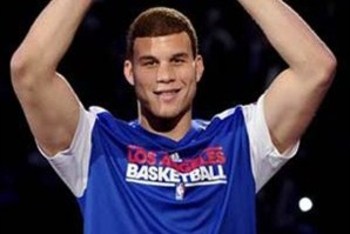 The 2011 Slam Dunk Champion Blake Griffin
The NBA Slam Dunk contest has produced some of greatest basketball highlights of all time. Whether it was Dr. J, Spudd Webb, Dee Brown, Michael Jordan and even the more recent stunning slam dunkers, Dwight Howard and Blake Griffin (among others).
The dunk contest has lost some of its star power in recent All-Star weekends. There have been a lot of little-known players finding their way into the competition. But is that a bad thing?
To players like Fred Jones and Nate Robinson, it's a great thing! Fred Jones won the 2004 dunk contest as an Indiana Pacer, who no one was all that familiar with. Nate Robinson became the first three-time winner of the competition, and now he's known as one of the most prolific dunkers in the NBA.
This year, all four contestants are making their first NBA dunk contest appearance and aren't exactly superstars in the NBA. So who are they? Ladies and Gentlemen I present to you, the 2012 NBA Slam Dunk Contestants....
Chase Budinger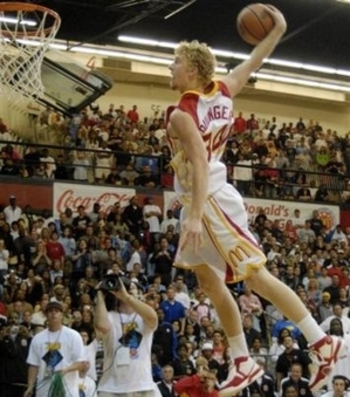 Budinger has some experience
Chase Budinger is a 6'7", 218 pound small forward for the Houston Rockets. Budinger was drafted out of Arizona as the 14th pick of the second round by the Detroit Pistons. Budinger was dealt on draft day to the Rockets and has been with Houston since.
A lot of NBA fans seem to be skeptical of the decision to add Budinger to the dunk contest. Budinger isn't exactly considered a "high-flyer" like Blake Griffin or Vince Carter (was). Budinger is averaging just over nine points per game in his career and doesn't have the longest highlight reel. Budinger does, however, have experience on his side.
Budinger is no stranger to jumping, as he was named the MVP of the 2006 Junior Olympic Volleyball Tournament. He also has some dunk contest experience. Budinger participated in the 2006 McDonald's All-American dunk contest and was runner-up to the Gerald Henderson. He also shared the MVP honors of the McDonald's All-American game with a lanky forward by the name of Kevin Durant.
So while Budinger may not look the part, or may not be the flashiest high-flyer in the association, don't sleep on the former Wildcat as he has experience and knows how to jump.
Paul George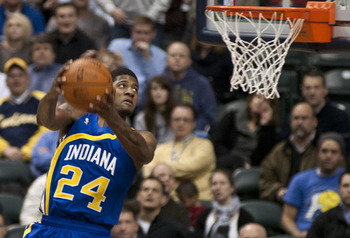 Paul George played two years of basketball at Fresno State before becoming a member of the Indiana Pacers. He was drafted 10th overall by Indiana in 2010. With a year of experience, George is an early success out of his draft class. He was one of only two rookies from 2010 to start for their team, Landry Fields being the other.
So what can we expect from George on Saturday? Possibly a sequel to his Youtube dunk over teammate Roy Hibbert? Or maybe he'll break out the windmill again. Whatever he decides to do, expect big things from this Indiana Pacer. He's had a lot of big dunks since he came to the NBA and is definitely a guy a to watch for. Heck, maybe he'll replicate former Pacer Fred Jone's surprising dunk contest victory in 2004.
Derrick Williams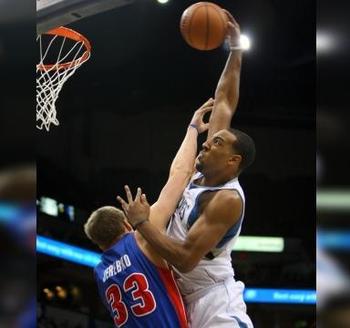 Derrick Williams, like Budinger, was an Arizona Wildcat before being selected second overall by the Minnesota Timberwolves in 2011. Williams had an illustrious career with the Wildcats, including a few exciting games in the NCAA tournament last year, which included Arizona's win over No. 1 seeded Duke.
Williams was a powerful, emphatic dunker in college and has stayed on that path early in his career in the NBA. It doesn't hurt that he has one of the best passing point guards in the league in Ricky Rubio. Williams is an early favorite to win the dunk-off on Saturday.
Jeremy Evans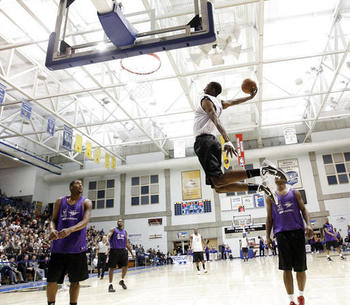 Jeremy Evans was a late entry to the dunk contest. Evans is replacing the injured Knick Iman Shumpert. Evans was drafted by the Utah Jazz as the 55th overall pick in 2010. Evans played college ball for the Western Kentucky Hilltoppers.
Evans, like Budinger, also has very educated legs. He used his great jump timing to become the all-time leader in blocks at Western Kentucky. Evans big NBA highlight in his young career features him posterizing Gerald Wallace of the Portland Trailblazers.
A Contest Worth Watching?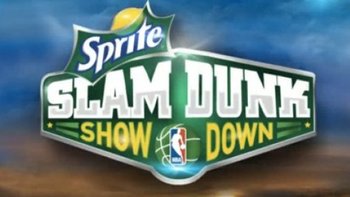 Maybe now you've been inspired to tune in to the dunk contest on Saturday? While these names might not have the star power that fans wish, they all have the ability to put on a good show, and isn't that what the NBA All-Star Weekend is really all about?
The NBA dunk contest is on Saturday, along with the Shooting Stars challenge, the skills challenge and the three-point shootout starting at 8 p.m. on TNT.
Keep Reading