WWE: 10 Potential Superstars Who Can Join Eve Against Zack Ryder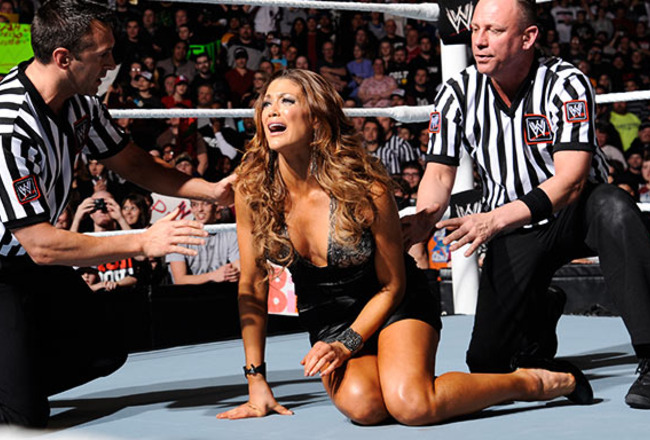 Eve breaks down in tears on Raw.

Last week on Monday Night Raw, a distraught Zack Ryder caught his supposed girlfriend Eve smooching with his best friend John Cena backstage. Despite Eve's numerous attempts to make Ryder forgive him, she inevitably "friend zoned" him moments later and abruptly ended their relationship.
However, on this past edition of Raw, Eve revealed her intentions of using both Ryder and Cena to get ahead in WWE, turning heel in the process. Much to Eve's dismay, Cena foiled her plans and verbally abused her in the middle of the ring, leaving the destructive Diva crying by the end of the segment.
With Zack Ryder still absent from television to the injuries he sustained last week, one would only assume that he'll be out for payback upon his eventual return. In the past few days, Ryder has been vocal via Twitter regarding his feelings toward Eve, referring to her a "hoeski" numerous times.
On Tuesday, a report surfaced that claimed Ryder could quite possibly be paired with the returning Layla to rival Eve and her significant other. That being said, who could the former Divas Champion join forces with in order to be the Adam to her Eve?
Curt Hawkins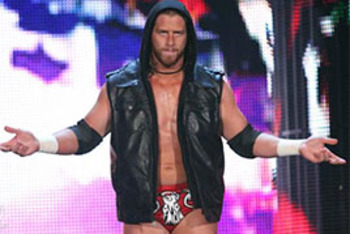 Curt Hawkins
Are you shocked to learn that Curt Hawkins is still employed by WWE? Well, you shouldn't be, because Hawkins is easily one of the most underrated wrestlers on the roster today.
In 2007, Curt Hawkins and Zack Ryder made their WWE televised debut together as The Major Brothers as part of ECW. A short year later, they got their big break when they joined the villainous La Familia stable and subsequently won the WWE Tag Team Championships in July 2008.
Shortly thereafter, the two were split due to the 2009 WWE Supplemental Draft, where Ryder was sent packing back to the ECW brand. However, Ryder made the best of the move and created his Long Island Iced Z gimmick that we've come to love to this very day.
Aside from a brief reunion last year, the New York natives have yet to feud or even have a singles encounter on television. With Hawkins recently targeting Ryder on Z! True Long Island Story, a match between the two at WrestleMania seems more possible than ever before.
Drew McIntyre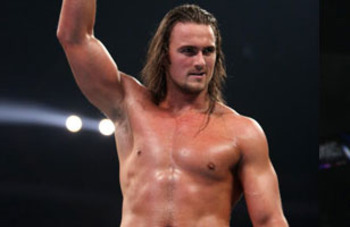 Drew McIntyre
For the last three months, Drew McIntyre has embarked on a lengthy losing streak since moving to SmackDown that has seen him come up short each week.
No need to fear, however, as recent reports indicate that McIntyre is due for a makeover that will see him take on the role of an "arrogant playboy."
Although I much rather prefer the Scotsman as a ruthless egomaniac, I think repackaging McIntyre with a new gimmick could be the best thing for him at this point. Additionally, pairing him with someone as beautiful as Eve could get him and his new persona over big time.
Jack Swagger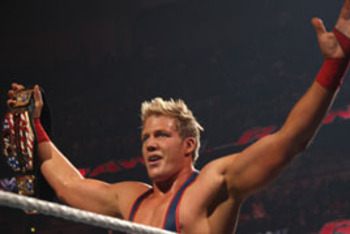 United States Champion Jack Swagger
Last month, Jack Swagger defeated an injured Zack Ryder to win his first United States Championship live on Raw.
Due to the extent of Ryder's injuries, he has yet to cash in his rightful rematch clause for the title, which leaves many broskis worldwide wondering whether he will ever take advantage of the rematch at all.
Fortunately, Swagger mentioned in a recent interview with WWE.com that he'd be open to granting Ryder a rematch for the title when the time was right, giving me hope we might see the Long Island Iced Z as United States Champion once again.
Why not have the anticipated rematch occur at WrestleMania 28 in a mixed tag team match with the title on the line? I, for one, wouldn't be surprised to see Eve join forces with Swagger to rival against Ryder, since she is a gold digger after all.
Christian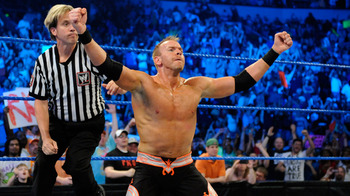 Christian
At last Sunday's Elimination Chamber pay-per-view, Christian made his highly anticipated return to WWE in a segment with Interim Raw General Manager John Laurinaitis.
It's been reported that Creative currently has nothing for Christian, thus explaining his recent absence from television despite being fully recovered from his injury.
The last time Christian had a valet was during his days with Trish Stratus in 2004, where he received quite possibly the biggest push of his career prior to his departure as Captain Charisma.
Hooking up with Eve could rejuvenate his career while providing some entertaining matches with Zack Ryder like we got a good glimpse of on ECW a few years back.
Alberto Del Rio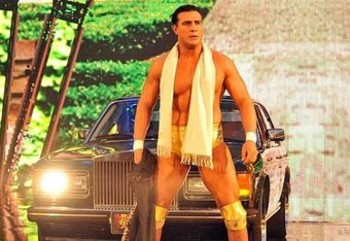 Alberto Del Rio
Similar to Christian, Alberto Del Rio doesn't seem to have a clear-cut storyline going into WrestleMania 28. Although he is medically cleared to compete, Del Rio has yet to make his presence felt on Monday Night Raw since getting injured in late December.
Nonetheless, Del Rio is quite the ladies man in his own right, with the Bella Twins consistently asking his ring announcer Ricardo Rodriguez about his return. Being as wealthy as he is, I wouldn't be surprised to see Eve join forces with the Mexican Aristocrat in hopes of avenging Zack Ryder.
Also, it would give us the chance to see another solid match-up between Del Rio and Ryder that we never saw the follow-up to last November.
Dolph Ziggler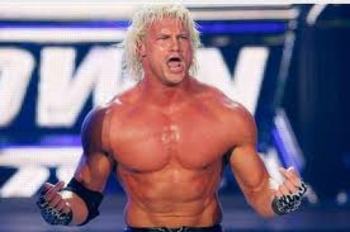 Dolph Ziggler
Since coming up short of winning the WWE Championship at the Royal Rumble pay-per-view, Dolph Ziggler has been met with little success inside the squared circle. While Jack Swagger shines bright as United States Champion, Ziggler is left on the sidelines envying his tag team partner's glory.
With that being said, Vickie Guerrero must not be too thrilled her associate hasn't been making her any money in recent weeks. If Vickie ever decides to walk out on her former boyfriend, he can be sure that Eve will be waiting there with a shoulder to cry on.
After losing his star-spangled strap to Zack Ryder in December, Ziggler has yet to avenge the loss against the Long Island Iced Z. Why not ditch Vickie for someone much more attractive in Eve? He'll not only be helping her cause, but helping his own as well.
Cody Rhodes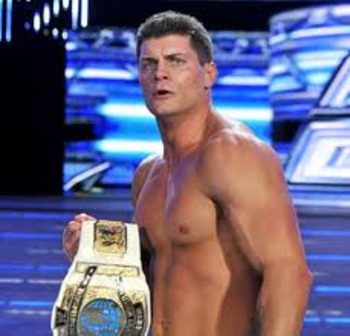 Intercontinental Champion Cody Rhodes
In July 2010, Cody Rhodes claimed that he was unanimously chosen as the most handsome WWE Superstar on the roster according to the Divas, thus calling himself "dashing" from there on out.
Although he's had his nose broken since then, he's managed to look even better than he did originally.
While Rhodes has yet to be joined with a valet during his matches, I think Eve could play that role to absolute perfection.
With their similar exceedingly good looks, they could very well be known as the most attractive couple in the WWE.
Chris Jericho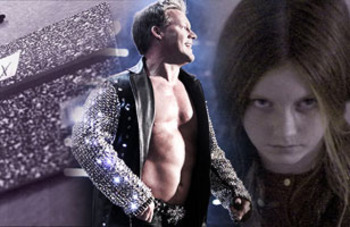 Chris Jericho
While this may seem more of a long-shot due to Chris Jericho's recent involvement in the WWE Championship picture, this couple couldn't make any more sense.
In Jericho's mysterious vignettes promoting his return to WWE late last year, a symbolic girl was shown throughout most of the videos, claiming that she was going to help him "end the world."
As of know, Y2J has yet to reveal who or what this girl was supposed to represent. Having Eve expose herself as Jericho's partner in crime will only further fuel the rivalry, as well bring Ryder to main event status in the process.
I mean, come on, their similar manipulative personalities could make them the most cunning couple in WWE today. Who would be able to stop them?
The Miz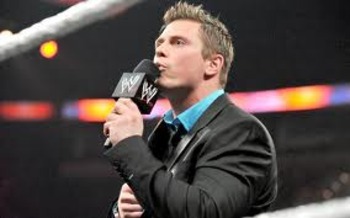 The Miz
Okay, so The Miz and Eve may not be on the best of terms, but that hasn't stopped some of the greatest rivals from eventually joining forces, right?
As you may recall, Eve referred to Miz as a "frogged-face loser" (I know, it's a bit vulgar) in late 2010 after Miz insulted her distaste in hair extensions.
Despite their issues, I feel they can combine their egotistical attitudes to take out Zack Ryder for good.
Moreover, The Miz and Ryder have tremendous chemistry, so it amazes me that these two have yet to engage in a one-on-one match-up. Having this occur on the grandest stage of them all would be nothing short of monumental.
Kane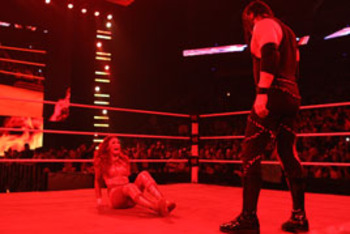 Kane intimidates Eve.
Of all the candidates previously mentioned, it seems like Kane is the most likely to continue to pursue his rivalry with Zack Ryder by aligning with Eve.
She was the sole reason why John Cena appeared to have embraced the hate last Monday night, so it would come as no surprise if Eve was actually in cahoots with the Big Red Monster the entire time.
For the last month, it's been Kane himself who has been delivering numerous beat-downs to the Long Island Iced Z and sidelining him with injuries on more than one occasion.
Pitting Ryder against Kane at WrestleMania 28 in some capacity would tell an excellent underdog story, especially if Eve was to be in Kane's corner cheering him on.
However, if Kane's past relationships are any indication, Eve would have to be extremely careful if she were to tamper with the feelings of the masked monster.
Conclusion

John Cena verbally demolishes Eve on Raw.

If Eve is able to sip a significant amount of the "skank juice" as John Cena would call it, then she'll have no problem in finding a Superstar to aid her in avenging Zack Ryder and putting an end to her humiliation.
While all 10 of these aforementioned wrestlers are possibilities, I could very well see a returning wrestler join forces with Eve to give their WrestleMania encounter some excitement and intrigue.
Pairing Ryder with the returning Layla could give the former Diva Search Winner the exact amount of exposure she needs if she wants her comeback to feel meaningful.
According to Cena, Eve is more than able to use her "assets" to her full advantage in finding a significant other in time for WrestleMania 28.
Do one of the aforementioned Superstars not deserve a spot on the list? Is there another strong candidate that wasn't listed?
Make sure to drop a comment below with your thoughts on Eve's potential partner in her feud with Zack Ryder and anyone else who should be added to the list. As always, your criticism and overall feedback is greatly appreciated.
GSM out.
Visit my website at Next Era Wrestling as well as my WrestleRant and Spoilers podcasts for more of my thoughts and writings, along with WWE/TNA news, rumors, reviews and more.
Keep Reading