Tate vs. Rousey and 10 Other Questions We Still Have for Strikeforce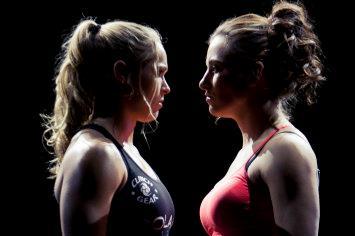 (Strikeforce)
UFC on FX 2 is in the books, but now we are less than 24 hours away from one of the most anticipated title bouts of 2012, as all the talk and all the hype surrounding Strikeforce women's bantamweight champion Miesha Tate and undefeated contender "Rowdy" Ronda Rousey (4-0) have led to their title bout tomorrow night from Columbus, Ohio.
Also on the card, former Strikeforce middleweight champion Ronaldo "Jacare" Souza welcomes Bristol Marunde into the Strikeforce cage, Scott Smith welcomes Lumumba Sayers to prime time, Kazuo Misaki returns to action against Paul "Semtex" Daley and, in the co-main event, KJ Noons fights Josh Thomson in a potential title eliminator.
Let us now look at 10 questions we still have for Strikeforce's return to Columbus, Ohio tomorrow night live on Showtime!
Begin Slideshow

»
Conor Heum's had some slightly rough luck, to say the least, since his debut loss to Jorge Gurgel.
After the loss to Gurgel, he came back almost a year later to drop a split decision to KJ Noons in Los Angeles. He scored his first Strikeforce win this past summer in Dallas over Magno Almeida, but dislocated his elbow in the process thanks to a last-minute attempt at an armbar.
Heun draws Ryan Couture on Saturday night, and so far, the son of the legendary Randy Couture has posted a 3-1 record professionally, with all four bouts coming by way of Strikeforce's now-defunct Challengers series.
Both men are coming off of rebound wins, but from here on out, it's all the more likely that Couture will keep getting steps up in competition. There will be no more Challengers events to serve as outlets for those that might look to make their name at the expense of a fighter like Couture; Heun is one such step up.
Those with Showtime Extreme may get a good glimpse of how Couture responds to that task, but what if Heun should prove too much, too soon for Couture?
What will it do to the hype around Couture, and what will it do in the long run for Heun?
Likewise, however, we also will find ourselves asking what happens if Couture beats Heun and what it'll do for Couture's career as well as what it'll do to Heun's.
Pat Healy beats your favorite lightweights (and mine) every time that he's not supposed to.
It's that simple.
If any man was going to be considered among a list of "top 10 fighter that will spoil your debut instantaneously," you might add Healy's name to that list.
He can beat any good fighter on any night, and Caros Fodor is no exception.
Whether he actually does or not depends on multiple intangibles, but let's not forget that Fodor knocked out Justin Wilcox in his last fight. Even if Healy wins, he will have to worry about Fodor's hands as well as his submission game in the process.
Then again, Fodor is ultimately no problem for Healy, as he's supposed to stop Fodor, right?
Roger Bowling is known for his classic bouts with Bobby Voelker, who owns the only two blemishes on Bowling's career, but now that it's behind him, Voelker is moving on.
Voelker's next move is unknown, but Bowling knows his next move is to capitalize on the strength of the win from the 181-pound catchweight bout with Jerron Peoples and get this win over Brandon Saling.
The scorecards have been unkind to Saling in two bouts, but Saling can rest easy in knowing that he's never had to come off of a knockout loss.
That being said, if anyone could test his chin, it'd be Bowling. For Saling, the question of his chin is just one of many questions he'll have to address through his performance this weekend.
Sarah Kaufman is probably the most memorable women's bantamweight champion in Strikeforce by virtue of her being the first champion in the division.
She looked as great in 2010, but then she ran into Marloes Coenen, who took the reins as champion before Miesha Tate got her shot at the gold and won it.
Sarah has gone 2-0 since Coenen beat her for the belt, and many felt that she should've been facing Miesha for the belt, but of course Ronda Rousey has the shot now.
She faces Alexis Davis in a rematch of their April 2007 bout which took place in Winnipeg, Manitoba.
Neither woman is the same fighter that she was in 2007, and if Kaufman has anything to say or do about it, she will ensure that the only difference between 2007's version of Kaufman vs. Davis and 2012's version of Kaufman vs. Davis is the time it takes to end Davis' night.
Lumumba Sayers knocked Antwain Britt out in his last outing and now draws Scott "Hands of Steel" Smith.
Normally, folks like me would be amped for Smith returning to the fight game, but he's riding the pain of a three-fight losing streak and needs to avoid questions about retirement against Sayers—because even if this writer doesn't say so, others will.
Still, there's a lot of potential for Sayers, whose only weakness seems to be getting caught in submissions. As long as Smith doesn't present some insane jiu-jitsu skills from out of nowhere, Sayers has a chance to win, as does Smith.
In either case, this fight does have the potential to be all kinds of fun from start to finish.
Ronaldo "Jacare" Souza was to get Derek Brunson on this card, but when failed medicals prevented Brunson from competing, Bristol Marunde stepped in to take his place.
Bristol has a 12-6 record as a professional, having tapped out twice to triangle chokes, lost twice to decision and been finished twice. Of the twelve wins he has, five of them come by way of submission.
Marunde might have an awareness for submissions, but if he plays the ground game too much with Jacare, Marunde is likely to play directly into Jacare's signature style of offense.
Also not favoring Marunde is that Jacare lost the Strikeforce middleweight title to Luke Rockhold in his last fight, though some still question whether Rockhold won that bout.
Nevertheless, Jacare was willing to accept the switch in opponents and will look forward to returning to form in Columbus this weekend against a newcomer who will hopefully look impressive enough for Strikeforce to bring him back for a second go-round.
Paul Daley has been as active as any fighter could be after getting exiled from the UFC after one loss, though it's really more of the way he handled the loss to Josh Koscheck that got him booted.
In either case, Daley's 6-2 since the loss to Koscheck, but he's currently riding the strength of a two-fight win streak inside the cage, as is his opponent on Saturday, Kazuo "Hitman" Misaki.
Misaki lost arguably the fight of 2010 against Jorge Santiago in Sengoku, but has rebounded with wins over Mike Seal and Akira Shoji prior to signing with Strikeforce.
Anyone who has seen Misaki fight knows already of the fireworks he can put on during the course of any fight, but he's getting no easy task in the form of Daley, who is one of MMA's most powerful one-punch knockout artists.
Looking for a fun fight before Tate and Rousey throw leather?
This is one of the two undercard bouts you need to watch before the main event starts.
Gilbert Melendez is the Strikeforce lightweight champion and the consensus No. 2 fighter in the world behind new UFC lightweight champion Benson Henderson, unless someone wants to stick Bendo in the No. 2 slot.
While there's a whole division for Bendo to keep his hands full with, the same cannot be said about Melendez until Eddie Alvarez becomes a free agent. Until that time comes, Melendez needs suitable competition without any hands being dipped into the proverbial "cookie jar" in the UFC's ranks at 155.
Enter KJ Noons and Josh Thomson.
Truth be told, this bout is a long time coming, and it's one we're glad we're going to be able to see because both men know how to put on a great show regardless of whether they come out with a win or not.
Noons has no real business at welterweight, but is trying to prove his win over Nick Diaz was no real fluke. Thomson has himself a history with Melendez also.
Can he get the job against Noons, though?
If he can't, we may be stuck wondering "what if?" when it comes to the final chapter of Melendez vs. Thomson, but we also get an interesting affair between Melendez and Noons if Thomson should fall short.
Ronda Rousey might as well train with Giva Santana, because that girl knows her arms and she knows how to collect them.
As a matter of fact, she has done so four times within the first round, and she has every intention of beating Miesha Tate, regardless of how long it takes for her to secure the victory.
Unquestionably, she's training for all five rounds, but if she sees an opening in the first round, she's not going to pass it up.
That being said, the question is not whether she can look for armbars and take her chances.
The question is very simply: How long will it take for Rousey to target the arm? If she sees her shot to go for it, can she secure the biggest win of her still-young career?
Never say never.
Strikeforce women's bantamweight champion Miesha "Takedown" Tate has been on a roll ever since the eye-opening loss to Sarah Kaufman, and to say Miesha's not the same girl would be an understatement.
Her milkshake still brings all the boys to the yard, but "The Alpha Female of Team Alpha Male" and her punishing ground game have run almost all of the girls away from her belt, which she won against Marloes Coenen in what was arguably one of the best women's MMA bouts in quite a long time.
All the girls have stepped up to the plate and almost all of them have struck out, except the one Tate faces Saturday.
Enter "Rowdy" Ronda Rousey.
The judo Olympian is 4-0 in MMA and has taken four arms to get this far, but what happens if Rousey goes for the arm and nothing is there?
If you want it in simple terms, if Rousey can't get the arm...this one gets a lot more interesting, though it may or may not necessarily mean Tate will certainly retain the gold.