NBA Slam Dunk Contest 2012: When and Where to Catch All Star Festivities
February 25, 2012

Noel Vasquez/Getty Images
The 2012 NBA Slam Dunk Contest doesn't feature many well-known names, but they will treat us to a show all the same.
One of the highlights of All-Star Weekend, the Sprite Slam Dunk Contest is rich with history and is one of the most respected honors in all of basketball.
At this stage in the contest's run, it is difficult for players to come up with things that we haven't seen before, but that makes it all the more exciting when it actually goes down.
This year, for the first time ever, fans will vote on the winner.
The contest will consist of only one round, and each competitor will get a chance to thrown down three dunks. When the first series of dunk's is complete, the voting will open.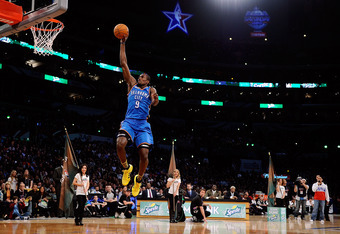 Kevork Djansezian/Getty Images
What: 2012 Sprite Slam Dunk | #SpriteSlam

When: Feb. 25, 8:30 p.m. ET (4th event)

Where: Amway Center

Watch: All-Star Saturday Night coverage starts at 8 p.m. ET on TNT
Paul George, Pacers
The 6'10", swingman is the odd-on favorite. Only a year ago, this guy was 6'8", but the youngster grew over the summer and is turning in a career year in Indiana.
He's averaging 12.1 points, 5.5 rebounds and 2.2 assists for the No. 3-seeded Pacers.
Chase Budinger, Rockets
The 6'7" forward has started only seven games this season and hasn't gotten many opportunities to dunk, but when he does, he throws it down with enthusiasm.
He's averaging 8.3 points and 3.6 rebounds per game in Houston.
Derrick Williams, Timberwolves
The No. 2 overall pick in last year's draft hasn't lived up to expectations, but he does have some highlight dunks.
Williams is going to grow into his role in Minnesota—likely when Michael Beasley is sent packing—but he'll get a chance to earn some positive reviews if he can win this competition. He's averaging only 7.3 points 4.2 rebounds per game.
Jeremy Evans, Jazz
Who? Yes, Evans has only played in 16 games this season, averaging only 1.7 points in 5.6 minutes per game, but the NBA obviously knows he can jump.
He's replacing the Knicks' Iman Shumpert, the early favorite who had to pull out due to injury, but he's the darkhorse with a shot to win here.