Jeremy Lin Exposed by Miami Heat: Minor Hiccup or Huge Red Flag?
February 24, 2012

Mike Ehrmann/Getty Images
Jeremy Lin was exposed by the swarming defense of the Miami Heat in a 102-88 loss on Thursday night.
The final stat line was not pretty for Lin.
Playing 34 minutes, Lin shot a meager 1-of-11 from the floor with six rebounds, three assists, three steals and a whopping eight turnovers.
But the most telling stat? Lin was a minus-19 during his time on the court in a game where his team lost by 14 points.
Accosted by the speed and athleticism of Miami's defense, Lin was never able to find the same comfortable flow to his game.
There have been snap judgements made about his game through the ups and downs of his initial tenure as a starter, but his performance against Miami was his worst to date.
The turnovers aren't a new trend for Lin. In 11 games as a starter, Lin is averaging 6.1 turnovers, but has been able to sustain success despite the high volume of giveaways.
But Thursday was a different kind of game.
Lin's jump shot wasn't falling, he wasn't finding success on the pick and roll, and Miami was able to successfully force him away from his strengths.
Lin couldn't find his teammates and it took him out of his rhythm. Despite not finding the bottom of the net all night, Lin took the second-most shots on his team.
More than Landry Fields, more than Tyson Chandler and even more than Amar'e Stoudemire.
Why is that important?
Those three combined to hit 12-of-23 shots in a game where the Knicks manged to shoot just 31-of-79, good for 39.2 percent.
Dwyane Wade credited the pressure created as something that was key to slowing Lin down.
"First of all, he deserves all of the credit he's been given," Wade said. "We knew it was going to be a tough task guarding him. … He's a good player, but we put a lot of pressure on him and it was a success."
Pressure is one way that many have discussed as a possibility to slow down Lin. He does a lot of things well, but the weaknesses in his game can be exposed if defended in proper fashion..
Sebastian Pruiti of Grantland.com wrote an excellent piece on how best to defend Lin prior to the Knicks-Heat matchup.
When discussing how to defend the pick and roll, Pruiti writes about how when a defense forces Lin into a decision, he can become less effective:
As he comes off the screen, there isn't a clear lane open for him. He has to read the defense to find an open man, which gives the defense a chance to poke the ball away. When he finally decides to drive, he has already given the big (man) a chance to get in position to challenge the shot.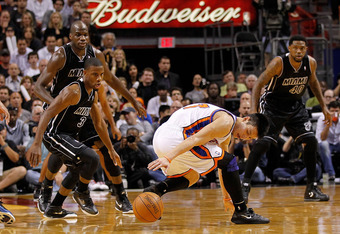 Mike Ehrmann/Getty Images
Pruiti also discusses forcing Lin to go to his left, which has been the popular theme due to his constant inclination to go right:
If Lin tries to bring the ball back to his right, the defender is there to poke at it. Until Lin can make the defense pay by creating with his left hand, this is the strategy defenses should use.
So now we have a question: is the book out on Lin? It all comes down to execution.
Defenses can have a scouting plan based off of what Miami did well and the ideas that Pruiti so articulately described in his analysis, but rarely do clubs execute on the defensive end as well as the Heat.
The key to stopping a team that relies on its pick and roll so heavily as Mike D'Antoni does is execution and the ability to keep the point guard from efficiently penetrating to the basket.
Miami was able to successfully keep Lin out on the perimeter, and that greatly hampered his impact and effectiveness.
Opposing defenses will now have a strong idea as to how to take Lin out of the game, but, again, there are very few clubs in the league that possess the speed and consistent execution that Miami does game in and game out.
Lin will be a marked man for the rest of the season, and he's going to have to make quick adjustments to his game if his success will be of the long-term variety.