New England Patriots Need Defensive End Help in Draft Regardless of Andre Carter
February 24, 2012
Marc Piscotty/Getty Images
When New England Patriots defensive end Andre Carter went down with a season-ending injury against the Denver Broncos, the speculation began almost immediately as to whether it was Carter's last game in the NFL, much less in a Patriots uniform.
At 32-years-old, the veteran defensive end signed a one-year deal with the Patriots, which expires the minute the new league year starts on March 13.
According to Shalise Manza Young of The Boston Globe, the talks have already begun to get Carter back in a Patriots uniform in 2012.
Carl Poston, agent for Andre @mr_carter93, says Carter is ahead of schedule on rehab...Poston/Pats have discussed return to NE for D-end

— shalise manza young (@shalisemyoung) February 24, 2012
What It Means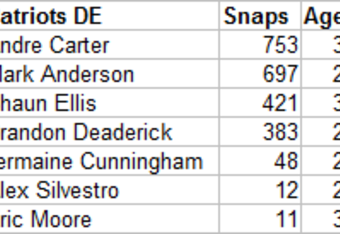 The Patriots brought in two veteran defensive ends in the 2011 offseason scramble: Carter and Mark Anderson. The two combined made up for half of the Patriots total sack production, and Carter contributed his 10 sacks in just 13.5 games. For that reason, it would be smart for the Patriots to bring him back.
That being said, who knows how much can be expected of Carter at this stage, coming off season-ending knee surgery in December.
The Unproven
There's not much in the way of talent behind the two that could step up. 2011 sixth-round pick Markell Carter didn't play a single down during the '11 season; 2010 second-round pick Jermaine Cunningham played just 48 downs last season; Shaun Ellis could retire; Brandon Deaderick, Myron Pryor and Ron Brace more closely resemble a defensive tackle or five-technique end than a true rush end. 
Cunningham and Markell Carter are two names to watch in training camp as the team rounds out the roster, but can the two be counted on to produce for the Patriots in the future? Only time will tell.
With Andre Carter returning to the Patriots in all likelihood, it seems we may not have to find out immediately. The Patriots would be wise, though, to address their lack of depth at the position with a pick or two in the draft. 
Just don't expect it to be a high one.