Virginia Tech vs. Duke: TV Schedule, Live Stream, Spread Info and More
February 24, 2012

Streeter Lecka/Getty Images
The Virginia Tech Hokies will look to spoil the No. 4 Duke Blue Devils' chances at an ACC regular season title as they travel to Cameron Indoor.
Unfortunately for the Hokies, they sit at 15-13 overall and 4-9 in the ACC, so upsetting Duke (24-4, 11-2 ACC) is going to be a tall task. 
But that doesn't quite paint the whole picture. Of Va Tech's nine conference losses, an amazing six have come by five points or less. Of course, one of the blowouts came against Duke, but that doesn't mean the Hokies are going to simply roll over.
Here's a closer look at Saturday's matchup.
Where: Cameron Indoor Stadium, Durham, NC
When: Saturday, Feb 25 at 12:00 p.m. ET
Watch: ESPN3
Listen: For a list of affiliates around Virginia Tech, check here. For a list of affiliates around Duke, check here.
Spread: Spread has not been released yet. Will update when it is announced.
Virginia Tech Key Injuries
Victor Davila (groin) expected to miss game
J.T Thompson (knee) out
Duke Key Injuries
None 
What's at Stake
For Virginia Tech, an NCAA tournament at-large bid is out of the question, but it would be nice for the Hokies to gain some momentum heading into the ACC tourney.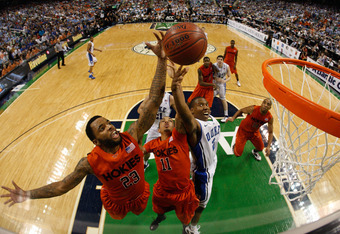 Streeter Lecka/Getty Images
Beyond just the tournament though, you can never over-state what a road win against Duke does for your program, whether it be in recruiting or simply gaining fan-fare.
This would be a big one for the Hokies.
For Duke, they are trying to do two things. First, the Blue Devils are trying to win out so they can secure a No. 1 seed in the NCAA tournament.
Second, they want to win their next two games to set up an instant classic on March 3. If both Duke and North Carolina win out, they will play for the ACC regular season title to close out the season.
What They're Saying
Mark Giannotto of the Washington Post points out that Victor Davila's injury goes past just his season stats. He's actually been quite effective against the Blue Devils.
This season he's averaging 7.5 points and 4.2 rebounds per game, but more significant in the short term is that Davila has proven particularly effective against the Blue Devils over the years. He had his best game of this season when the Hokies lost to Duke earlier this month, outplaying Mason Plumlee much of the night and tying his career high with 16 points and seven rebounds.
Filling in for the Hokies will be sophomore Cadarian Raines and freshman C.J. Barksdale. Both have showed promise while getting extended run, but they will have a tall task in containing the Plumlee bros. 
Virginia Tech Player to Watch: Erick Green
Patrick McDermott/Getty Images
Green has far and away been the Hokies' most consistent scorer. He has scored in double-figures in every single game this season. He has a knack for getting to the hoop and finding the open man coupled with the ability to knock down the long ball.
If the Hokies want to have any chance of knocking off Duke, the junior will have to step up. For what it's worth, he dropped 17 points and had seven rebounds last time these teams met, but he only dished out one assist.
Duke Player to Watch: Austin Rivers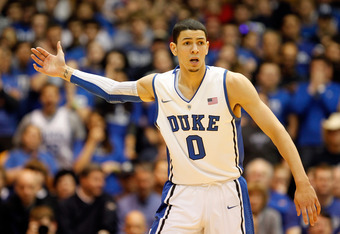 Streeter Lecka/Getty Images
The highly-touted freshman has been terrific lately, scoring at least 20 points in three of his last six matchups. And that includes his brilliant performance against North Carolina.
After looking overwhelmed at times during the beginning and middle of the season, Rivers seems to have finally hit his true potential. Coack K seems to have noticed, too, as the Blue Devils are relying more and more on Rivers.
He needs to improve the free-throw shooting, but that's really the only complaint. He can absolutely take over games with his playmaking ability, so don't be surprised if he does that on Saturday.
Key Matchup: Dorian Finney-Smith vs. Mason Plumlee
Finney-Smith, a true freshman, has seen his role revitalized in the last few games. As a result, he's playing much more like the Finney-Smith we saw at the beginning of the season.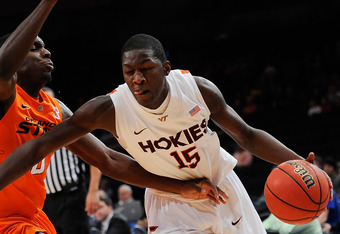 Patrick McDermott/Getty Images
He's got a tough draw in this one, however, because he's going to have to keep Mason Plumlee off the glass, especially the offensive one.
Plumlee has a few inches on Finney-Smith, so the Hokie is going to have to use his body effectively to keep Plumlee out of the lane.
Easier said than done.
If he, along with the other big men, can keep Duke off the boards and limit the Blue Devils to one shot, the Hokies have a very good chance.
Prediction
Duke 70, Virginia Tech 65
I think the Hokies will keep this closer than most people think, but the home-court advantage will keep Duke on top.