Boston Bruins: Report Throws Milan Hejduk, Kyle Okposo Into Rumor Mill
February 24, 2012

Elsa/Getty Images
The longer Boston Bruins general manager Peter Chiarelli stalls in the waning stages of the countdown to the NHL trade deadline, the more fresh faces are inclined to emerge in the circulation of speculation.
Bruins beat reporter James Murphy of espnboston.com shipped in the latest supply Thursday evening in a post that mentioned five previously unheard names. Murphy holds that defensemen Johnny Oduya, Jaroslav Spacek and Lubomir Visnovsky as well as forwards Milan Hejduk and Kyle Okposo could be on Chiarelli's radar.
Given the state of the active roster, Chiarelli ought to refrain from pursuing any blueliners and focus solely on supplementing the losses of Nathan Horton and Rich Peverley up front. Regardless of when or if the two ailing strikers return and how effective they can be post-injury, the Bruins still need offensive insurance and a new personality with a keen, unquenched hunger for a title.
Hejduk, who once joined in on Mission 16W with Ray Bourque's Colorado Avalanche in 2001, could be that long-elusive replacement for Mark Recchi with a similar offering of grizzled grittiness.
A career Coloradan with 14 NHL seasons under his belt, Hejduk has been to four NHL conference finals, but none within the last decade. And even while playing for a relatively shabby Avalanche squad, the 36-year-old is still good for double digits in both the goal and assist column.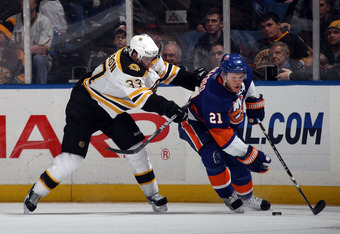 Bruce Bennett/Getty Images
Accordingly, if smoothly assimilated into a depth chart that constituted the league's leading strike force for the better part of this season, Hejduk could see an inevitable rise on his stats line. In addition, there is every indication that he would come to Boston at a reasonable cost, i.e. a to-be-determined draft pick and/or one or two AHL players.
However, the fact that the Avalanche just acquired Steve Downie and only sit two points out of the playoff bracket entering Friday's action suggests there is to be no selling in the Mile High City.
The same cannot be said about Long Island, which has been Okposo's professional abode since he established himself as an NHL regular in 2008-09. The Islanders will need to surmount at least five other teams over their remaining 22 games to salvage any last postseason hopes.
But for reasons on both ends, a deal that would have Boston importing Okposo is an iffy proposition. The fact that he is still 23 years of age means the Islanders likely want to retain him as part of their painstaking rebuilding process. Meanwhile, the Bruins' offense would get virtually younger with him when adding more maturity would be preferable.
In addition, there is the question of whether or not Chiarelli would want to take on Okposo's contract, which still has four years yet to come, and what he would need to expend to pull off the deal.
On the other hand, there is little doubt as to Okposo's fruitful physicality, which could come into the full limelight were he to join a certified championship contender, let alone one that stresses a blue-collar work ethic. And he has flaunted a winning pedigree at previous levels, having partaken in a USA Hockey national championship with Shattuck-St. Mary's in 2005 and piloted the Des Moines Buccaneers to a USHL title the year after.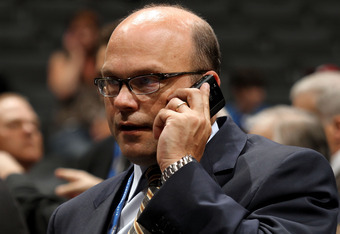 Bruce Bennett/Getty Images
The likelihood of seeing either of these forwards in black and gold by the Bruins' next home game, one night after Monday's deadline, is difficult to gauge. Hejduk is a tad more realistic, if only for the fact that there is more flexibility in his slimmer contract and more to gain from his seasoned resume.
But simply put, Chiarelli needs to do something to install an offensive safety net. Regardless of how far-fetched any proposition might seem, it must remain on the table as long as it involves adding a certified scorer while leaving the rest of the established NHL roster untouched.
Chiarelli is in overtime here. He must not let up until he scores or until the final horn at 3 p.m. Monday.