Minnesota Twins: If Justin Morneau Can't Play, Then What?
February 24, 2012

Hannah Foslien/Getty Images
Spring training started for Minnesota Twins first baseman Justin Morneau this morning, but thoughts of the concussions that cut short his previous two seasons still hang over his career.
It's very possible that another concussion to the 2006 MVP would end his career.
"Well, I don't think there will be a career if it's something I'm dealing with," Morneau said this morning via twincities.com. "That's the reality of the whole thing. I'm obviously not going to continue to mess around with this if it continues to be a problem. There comes a point where you can only torture yourself for so long."
If for whatever reason Morneau can't play, the Twins would again have a huge hole in their lineup and in the field. Morneau was one of the top offensive players in baseball when healthy, and was also a top defensive first baseman.
Over the last two years, the Twins were able to move outfielder Michael Cuddyer into the infield, but Cuddyer was not re-signed during this offseason.
So what would the Twins do this year if Morneau can't go?
Option 1: Promote Chris Parmelee to the Major League Squad
Chris Parmelee was drafted as the 20th overall pick in the 2006 MLB draft and was a late-season call-up in 2011. He did very well during his brief stint in the majors, batting .355 and recording a 1.035 OPS in 20 games.
Obviously it would be highly unlikely for those numbers to continue through a full season, but Parmelee did have a .800 OPS in his minor league career, so a .750 OPS in the majors wouldn't be out of the question.
The Twins drafted him to be a power hitter, but the power has not developed as expected so far in his minor league career.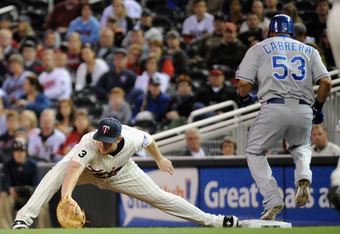 Hannah Foslien/Getty Images
Defensively, Parmelee is average. He doesn't have a large range but could adequately play first base at the major league level.
Option 2: Luke Hughes
Hughes played 36 games at first base for the Twins in 2011, however prior to that he had played five games at the position since signing with the team in 2003. He had regularly split time between second and third base.
Not a great hitter, he has a .224 batting average and .636 OPS in 98 major league games. In his minor league career he has averaged around a .750 OPS, showing little power.
Nothing special defensively, he would seem to be a bench utility infielder at best in the majors.
Option 3: Joe Mauer
For the last few years, fans have been clamoring for Mauer to move from behind the plate to either third base or first base. Last year he finally did, playing 18 games at first base.
Injuries have also been a problem for Mauer, and it would make sense to get him away from the demands of being an everyday catcher. In his limited time at first base, he seemed to field the position well, and with his athletic ability it would not be a stretch to imagine he would become a plus-fielder at the position.
Everyone knows his offensive skills—he led the league in batting in 2006, 2008 and 2009, and led the league in OPS in 2009. He's not a huge power hitter, but if healthy can put out 15-20 home runs a season along with the elite batting average.
The problem with moving Mauer from catcher is that it wouldn't truly fill the hole in the lineup, since it would just be moving the hole from first base to catcher, where Mauer's backups are currently Ryan Doumit (average offensively, poor defense) and Drew Butera (horrible offense, plus-defense).
However, a healthy Mauer playing first base for an entire season would be better for the Twins than a slightly banged-up Mauer playing catcher and taking every third game off or DHing.
Option 4: First Base by Committee
Most likely this is what you'll see.
Parmelee and Mauer would likely split time at first base, with Mauer playing 100-plus games at catcher and then playing first base for 40 games (assuming good health of course). Parmelee would be given a shot at earning the full-time job.
Obviously, the best case scenario is that Morneau comes back to his 2006 form and never has another concussion problem going forward. With a healthy and in-form Morneau and Mauer, the Twins could compete for the AL Central title this season.
The health of these two will determine the fate of the 2012 Minnesota Twins.