25 Free-Kick Goals You Have to See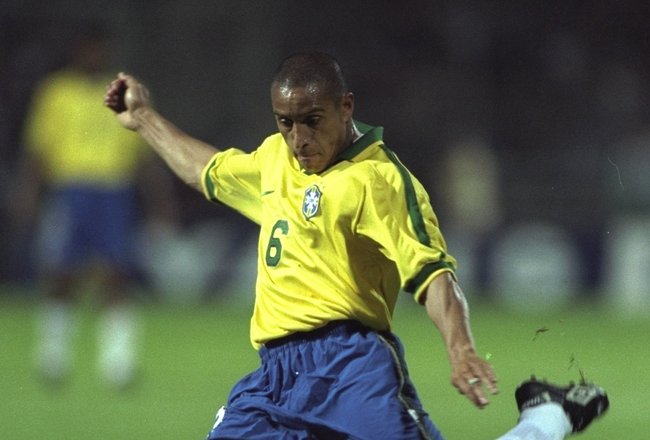 Shaun Botterill/Getty Images
Free kicks can provide some of the must-see moments in World Football.
Whether its an absolute laser from Roberto Carlos or it is being bent by David Beckham, awesome free kicks can supply some breathtaking and awe-inspiring instances in the game.
These free kicks are all amazing to watch and some have the added factor of being extremely important for the scoring side.
Here are 25 free-kick goals you have to see.
Juninho vs. Barcelona
Lyon went on to lose the tie, but Juninho provided a moment of magic for the French Giants. This free kick had the usual Juninho qualities, such as technique, but it had some cheek to it as well.
Juninho vs. Sedan
Juninho again shows his prowess with another unstoppable drive. The movement on this ball would have made it difficult for any keeper.
Pierre Van Hooijdonk vs. Freiburg
This free kick is a little similar to the first Juninho goal in this slideshow. Pierre Van Hooijdonk puts a lot more power behind the ball and makes it an absolute beauty in the process.
David Beckham vs. Greece
The importance of this goal and the sheer quality involved make it a must-see. The commentator builds the scene up and David Beckham delivers an emphatic moment for his country.
Roberto Carlos vs. France
This is probably the best free kick. Ever. Folks may be able to replicate this on FIFA, but I doubt it will ever again happen in real life.
Zlatan Ibrahimovic vs. Real Zaragoza
There is no taking away credit from Zlatan Ibrahimovic for this goal. It was an absolute cracker from one of the world's best forwards.
Mikael Nilsson vs. PSV Eindhoven
I'll have to go with Andy Townsend on this one. I have never seen something like that before. It was a terrific free kick and a joy to watch.
Shunsuke Nakamura vs. Manchester United
You can watch this one again and again. It was a perfectly executed and perfectly placed free kick from Shunsuke Nakamura.
Hugo Almeida vs. Inter
This free kick makes Zlatan Ibrahimovic's look tame, though, it is definitely still deserving of this list. The way the ball continued to rise and find itself in the top corner was amazing.
Jimmy Floyd Hasselbaink vs. Manchester City
Jimmy Floyd Hasselbaink wins the battle of the power shooters with this effort.
Cristiano Ronaldo vs. Portsmouth
The last two video shots show how fantastic a strike this is. The dip, the swerve and the power combine to make this one of Cristiano Ronaldo's best free kicks.
Oleksander Aliev vs. Ukraine
Aleksander Aliev added himself to the mix with a tremendous long-range effort. This free kick had power, movement and accuracy, and the range makes it even more astounding.
Alvaro Recoba vs. Barcelona
Alvaro Recoba had a lot of magic in his boots and showed it here. There is obvious intent in the goal and it was immaculately executed.
Dwayne De Rosario vs. L.A. Galaxy
A magnificent free kick from the MLS that does not involve David Beckham? Yes, yes indeed. Dwayne De Rosario is a talented player and conjures up a great moment here.
Keisuke Honda vs. Hong Kong
The commentating is hilarious. The free kick's not too bad, either. I still think it would have gone in even if there was more than one person in that wall.
Juninho vs. Bayern Munich
You can't really mention free kicks and Juninho without adding this one to the conversation. This was not one of Oliver Kahn's best moments. It was one of Juninho's, though.
Massimilian Porcello vs. VFL Bochum
Massimilian Porcello uses the same technique as Mikael Nilsson did and makes it count. It is always sweet to see the ball curve into the net like that, and Porcello makes it look easy.
Massimilian Porcello vs. Hansa Rostock
Massimilian Porcello uses that technique again here, but this time it's from a much, much longer distance. It looks better and better each time you watch it.
Ronaldinho vs. England
There is a ton of cheek involved in this goal from Ronaldinho. Add that toe technique and the fact that it was an extremely important moment in the game, and you have to see this free kick.
Steffan Effenberg vs. Dynamo Kyiv
You only get to see Stefan Effenberg's goal for a few seconds, but it is a beauty. That angle does a right-footer no favours, and Effenberg had to produce a tremendous piece of skill to score from there.
Roberto Carlos vs. Barcelona
Roberto Carlos hit one rocket of a shot with this effort and left the goalkeeper no chance. For the ball to continue at such velocity and not go way over the bar shows incredible control from the Brazilian.
Sinisa Mihajlovic vs. Chelsea
Sinisa Mihajlovic scores a goal similar to both Juninho's and Pierre Van Hooijdonk's. All three are from different angles, but you could say that Mihajlovic has the hardest job as he is the closest to the 18-yard box.
That didn't seem to stop him, though.
Sinisa Mihajlovic vs. Roma
To hit the ball with such pace and curve requires a great amount of skill. You could expect nothing less from Sinisa Mihajlovic, one of the best in the game.
Sagar Thapa vs. Bangladesh
This free kick definitely rivals Ronaldinho's World Cup effort. It was a great goal from, it must be said, an unlikely source.
Keep Reading