Los Angeles Lakers: Grading Every Starter at the All-Star Break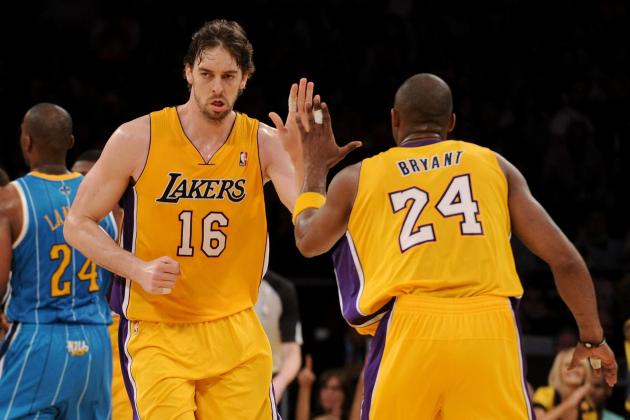 Harry How/Getty Images

As the Los Angeles Lakers enter the All-Star break, it's clear that this is not the same team fans have grown accustomed to watching over the past few years. They are 20-14 and in second place in the Pacific Division, a game-and-a-half behind the rival Los Angeles Clippers. A 6-12 road record has kept them from looking as dominant as they once were.
The fact is that while the Lakers are not a bad team by any means, it's going to be hard for them to win on the back of an aging Kobe Bryant and guys like Pau Gasol, who are reliable, yet unpredictable.
That being said, let's play teacher and grade each of the Lakers starters at this point in the season.
Begin Slideshow

»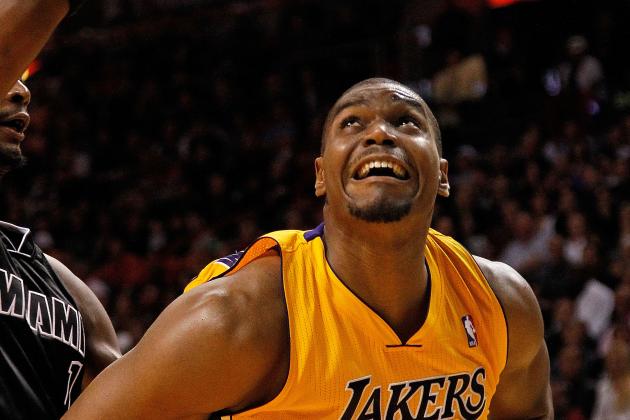 Mike Ehrmann/Getty Images

Prior to this year, Andrew Bynum had a reputation as an oft-injured seven-footer who was a lock to miss a number of games. On top of that, particularly last postseason, his attitude and play were called into question.
This year, however, Bynum has been the complete and utter opposite. The only games he has missed were due to a suspension at the start of the season (stemming from actions last season) and he is averaging 16.3 points and 12.7 boards, both career highs.
The 24-year-old finally seems to be living up to the hype that surrounded him when he was drafted tenth overall in 2005. If he keeps it up, the Lakers could be due for another long playoff run.
Grade: A+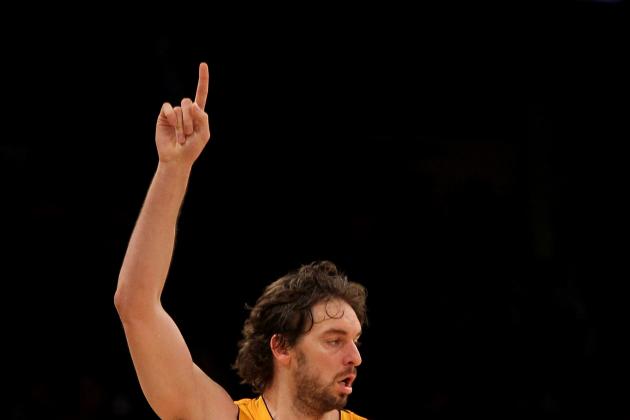 Stephen Dunn/Getty Images

On paper, Gasol is not a bad player. He is averaging 17 points and 10.6 rebounds per game and has made 50 percent of his shots from the floor.
Yet, as has been the case many times in the past, Gasol has been hesitant to add some toughness to his play and has thus been labeled as soft. I hate to say it, but it's true. In all my years of watching him play, I've never once seen him regularly go out of his way to take a charge or get fouled hard.
The numbers are decent, but the overall execution could be much better.
Grade: B-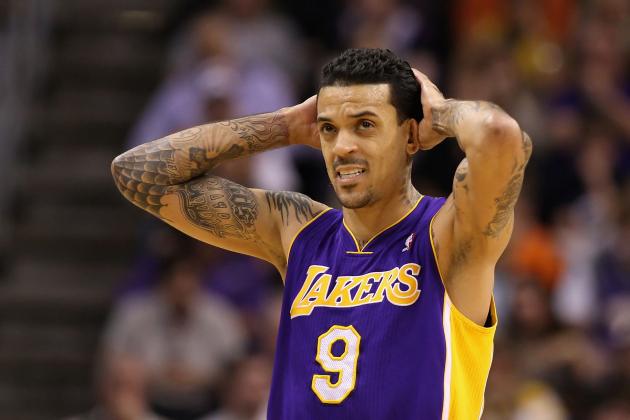 Christian Petersen/Getty Images

Metta World Peace couldn't turn down the suck, so Matt Barnes is now the Lakers' starting small forward. As was the case with the position during the Shaq era, there isn't much production coming out of the 3-spot.
Barnes is averaging seven points per game to go with 4.8 rebounds over 21.7 minutes. They aren't solid numbers, as he is only shooting 44 percent from the floor and has made just 25 percent of his threes.
Such stats aren't his fault at all, as the Lakers system in recent year hasn't been small forward-friendly, but it's his job as a starter to do what he can to put up the best possible numbers.
He's got potential, but just has to want it a little more.
Grade: C+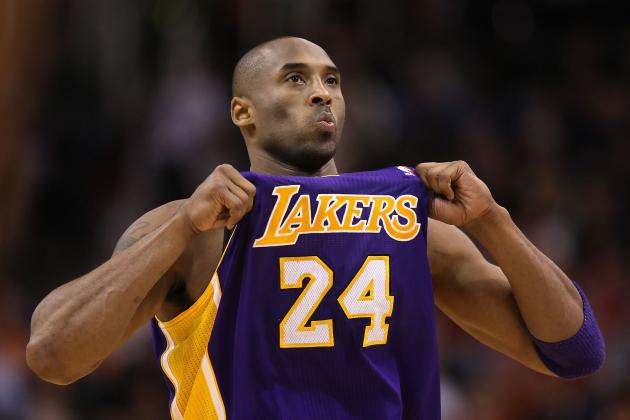 Christian Petersen/Getty Images

Per usual, Kobe Bryant is having another great offensive season and is currently leading the NBA in scoring with 28.4 points per game. Night after night, he puts the team on his back and does everything he can to bring home the win.
Yet, here we find the main source of the Lakers problems. While Bryant's scoring is great, he can be a bit of a ball hog. This year alone, he is averaging 23.7 shots a game and has made only 43 percent of them. That's his lowest shooting percentage since the 2004-2005 campaign.
On top of that, Bryant's three-point shooting has been off as he has only shot 28 percent from downtown. I'd love to give him an "A," but since he doesn't seem to understand how to share the ball in crunch time, I just can't.
Grade: B
Christian Petersen/Getty Images

I honestly don't understand how Derek Fisher is still playing. His career has been defined by two things: clutch shots and good leadership. Yet, at age 37 and with 15 seasons under his belt, he has never really been what one would call an elite point guard.
This year, Fisher is averaging just 5.5 points and 3.4 assists per game. As the starting point guard, it is his job to run the offense and create plays that will help the Lakers win. Only passing the ball to Kobe and then stepping back kind of defeats that purpose.
Yes, he's a great locker room presence and his resume of clutch shots is quite impressive, but the Lakers need a point guard who will make the team better and not just pass the ball to the most reliable scorer.
Grade: D-