Boston Red Sox: Why Top Prospect Will Middlebrooks Is a Future MLB Superstar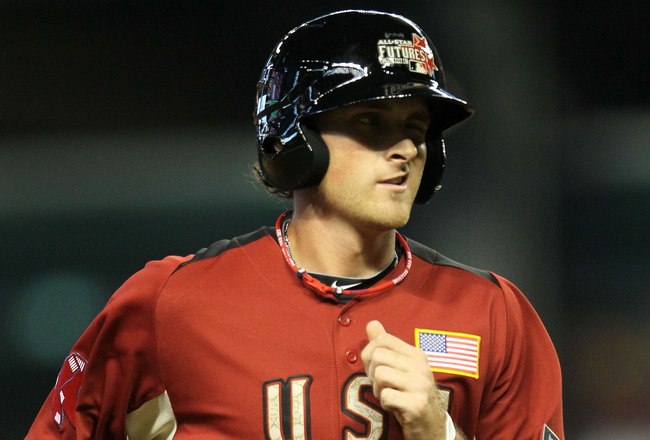 Jeff Gross/Getty Images
There is no doubt in anyone's mind that Will Middlebrooks will be the third baseman of the future for the Boston Red Sox, but will he be worth it?
Kevin Youkilis is starting to get too old to play third base every day, and Middlebrooks will be called up sometime this year to split time with him or even take over if he gets injured at any point during the regular season.
Middlebrooks has the potential to replace Youkilis' production with the numbers he has produced at the minor league level and will be an MLB superstar in the years to come.
Power Numbers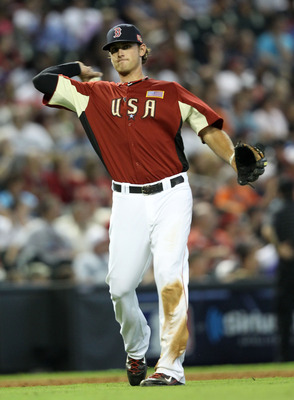 Christian Petersen/Getty Images
Will Middlebrooks played in 96 games with the Portland Sea Dogs before being promoted to Pawtucket later in the season. In those 96 games, he hit 18 home runs.
However, he struggled with the Paw Sox with two homers in 60 plate appearances.
He has shown some power potential, and he is only 23 years old. Once he gets accustomed to the level of pitching in Triple-A, then he should be able to hit the ball all over the place and out of the ballpark once he is with the Boston Red Sox.
Hitting Ability
Will Middlebrooks has the potential to hit over .300 when he gets the full-time third baseman role after Kevin Youkilis moves to DH.
He struggled in Triple-A with a .162 average, but overall in 2011, he hit .285, and maybe another year in the minors will help his ability to hit the ball.
Middlebrooks' average has increased by .010 points every year since joining the farm system in 2008, and perhaps he has reached his ceiling, but he will be a perennial All-Star once he gets his feet wet at the major league level.
Ability to Get on Base and Slugging Percentage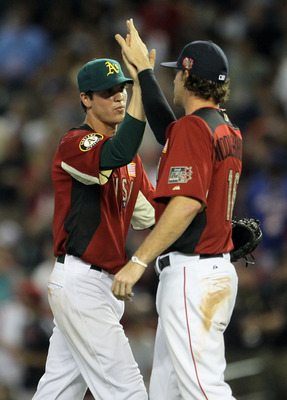 Jeff Gross/Getty Images
In the 2011 season, with Single-A, Double-A and Triple-A, Will Middlebrooks had an OBP of .328 and a slugging percentage of .506.
As the numbers show, Middlebrooks is clearly getting his job done at the plate.
These stats will only get better with age and maturity. Middlebrooks has become more patient at the plate, even though he only had 26 walks in 2011. He takes more pitches and does not strike out as much, with 114 in 2011.
Fielding Numbers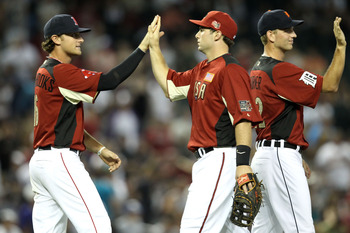 Christian Petersen/Getty Images
Will Middlebrooks is no expert fielder, but his offensive production would be enough to compensate for his decent ability at third base.
His career minor league fielding percentage is .937, and he's averaged 14 errors per season, which is better than many third basemen in the majors.
Maybe he would struggle once reaching the majors, but it would be great to see how he could hit against major league pitching.
Timetable
Will Middlebrooks will be ready in 2013, but he could get the call in September 2012.
Before that, he will be playing his way through Triple-A and will learn to hit better pitching and play third base at a higher level.
His rookie season will not be great, but he still has the potential to win Rookie of the Year when he gets the time to play.
He has all of the talent of a great prospect, but only time will tell if it will produce great major league at-bats.
Keep Reading

Boston Red Sox: Like this team?