Jeremy Lin, New York Knicks: Bold Predictions for After the All-Star Break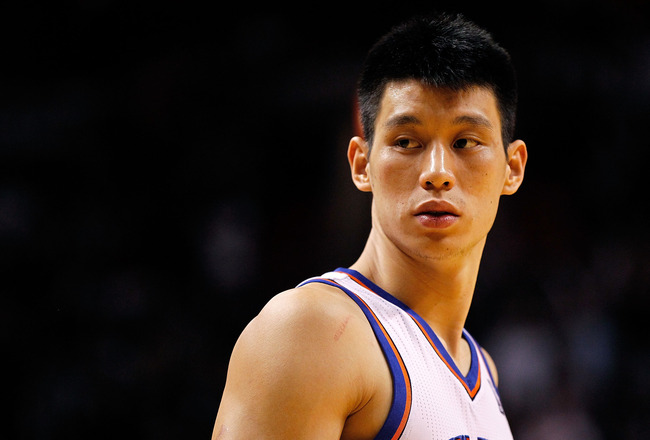 Mike Ehrmann/Getty Images
After a dreadful opening to the season where the Knicks found themselves seven games under 500., their savior, Jeremy Lin, has completely turned this team around and now has them 17-18 entering the All-Star break.
When Lin first took over the starting role, the Knicks were a depleted team with stars Carmelo Anthony and Amar'e Stoudemire both on the sidelines.
Now, the Knicks are back at full strength, with even more firepower than they had before.
Carmelo Anthony and Amar'e Stoudemire are both back in the starting lineup. Baron Davis has come back from his injury and looks like he will be an effective back up for Lin. They even brought in the very talented J.R. Smith, who has the ability to score in bunches at any point during the game.
The Knicks are one of the most talented teams in the NBA. They have all the tools to make a championship run, but could be hampered from their lack of experience playing together and knowledge of each other's game.
Here are five bold predictions for the New York Knicks after the All-Star break.
Jeremy Lin Will Average over 10 Assists Per Game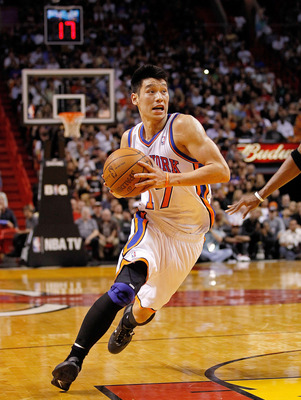 Mike Ehrmann/Getty Images
So far, Lin has played significant minutes in 12 games with the Knicks. In these games, he is averaging 8.7 assists per game, while scoring close to 23 points as well.
In the majority of these games, Lin's best offensive teammates have been Landry Fields and Tyson Chandler. These two are good, but Lin also needed take on a significant scoring role during these games in order for the Knicks to win.
Now that Lin has Carmelo Anthony and Amar'e Stoudemire to play with as well, he can just focus on distributing and ball movement. When he's doing these things well, the Knicks are impossible to stop, regardless of how many shots he's taking.
Since he's already averaging close to nine assists per game as it is, Lin's emphasis on passing after the All-Star break should easily lead to him averaging double-digit assists in the second half of the season.
Team Defense Will Be in the Top Half of the NBA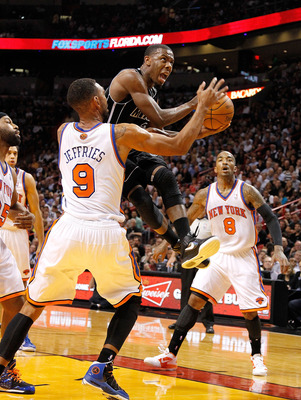 Mike Ehrmann/Getty Images
The energy Lin has brought to the Knicks has been infectious. As a team, the Knicks have had very active hands so far this season on defense and are second in the league in steals, averaging 9.6 spg.
It also doesn't hurt that for the first time in a while, the Knicks have a dominant perimeter and interior defender.
The Knicks drafted Iman Shumpert in the first round in this year's draft solely for his defensive ability. He uses his long arms and quick feet very well and is currently fourth in the NBA in steals with two per game.
On the interior, Tyson Chandler has really brought and intensity to the Knicks frontcourt. He has proven to be the perfect compliment to Amar'e Stoudemire and is a huge reason for the Knicks drastic improvement on defense this season.
Amar'e Stoudemire Will Drastically Improve His Field Goal Percentage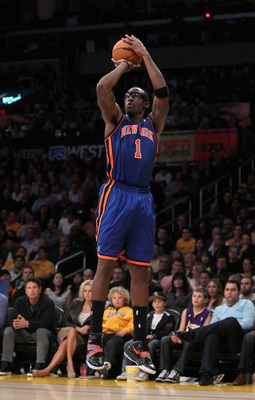 Jeff Gross/Getty Images
Amar'e Stoudemire is having by far the worst shooting season of his career with a 44.5 field goal percentage.
If you don't include the 2005-2006 season where Stoudemire only played in three games, the lowest shooting percentage of his career is still over 47 percent, which happened in his rookie season. The past six seasons, STAT has shot well over 50 percent each year and even came extremely close to hitting 60 percent one season.
The major reason for Stoudemire's shooting woes this season has been his struggles from mid-range. From 3-9 feet, Stoudemire is shooting an abysmal 23.9 percent and from 10-15 feet, he's not shooting much better at only 33.3 percent.
These numbers are way below average for STAT, so his shooting numbers must go up in the second half of the season.
Carmelo Anthony Will Score over 20 Points Per Game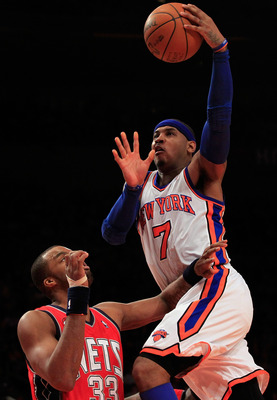 Chris Trotman/Getty Images
I know Carmelo Anthony has struggled scoring since returning from his injury, but you need to give him time to gel with Lin and the rest of his new teammates.
You have to remember, Carmelo has never played in a system before where he isn't the focal point of the offense. Since he was a rookie, Melo's job has been to isolate his defender and try and score one-on-one the majority of the plays.
It's going to take some time for Melo to learn to play off the ball, but I believe when he does, he'll be an even more dangerous scorer than he already was. Since he is extremely good at both shooting and driving to the basket, Melo should find it much easier to score now when Lin is finding him in open space as opposed to before when he always needed to create his own shot.
The Knicks Earn Home-Court Advantage in the First Round of the Playoffs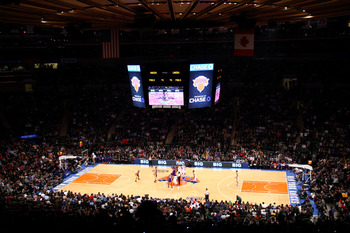 Chris Chambers/Getty Images
Currently the Knicks are in seventh place in the Eastern Conference—three and a half games behind the 76ers for what would be fourth place right now in the conference.
The Knicks are definitely going to be tested when they come back from the break. In their first 10 games back, they play eight teams who will most likely make the playoffs. Unlike the first half of the season, for the rest of the year, the Knicks don't really have any long stretches of games where they play teams with losing records.
I believe the Knicks are ready to take the next step, though. They have immense talent at every single position, so I expect the second half of the season to play out similar to how the first half ended and the Knicks to quickly climb towards the top of the Eastern Conference standings.
Keep Reading

New York Knicks: Like this team?