Fantasy Baseball 2012: Top Sluggers Available After Round 5
February 24, 2012

Christian Petersen/Getty Images
Power is a crucial element in fantasy baseball. Big bats take care of three of the five offensive categories in standard scoring leagues: home runs, RBI, runs.
If you have missed out on the big name position players, do not panic, for there are plenty of capable players available.
Corey Hart
Corey Hart is not the sexiest outfielder to draft, but he is often under appreciated compared to other players drafted before him. Hart has slugged over .500 the past two seasons and has hit 57 home runs within that time frame, to go along with a batting average over .280.
Hart may not have the upside of a Jay Bruce, Nelson Cruz, or Josh Hamilton, but he is a safe pick if you miss out on your main targets.  
2012 Bill James Projection: .274 BA, 25 HRs, 80 RBI
2012 ZiPS Projection: .270 BA, 24 HRs, 76 RBI
David Ortiz
Need a lock for at least 25 home runs and over 90 RBI? Ortiz has been one of the more consistent fantasy players out there, and if he played a position he could be a potential pick within the first five rounds.
He is unlikely to replicate the .309 average and .398 OBP from last season, but the home runs and RBI should be no problem, playing in an offensive-happy ball park on one of the better offenses in the AL.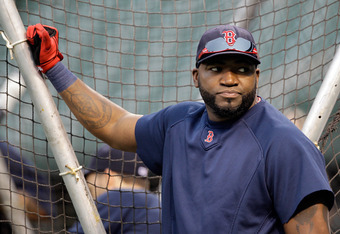 Rob Carr/Getty Images
2012 Bill James Projection: .277 BA, 30 HRs, 104 RBI
2012 ZiPS Projection: .266 BA, 25 HRs, 78 RBI
There is some major potential with Michael Cuddyer this season. He is one of the more valuable players this season because of his position flexibility. He will be eligible at first base, second base, and the outfield.
Adding to his versatility is the major advantage of now playing his home games in Coors Field rather than Target Field. It would not be crazy to see him bat over .280 and hit 25 home runs.
2012 Bill James Projection: .275 BA, 21 HRs, 85 RBI
2012 ZiPS Projection: .288 BA, 21 HRs, 78 RBI
Paul Goldschmidt
So you have missed out on every big name at first base. Fear not, there is a masher deep in the desert that will provide more than enough pop for the position.
Paul Goldschmidt is basically an advanced version of Mark Trumbo. He has identical raw power and has the potential to hit 30 home runs, but unlike Trumbo he has some on base skills. Goldschmidt also has the luxury of playing in a more hitter friendly environment at Chase Field.
He will not help much in terms of average, but if he provides the home runs and RBI you will not be disappointed, considering where you will get him in the draft.
2012 Bill James Projection: .266 BA, 32 HRs, 99 RBI
2012 ZiPS Projection: .250 BA, 30 HRs, 90 RBI