Ryan Braun Appeal: Why Sports Media Owes Him Clean Start
February 24, 2012

Christian Petersen/Getty Images
According to the LA Times, Ryan Braun, 2011 NL MVP, won his appeal this morning and, as a proven clean player, will not be forced to face a suspension for performance enhancing drugs.
Situations like Ryan Braun's always deserve extra context to help provide a more comprehensive understanding of what is happening to this particularly notable athlete. Braun, who will now battle the PR image of a steroid user for the rest of his career, has a new social expectation and weight on his shoulders because of a false accusation on behalf of the MLB.
While it is an unfair situation, fans of Braun and baseball alike owe him the respect of a clean canvas to work with for the remainder of his exciting career.
To humanize Braun is a task that should come into place at this unique point in his life. Ryan Braun is a spectacular athlete that is now overcoming personal problems. He is understanding media relations with his once letdown fans and the now transparent issues of drug policy in the MLB, and attempting to put together the fragmented pieces of a major point in his life.
Braun, however, was once like all of us. He, too, was once a 12-year-old boy who sought recreational baseball as a hobby that likely defined much of his childhood.
For Braun, baseball was a game that he picked up at a young age. Every little league ballplayer feels a sense of passion with the sport that they love; that is to be expected when introducing a child to something so splendid.
I was not inherently "different" from Braun as a kid. I was a young, Jewish baseball player that adored the sport as much as I imagine Braun still does to this day. It acts as timeless youth adoration, and one that resonates in the narrative of Ryan Braun as much as the system itself.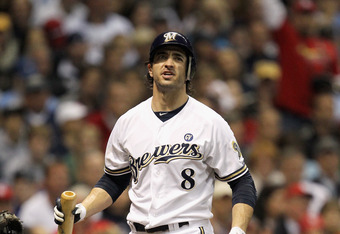 Jonathan Daniel/Getty Images
The difference, however, is that Braun's interest demonstrated one of remarkable talent. That's what separated him consistently—from when he was a four-year letterman at Granada Hills High School until when he won the 2011 MVP Award last year.
"As I said before," said Braun via Facebook, "I've always loved and had so much respect for this game. Everything I've done in my career has been with that respect and appreciation in mind."
Braun, who also excelled academically as a student (Braun is said to have only received one "B" in all of high school, and it was in AP Chemistry to boot), matured as an athlete and as an individual. He received scholarship offers from Stanford, Berkeley and was rated as a top one hundred talent by the prestigious Baseball America prospects list.
It was always talent, however, that separated Braun from the rest of the pack. There's a reason why it was Braun, and not his other teammates, excelled to a level high enough to end up as a first team All-American as a freshman at the University of Miami. The leap that he made was enough to boast envy from peers on a national level, and it's no surprise that his legacy continued as he grew as a player.
As the fifth overall pick in the 2005 MLB Draft after winning ACC Player of the Year honors, Braun quickly brought those same accolades to his professional career.
Spending only two years in the minor league organizational systems for Milwaukee, he quickly won 2007 NL Rookie of the Year honors and 2008 Silver Slugger and All-Star awards. Fame and recognition is something that has been perpetually synonymous with the career path of Ryan Braun.
Braun has been a folk hero for Jewish baseball players since his rise to success in the MLB, and was chosen to represent Team USA in the 2009 World Baseball Classic. As recently as last year, Braun set a record for most NL All-Star votes (5.93 million) and went on to win his first MVP honors.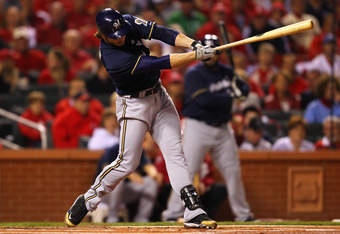 Dilip Vishwanat/Getty Images
Life for the superstar slugger was pretty solid, until news came in December of last year that he had tested positive for performance enhancing drugs.
For sports fans across the country, the golden-boy archetype was lost.
Out was the charity work and quotable sense of humor, and in were the analogies and comparisons to Barry Bonds and Roger Clemens. In a matter of minutes, he went from the charismatic superstar to the suddenly vilified cheater.
Sportswriters are encouraged to pass immediate judgment. It makes for more interesting journalism, more accessible stories and more "clicks" for increased readability.
If people start to see Braun as a villain, then so shall an entire generation of media pundits and writers. Journalism is an especially democratic field, as it gives bread for whatever it is that "the people" seem to want.
When Braun tested positive for PEDs, the reception of the national audience was drastically in favor of throwing him under the bus. Even in my piece on Braun in December, I was quick to point out how awful this was for the sport.
This came, of course, with good reason.
Dedicated baseball fans in 2012 are of a culture that is used to being betrayed by their stars. Coming off of a generation of McGwire and Bonds' and Clemens', fans are used to being lied to.
Why would Braun be any different?
"I have been an open book, willing to share details from every aspect of my life as part of this investigation, because I have nothing to hide," said Braun in his public statement. "I have passed over 25 drug tests in my career, including at least three in the past year."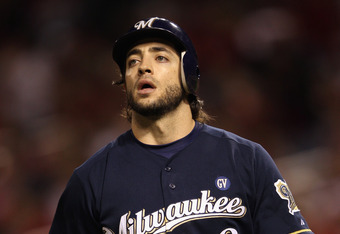 Jamie Squire/Getty Images
"It is the first step in restoring my good name and reputation. We were able to get through this because I am innocent and the truth is on our side," he continued.
MLB players, by policy, are supposed to be guaranteed confidentiality upon failed drug tests until a proper appeal process is in order. Braun was not granted this right, and now faces a future in which writers are forced to even discuss his name as a once-potential PED positive player.
This is a liberty unfairly stripped from Braun, and a decision that a player with a clean name never deserves.
The media is always interested in making a story—they are, by profession, expected to fulfill that obligation—and my pitch is indeed simple.
Journalists that did not support Braun ought to apologize and rectify their wrongdoings. Granted they had been given knowledge that Braun had tested positive, the circumstances have since changed. Braun, however, was innocent until, once more and this time for permanence, proven innocent.
It is my hope that as Braun continues his career, he can be remembered for his beautiful swing and humanitarian aid. As an innocent man, he continues to act as a remarkable role model and noted American.
For the first time in its history, the MLB arbitration panel has overturned their initial judgment and I couldn't be happier. Cheers to Ryan Braun.
Click here to Follow @BryanKalbrosky.