NBA All-Star Slam Dunk Contest: 3 Rookies We Wish We Could See Compete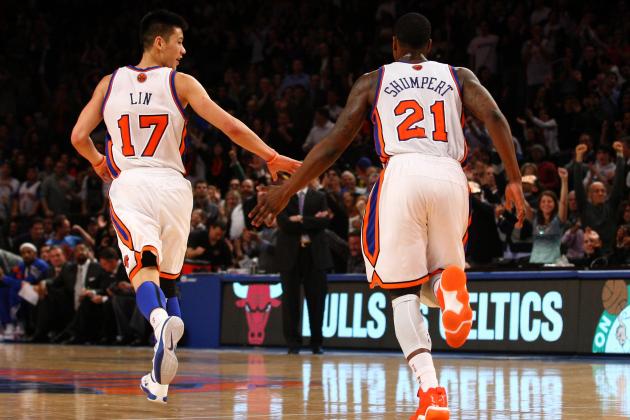 Chris Chambers/Getty Images
Jeremy Lin and Iman Shumpert, the duo we were expecting to see in the Slam Dunk Contest.
One moment, Blake Griffin was casually approaching the hoop.
The next, he was dunking over a car.
Moments like this come and go in the Sprite Slam Dunk Contest. The NBA's greatest take center stage and show off their best tricks with no one to stop them.
But every year, there are players we wish we could see perform in this great event. LeBron James hasn't participated, along with many other slam-dunking greats.
Here are three rookies we would love to see take center stage in the Slam Dunk Contest.
Begin Slideshow

»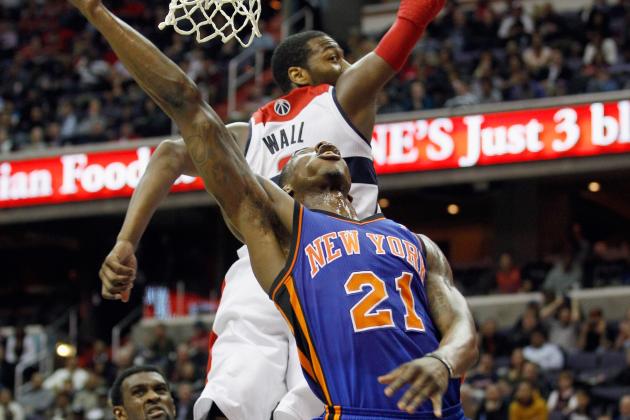 Rob Carr/Getty Images
Iman Shumpert attempts a layup in New York's win over Washington.
When Iman Shumpert was announced as one of the contestants in the dunk contest, everyone got excited because Jeremy Lin was passing him the ball.
Then, Shumpert dropped out because of a knee injury and millions of fans were disappointed.
Shumpert has had a great rookie season, and although injuries have limited his playing time and forced him to miss the dunk contest, that doesn't take away from his performance.
Or his dunking ability.
Shumpert has slammed a lot of basketballs into the net this year, whether he gets a steal-and-dunk, catches an alley-oop or drives and finishes with the slam. There is a good reason why Shumpert was selected to participate in the contest.
There are also two good reasons why we are mad that Shumpert isn't participating in the contest: Jeremy Lin and awesome dunks.
When Sports Science devotes a whole segment to your dunking ability, it's usually a good sign.
As I learned in the video, Tristan Thompson can get almost two feet over the rim (nearly 12'), and his wingspan is longer than that of LeBron James.
Thompson has slammed basketballs into the hoop and shown all of us his spectacular dunking ability. After watching this and analyzing Thompson, you might ask why he isn't in the dunk contest?
I don't know.
We'd love to see this kind of talent and amazing athletic ability featured Saturday night, but instead, all we can do is wish and hope for Thompson to participate next year and to prove the people who voted against him wrong.
If you disagree with me, watch this video.
Faried dunked dozens of basketballs at Morehead State and finished this monstrous dunk in the NBA, leading us all to ponder what he could've done at the Slam Dunk Contest...
A dunk like this, which Faried has proven he can easily finish, would impress the judges, and considering that there is no defense in the contest, Faried's case gets helped even more.
Any Morehead State fan would tell you Faried deserves this, and while he may not have been given much consideration, a strong finish to the 2012 campaign and a nice first half in 2013 might help Faried's resume.
Because, if this is what you want to turn down for your dunk contest, Paul George, Derrick Williams, Chase Budinger and Jeremy Evans better prove us wrong come Saturday night.