Winnipeg Jets Defeat Tampa Bay Lightning, Take Over Southeast Division Lead
February 24, 2012

Tom Szczerbowski/Getty Images
The Winnipeg Jets played strong against a surging Tampa Bay Lightning team, knowing very well that they could be sitting nicely in a playoff spot at the end of the night.
The Jets took home a 4-3 win in a game that wasn't as close as the box score indicated.
After a dominating start to the game and a comfortable 4-0 lead early in the second period, the Jets turned it down a notch.
It wasn't until there were nine minutes remaining in the game that the Lightning were able to strike. The Lightning scored three times in nine minutes including twice in the final minute, but were unable to get the tying goal.
The Jets tried something new as they went with seven defensemen, and it wasn't a bad idea.
The defense played well and held the Lightning to 25 shots on goal after getting ousted for 55 shots against the Flyers.
The offense remains red-hot as it was the fifth-straight game where they've managed to score at least four goals.
The line consisting of Blake Wheeler, Andrew Ladd, and Bryan Little continues to be a threat on every shift.
Blake Wheeler's two assists gives him 49 points on the season and 11 points in his last five games.
Andrew Ladd's two-goal game puts him over 20 for the season, while Dustin Byfuglien's two-point game gives him nine points in his last five games.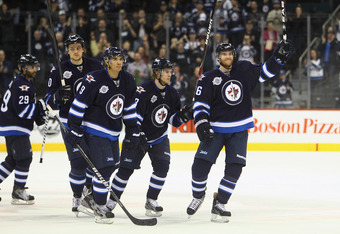 Tom Szczerbowski/Getty Images
The win means the Jets are pulling away from the competition. They have a seven-point lead on the Lightning, a four-point lead on the Capitals and a one-point lead on the Panthers.
They also have a two-point lead on the eighth-placed Toronto Maple Leafs.
The Jets have now recorded points in five-straight games and have leaped ahead of the struggling Florida Panthers for the division lead.
It's a little too early to get overly excited. The Panthers have four games in hand on the Jets.
However, the Panthers only took one of the possible eight points on their four-game homestand while the Jets continue to make the most of their home games.
The Jets are back in action Saturday afternoon against a tough St. Louis Blues team.