Utah Jazz Report Card: Grading Every Player at the Season's Halfway Point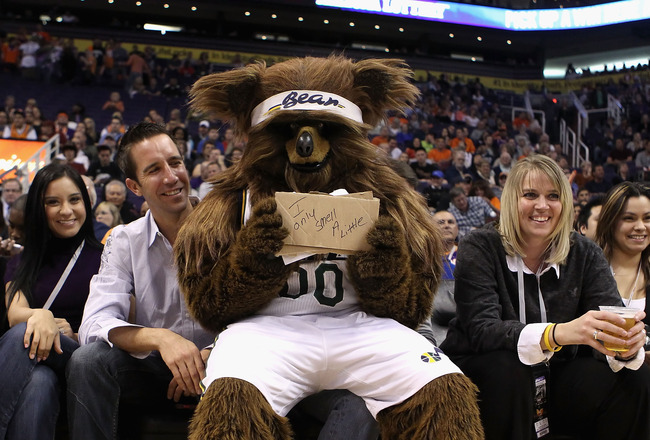 Christian Petersen/Getty Images
The Utah Jazz's season has been a turbulent ride thus far. With sluggish play intermixed with some dominance, it is hard to tell what will become of them come game number 66.
They came out limping against the Los Angeles Lakers and Denver Nuggets to start the season, seemed to find their stride during a favorable January schedule when they went 11-4 and have gone 3-10 since during a weary, road-heavy February campaign.
Their trend of early success is seen most easily looking at their record in five-game intervals: 2-3, 6-4, 10-5, 12-8, 13-12 and most recently 15-15.
The Jazz are currently 15-17 after losing two heartbreaking games before the break.
The first came against the San Antonio Spurs (106-102) when they just could not seem to get stops at the end of the game, while their most recently loss at the hands of the Minnesota Timberwolves was a crushing defeat.
After leading 83-67 with 9:63 left in the game, Utah completely flopped in the fourth quarter, scoring only six points in nearly seven minutes, eventually losing 100-98 on a Luke Ridnour buzzer-beater.
This up-and-down season is reflected in the successes of some of the Jazz's main role players, and their generally consistent core. Here are the grades for each player as the All-Star break sets to begin in Orlando.
Al Jefferson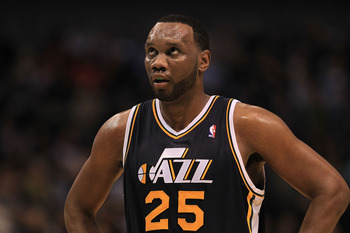 Ronald Martinez/Getty Images
While Al Jefferson is the focal point of the Utah Jazz's offense, he has rarely been the focus of Jazz fans this season.
With rookies Alec Burks and Enes Kanter in their first NBA seasons, Devin Harris' inconsistent play and the up-and-down performance of the team taking center stage, Jefferson has been operating in relative darkness, though producing at a high level.
Sure, he received a nod to be placed on the NBA All-Star ballot, but in the end neither the fans nor the coaches voted him in. Jefferson's per game averages in points (19.1) and assists (two) are up slightly from last season (18.6 and 1.8 assists), though his rebounding (9.4) and shooting percentage (48.1 percent) have both dipped a bit (9.7 and 49.6 percent in 2010-11).
Overall, Jefferson has been tremendously productive and has scored below 15 points in only five games, while racking up 15 double-doubles thus far. His player efficiency rating (PER) of 23.46 ranks him 12th in the league (first on the Jazz) and how he plays down the stretch will largely dictate whether or not the Jazz can make the playoffs.
Grade: A
Paul Millsap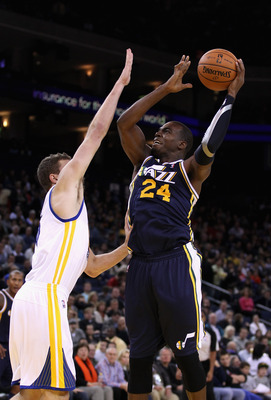 Ezra Shaw/Getty Images
Paul Millsap is the second integral part of the Jazz roster this season, joining Al Jefferson in a powerful one-two punch in Utah's frontcourt.
His player efficiency rating (PER) is nearly as high as Al Jefferson's at 23.22, putting him 14th in the NBA, and his numbers have also dropped in some areas compared to last year (16.1 points vs. 17.3, 49.9 percent shooting vs. 53.1, and 2 assists vs. 2.5 last season).
His rebounding has increased quite a bit though, from 7.7 boards per game in 2010-11 to 9.3 this season, as has his free-throw percentage (up to a staggering 82.8 percent).
Millsap continues to be a workhorse for the Jazz and, like Jefferson, has been consistently productive. His scoring average was significantly higher during a favorable January schedule, when he averaged 18.1 points per game, and he too has recorded several double-doubles already this year (12).
Unlike Jefferson, Millsap has not missed any games due to injury, which is a testament to how hard he works to stay in shape and how he takes care of himself year-round (though he has also benefited from luck here).
Millsap has as good of a gripe as anyone about not being selected into the All-Star game, since he outperformed Dirk Nowitzki in several categories, but for now he will just keep giving it his all and playing at a high level for Utah.
Grade: A
Gordon Hayward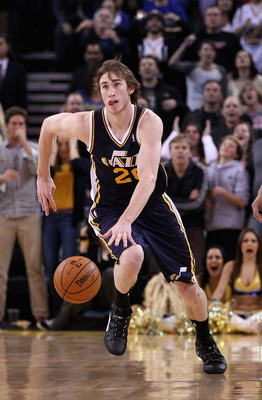 Ezra Shaw/Getty Images
Gordon Hayward seems to be getting better as the year progresses, perhaps shaking off some freshman fright and settling into coach Tyrone Corbin's system.
He is averaging nearly twice as many points this year versus last year (9.4 vs. 5.4), nearly three times the assists (3.2 vs. 1.1) and more than twice as many blocks (0.7 vs. 0.3).
His rebounding has also increased (2.8 this year, 2.0 in 2010-11), but his field goal and three-point percentages have dropped. Though his production has mostly increased, that is mostly due to playing 10 minutes more per game this year, and one has to worry about his shooting.
While Hayward has had some solid games, most notably against the Memphis Grizzlies on Feb. 2 when he scored 23 points on 8-12 shooting, he has also been quiet during stretches of the season. During the last six games he has only scored 5.3 points per game, including a 0-6 night against the Oklahoma City Thunder.
Although he still has a long way to go, in general he seems to be progressing, and that is a good sign for Utah.
Grade: B
Devin Harris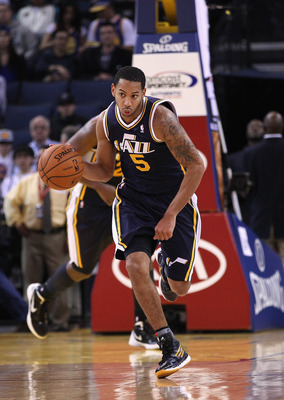 Ezra Shaw/Getty Images
Harris looks lost this year, though there are some signs he is on the verge of breaking out of his funk.
While he is averaging only 9.1 points per game, his lowest since his rookie season in 2004-05 and significantly less than his 15.8 last year, he has scored in the double digits in three out of the last four games. Still, his monthly scoring averages are in a downward trend (10.5 per game in Dec., 9.1 in Jan. and 8.5 in Feb.), which is not a good sign for Utah.
His assists and rebounds have also both declined, but more important he just does not seem to care.
There have been several games where his attention seems to be elsewhere, though he has not hinted at why that might be. In addition, Utah is repeatedly torched by opposing point guards, and though defense reflects a team's ability to help one another and properly rotate, some blame has to be placed on the individual doing the majority of the defending.
One can only hope Harris shakes his sophomore slump with the Jazz if the team hopes to make it into the playoffs.
Grade: C-
Raja Bell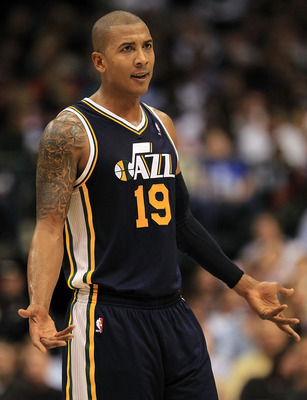 Ronald Martinez/Getty Images
At the beginning of the season I criticized Raja Bell for his lack of production. Somehow, I think I should get credit for him turning his season around. That may be asking a bit much.
Bell has become increasingly productive as the season wears on though, to the delight of others who seems to think he was sliding out of relevance. His 2.8 points per game in December jumped to 6.9 per game in January, only to improve to 10.2 points a game in February; he is currently averaging 7.4 points per game.
What is most impressive is how much his shooting has improved this year.
He is currently making 43.4 percent of his shots from beyond the arc and 49.3 percent overall. Bell has averaged 51.4 percent (for three pointers) and 52.5 percent overall in February, numbers the Jazz would love to see throughout the remainder of the season.
Bell seems to be getting his rhythm back on the floor, which bodes well for Utah's chances this year, and Jazz fans should be crossing their fingers that he can keep putting up big numbers after the break.
Grade: B
Josh Howard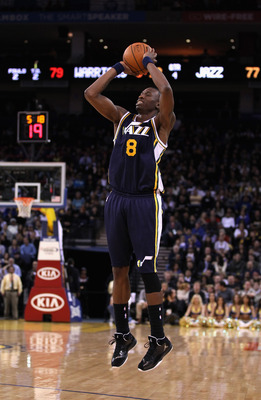 Ezra Shaw/Getty Images
Josh Howard's performances, much like the Jazz's, have been a roller coaster this season.
At times Howard is an integral part of the team, scoring at will and helping lead the team to victories. Other times, Howard seems a bit out of control, or he shrinks on the court and barely contributes at all.
While he has scored at least 10 points in 11 games this season, scoring 17 or more five times, he has also had outings of four or less points in 10 games. He started off hot, averaging 11 points per game over the first four games of the season, but his average has dropped to 7.6 in 21.3 minutes per game.
His rebounding is decent for a small forward (3.3 per game), but his assists (1.0), steals (0.7) and three-point shooting (20.8 percent) leave much to be desired.
Grade: B-
Alec Burks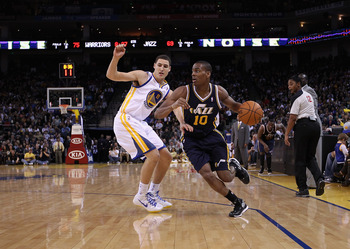 Ezra Shaw/Getty Images
Alec Burks has been doing exactly what they Jazz drafted him to do, get to the basket and create his own shot off the dribble.
He has even consistently hit shots from outside the arc, shooting 38.5 percent from deep, answering the main question NBA scouts and fans had of whether or not he could shoot the ball.
He has not received consistent minutes this season, fluctuating between zero and 28 (he averages 12), but that has not seemed to affect his ability to contribute when given the opportunity.
Burks currently averages 5.8 points per game, which though not eye-popping, is good given his limited time on the floor. He has scored double-digit points in six games this season, with his best stretch between Jan. 15-19 when he scored 10, 11 and 10 points while averaging nearly 20 minutes per game.
Given the chance Burks can score, he just needs to keep working and playing hard when given some playing time. The future looks bright.
Grade: B+
Enes Kanter
Ezra Shaw/Getty Images
No one knew what to expect of Enes Kanter this season. He seemed to have many traits that make big men in the NBA productive: good size, fluid movement and decent hands.
But how all of that would combine on the floor during NBA games was a big question mark, and in all fairness it is still a work in progress.
Kanter has at times been dominant on the glass this season. He is averaging 5.2 rebounds per game (2.1 offensive), despite averaging only 14.7 minutes; he also had two double-digit rebounding performances. In those two games, he still only played 21 and 22 minutes, further indicating his innate ability to go after the ball and utilize his size.
His shot selection at the beginning of the season was poor as he shot only 33.3 percent in December, often seeming timid around the hoop and flailing near the basket. He seems to have become more comfortable in the paint in recent games though, and his shooting percentages in Jan. and Feb. have been 50 percent and 49.1 percent, respectively.
Though he is still figuring out the subtleties of the NBA game, and ways to best utilize his size to get good positions without drawing fouls, Kanter is making steady progress and is just waiting for more opportunities.
Grade: B+
Derrick Favors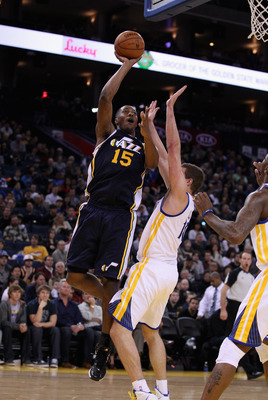 Ezra Shaw/Getty Images
Derrick Favors is right where he left off last year, which is both good and bad.
The good news is that his strong scoring and rebounding averages from his rookie season are nearly identical to what he is putting up this year. The bad news? (Here is a hint, re-read the prior sentence)
While he has shown strong performances when given time on the floor, getting double-doubles in points and rebounds in two of the three games when he played more than 30 minutes, Millsap's play ahead of him in the lineup has relegated him to back-up duty.
He seems to have a good handle on the game, and at times has shined alongside Enes Kanter, but averaging less than 20 minutes per game hurts his ability to progress quickly.
It is great news when the Jazz have someone this talented as a backup, but it has to be frustrating waiting for more playing time one the bench in his third year in the NBA.
Grade: B+
C.J. Miles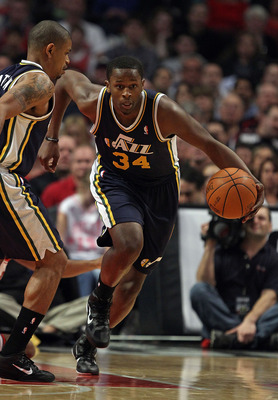 Jonathan Daniel/Getty Images
Oh C.J. Miles, the Jazz's mad hatter.
Just when I think C.J. is going to break out of his back-and-forth performances, confidence and production, he slips back into a void. During an eight-game stretch spanning late Jan. through early Feb., Miles averaged 15.6 points per game through a combination of attacking the basket and knocking down threes, and seemed to be comfortable on the floor. Phew, right?
Not so fast.
Since that time he has scored in double-digits twice in twelve games, has started turning the ball over more and seems to have lost a bit of the edge that seemed to peer out of the Miles Abyss earlier in the season. When he is "on" it is fun to watch him go to work, but it is painful to watch when he doesn't seem to have his swagger.
Grade: B
Earl Watson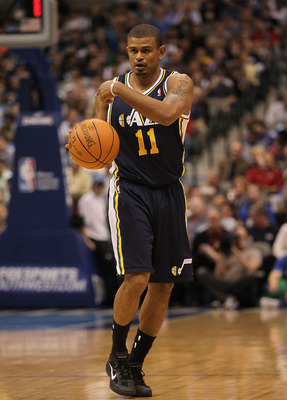 Ronald Martinez/Getty Images
Earl Watson continues to be a spark plug for the Jazz when he takes the floor alongside Enes Kanter, Derrick Favors, C.J. Miles and Josh Howard in the second unit.
It is not common to see a player average more assists (4.5) than points (3.4), but with the way Watson is shooting the ball (37.3 percent from the field), and with the players he shares the court with, this is exactly what the Jazz need from him.
His inability to score may (arguably) be what is holding Tyrone Corbin from inserting him into the starting lineup as Harris continues to struggle, though Corbin has not shown any interest in changing the lineup much this season (unfortunately).
Watson will continue to spread the ball around, push the tempo and ensure that the younger players he shares the floor with have opportunities to prove what they can do.
Grade: B+
Jeremy Evans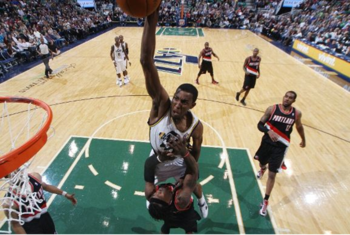 Copyright 2011 NBAE (Photo by Melissa Majchrzak/NBAE via Getty Images)
Though Jeremy Evans should be excited about getting into the NBA Slam Dunk Contest after the New York Knick's Iman Shumpert dropped out due to a knee injury, his on-court performance has been so-so.
While his field-goal percentage is off the chart at 80.0 percent, that is due to the fact that all 12 attempts he has scored on this season have been dunks. "Consistent and exciting" are generally not used to describe someone, but it fits for Evans.
Evans needs to develop a shot or even attempt some jumpers in a game during garbage time. His lack of variety hurts his overall grade, but it is always fun to see him rise and shine. Here is to hoping he does it in Orlando.
Grade: C+
Jamaal Tinsley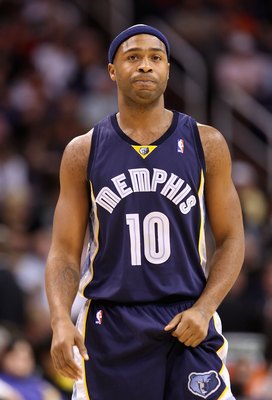 Christian Petersen/Getty Images
Jamaal Tinsley simply does not play much, which is a bit surprising given the numbers he put up in his only start.
Tinsley tallied nine points, 13 assists, two steals and only had two turnovers against the Golden State Warriors on Feb. 2. in 34 minutes on the floor. There was only one other game when he played at least 10 minutes, and that came in pure garbage time against the Denver Nuggets on Dec. 28.
Similar to Evans it is hard to knock a guy who never gets a chance to contribute, but it is equally hard to praise them.
Grade: C
DeMarre Carroll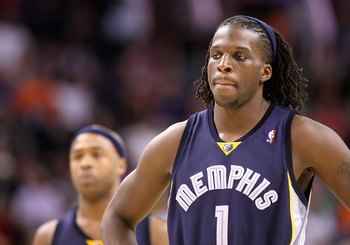 Christian Petersen/Getty Images
DeMarre Carroll has not touched the ball in a game yet. There is nothing to grade here.
Grade: Incomplete
Keep Reading

Utah Jazz: Like this team?