Ryan Braun's Suspension Overturned: Was He Guilty?
February 24, 2012

Jonathan Daniel/Getty Images
One day before National League MVP Ryan Braun was to report to spring training, the Major League Baseball Players Association announced that Braun's 50-game suspension has been overturned.
It is a landmark decision because it's the first time a drug-related suspension has been overturned due to a grievance.
Braun, who was named MVP in December, has vehemently denied he did anything wrong.
Since Commissioner Bud Selig and MLB set stiffer penalties on those who use performance-enhancing drugs (PEDs) before the 2006 season, mostly minor-leaguers and average MLB players have been caught, with the exception of Manny Ramirez, who has been suspended twice.
Many former players, such as Mark McGwire and Jose Canseco, have admitted steroid use in their playing days. Current players and former MVPs like Alex Rodriguez and Jason Giambi, have admitted past steroid use.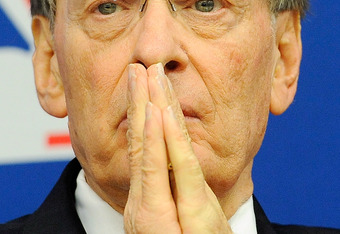 Patrick McDermott/Getty Images
Selig has been outspoken in recent years how MLB has the best drug-testing program in sports. Obviously, many would dispute that notion, but baseball has cleaned up. Home runs are way down from where they were a decade ago. Read into that how you may.
Braun said today he has been given at least 25 drug tests over the years and passed them all. He said just in the last year he passed three.
According to reports, when Braun was told of his positive test results, he requested another test, which was negative. No doubt, that didn't hurt Braun in his appeal.
But, apparently it was the chain-of-command that may have won Braun his appeal.
When Braun was given the first test, just after the regular season ended, it was a Saturday. Instead of taking the sample directly to a Federal Express facility, the collector, thinking FedEx would be closed, refrigerated the sample and didn't send it off until some 48 hours after it was collected.
Sources indicate during his appeal, Braun didn't allege tampering; only that proper protocol was not followed. And the arbitrator agreed.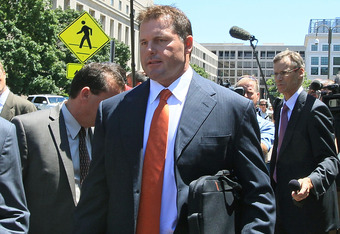 Mark Wilson/Getty Images
MLB is reportedly furious over this, believing that a positive test shouldn't result in a player getting off on a technicality.
Many fans are speculating there is something of a conspiracy going on. The conspiracy would be that MLB wouldn't want a reigning MVP to be suspended over failing a PED test. That is a bit far-fetched.
Suspending a player the caliber of Braun would be a feather in the cap for MLB and their drug-testing program. It shows no player, regardless of his place in the game, is above MLB's stringent testing program.
Braun has a right to be angry, too.
The results of his first test were supposed to be anonymous until an appeal, but were somehow leaked.
And how long will it take for Braun to recover from this? He is 28 years old, in the prime of his career. He will undoubtedly recover, but there will always be those who doubt his innocence.
Braun has been one of the best players in baseball over the last five years. In a historical context, very few players have begun their careers the way Braun has. His character has been exemplary thus far, as well.
People will take sides in this matter, and rightfully so. Testing for performance-enhancing drugs has been a polarizing issue for years now.
The appeals process is much like our rights as citizens. When someone is accused of a crime, they are presumed innocent until proven guilty. In this case, Braun may have failed a PED test, but the appeals process vindicated him.
There will be public outrage over Braun's suspension being overturned. Many feel it will perpetuate the notion that superstars are above the rules. If any player is guilty of PED use, they should admit their guilt, accept the punishment and move on.
Baseball fans have proven they respect those who admit their wrongdoing and move forward. It is the cases of Barry Bonds and Roger Clemens, which upset fans most. These players were among the best of all time. If they, in particular Clemens, admitted he had tried PEDs in the past, he would be forgiven.
Bonds has been mostly silent in his retirement, whereas Clemens has attacked anyone who doubts his credibility. It truly is a shame.
Let's not forget the fact Braun was an incredible player before any of this came forward. One alleged failed test isn't enough to question Braun's competence.
Could 2012 be Braun's best season yet? I wouldn't bet against it.