WrestleMania 28: Look Back at Previous HIAC Matches for HHH and Undertaker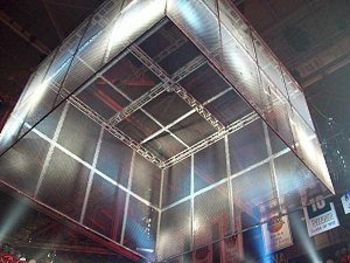 WWE debuted its unforgiving structure known as "Hell in a Cell" nearly 15 years ago. Since its inception, the towering mammoth has been used in 23 matches.
Weighing over two tons and standing 20 feet tall, there couldn't be a perfect match booked for The Phenom to face HHH at WrestleMania 28. The two men have ran the most matches of anyone on the WWE roster in the cell.
I heard an inside story that The Undertaker's streak was supposed to end last year, but halfway through the match, HHH decided that he couldn't do it.
Considering The Undertaker's age and almost-incessant fact that he's no longer able to compete, it's safe to assume that "the streak" will end this year. And while I don't like the fact that it will be HHH who ends the streak, it's bound to be an unbelievable match.
Let's take a look back at some of the incredible matches HHH and The Undertaker have had in the cell.
Undertaker vs. Mankind, King of the Ring 1998
Though it was the third Hell in a Cell match in WWE history, I really feel this was the symbolic birth of the match.
Who could ever forget The Undertaker throwing Mankind off the top of the cell, having him go through a table. All the while, in traditional Mankind fashion, he gets back up and climbs the cell again and gets chokeslammed through the roof back down into the ring.
I really feel more than anything, that this match alone really helped The Undertaker build his character into what it is today.
Undertaker vs. Big Boss Man, Wrestlemania XV
While this match may not have been high on the entertainment scale, it was still vintage Undertaker and will always be a classic WWE moment.
HHH vs. Chris Jericho, Judgment Day 2002
This match makes the list of most memorable just for the sheer athleticism that came out of it.
If there's one thing fans of the WWE Universe aren't used to, and one thing they won't get at WrestleMania 28, is a entertaining Hell in a Cell match that couples the fundamentals of wrestling and athletic ability.
This Hell in a Cell match was a rare gem that did just that.
HHH vs. Kevin Nash, Bad Blood 2003
This was probably one of the single most entertaining Hell in a Cell matches to date. Everything seemed to flow perfectly leading up to Bad Blood 2003.
Without getting too much off track, this was probably one of the last most complete PPV's the WWE has put together.
This cell match was perfect for me, just for the simple fact that everyone involved in the storyline and the PPV had been working together for so long that it sold so well. It was definitely one of the most fluid Hell in a Cell matches ever.
HHH vs. Undertaker, Wrestlemania 28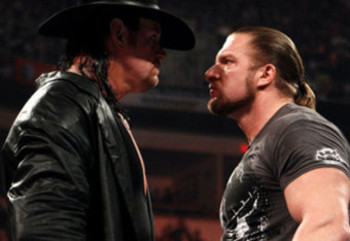 I know I probably left out several notable Hell in a Cell matches in this slideshow. My goal was to outline just a few of the memorable ones from the careers of HHH and The Undertaker.
But the match we are anticipating at WrestleMania 28, I feel, will trump all others we've ever seen.
I know both of these men have ring rust to some degree, but this is the stage, virtually, where it all began for The Undertaker, and where I feel it will safely end.
Well, maybe not safely, but you catch my drift.
And while the hype and promo status may not have been put into this match as well as it could be, the WWE Universe was left empty-handed for a moment, and some people might have actually thought there was not going to be a match featuring The Undertaker at Wrestlemania this year.
Personally, I've gotten used to being able to turn off the TV after Undertaker's matches at WrestleMania, and with this year's 'main event' being The Rock vs. John Cena, I don't think a break in tradition will happen.
Get your popcorn, grab a seat, and get ready for one hell of a performance. Literally.
Talk to me on Twitter! Follow @TheReal_DB3
Keep Reading