NBA Trade Rumors: Michael Beasley Worth the Risk for Los Angeles Lakers
February 24, 2012

Stephen Dunn/Getty Images
A first-round pick in the NBA draft.
That's all it would take for the Los Angeles Lakers to pry Michael Beasley from the Minnesota Timberwolves, as Charley Walters of the St. Paul Pioneer Press suggests.
And not even a particularly good first-round pick, either. Probably one somewhere between No. 20 and No. 30 overall, right around where your average team might hope to pick up future role player with the potential to be something more.
You know, like Michael Beasley.
The Lakers' woes at small forward—Beasley's position of choice—have been well documented. The Basketball Player Formerly Known as Ron Artest has been nothing short of an unmitigated disaster since changing his name to Metta World Peace, averaging career-lows across the board after coming into the season embarrassingly out of shape at the age of 32.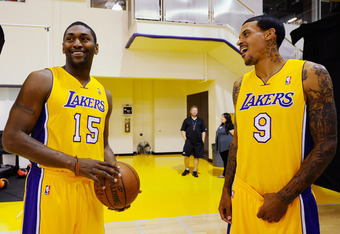 Kevork Djansezian/Getty Images
Matt Barnes has shown signs of life from time to time, providing a spark off the bench when he's not busy ingratiating himself with the opposing team.
And Devin Ebanks, the athletic second-year player who started at small forward for the Lakers on Christmas Day, is down in the D-League because Mike Brown couldn't find any minutes for him.
So what hope is there for Beasley to find playing time in L.A., then, when he's already coming off the bench in Minnesota?
Well, it just so happens that B-Easley is younger, more athletic and far more talented than anyone the Lakers have at small forward right now. True, Beasley's 12.2 point per game and 5.3 rebound per game averages would both be the lowest of his four-year pro career if the season ended today.
Though, to his credit, Beasley has accepted his reduced role with the T-Wolves much more smoothly than his "knucklehead" reputation would suggest and on a team that's actually winning basketball games now.
Let's not forget, too, that Beasley, the No. 2 overall pick in the 2008 NBA Draft behind only Derrick Rose, and just turned 23 last month. He still has plenty of room to grow—as a person and as a basketball player—and could conceivably thrive amidst veterans and consummate professionals like Kobe Bryant, Derek Fisher and Pau Gasol.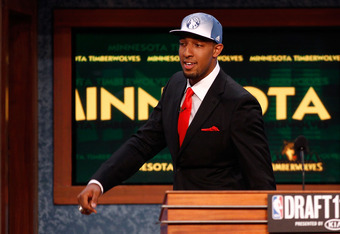 Mike Stobe/Getty Images
That's not to say that adding Beasley is a no-brainer for the Purple and Gold. He could just as easily fall in with the wrong crowd in LaLa Land (i.e. Metta World Peace, Andrew Bynum, Matt Barnes). Living in a big city like L.A. might also drive Beasley to distraction, as it did during his rookie and sophomore seasons with the Miami Heat.
The T-Wolves don't need him, not with Wesley Johnson, Martell Webster and rookie Derrick Williams already battling for minutes on the wing.
And if Minny GM David Kahn is willing to part with him for nothing more than a low-value draft pick and the Lakers are willing to absorb Beasley's salary into the $8.9 million trade exception they received in the Lamar Odom deal, so be it.
Who knows? Maybe Beasley will continue to mature. Maybe he'll deliver on the considerable promise with which he entered the league. Maybe he'll develop into a star for the post-Kobe era.
Or maybe not.
Maybe he'll simply to continue to be a role player, a double-digit scorer off the bench who can do a little bit of everything on the floor.
The Lakers could use a player like that, couldn't they? A jack-of-all-trades who can help Mike Brown make the most of the Black Mamba's remaining years.
A first-round pick. That's all it takes.
A price even the notoriously stingy Jim Buss can live with.