Lakers vs. Thunder: Live Reaction, Updates, Video and More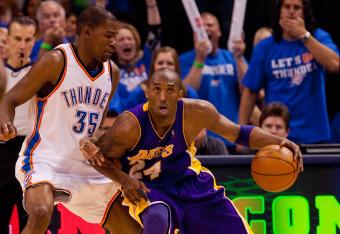 Dilip Vishwanat/Getty Images
The Thunder pick up the win, defeating the Lakers 100-85. OKC was led by 33 points from Kevin Durant. The Lakers were led by 24 points from Kobe.
Thanks to everyone for tuning in tonight.
Bynum appears to be fine...
Ouch, more painful than that Durant layup for Lakers fans was the fact Bynum appeared to come up gimpy trying to defend KD.
Outstanding article by Alex Kay on the evolution of the dunk contest.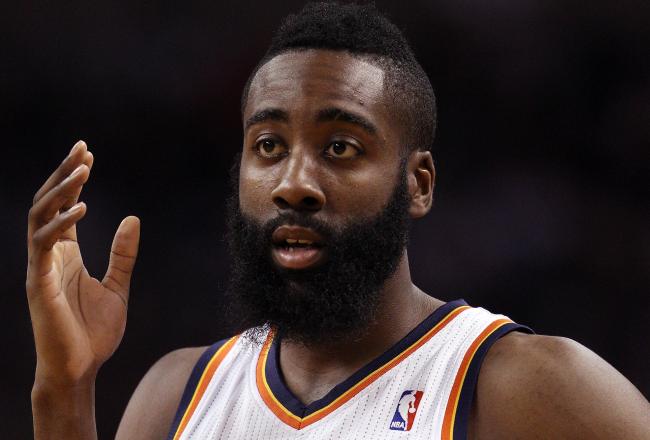 Well that does it folks. Harden's three essentially seals the game for the Thunder. OKC up by 13 with less than two minutes remaining.
As good as the Lakers' defense can be, I just don't see them being able to get the stops they need to make the end of this game really interesting.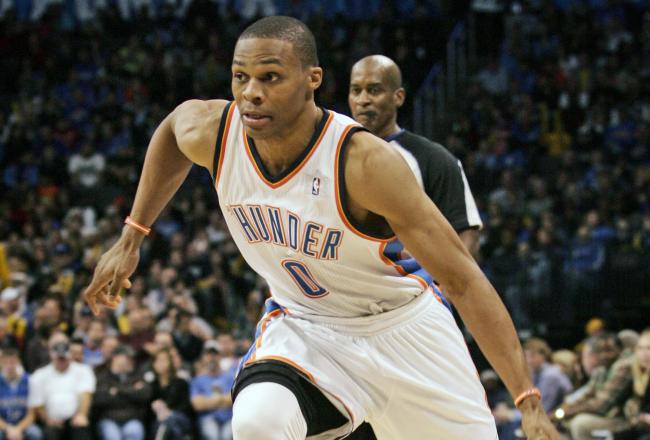 OKC has 21 fastbreak points compared to four from LA.
Harden's transition dunk gives the Thunder a 12 point lead. Those long misses from the Lakers might as well be considered turnovers as dangerous as OKC is in the open floor.
Gotta say, I love Chris Webber's work as a TV analyst more than his studio work. Take a look at one of my recent articles, ranking the major TV and studio basketball analysts from the major networks (TNT, ESPN, NBA TV).
Sweet dunk by Bynum. Cuts the Thunder lead to nine.
Let's take a look at Bynum's dunk over Shaquille O'Neal a few years back.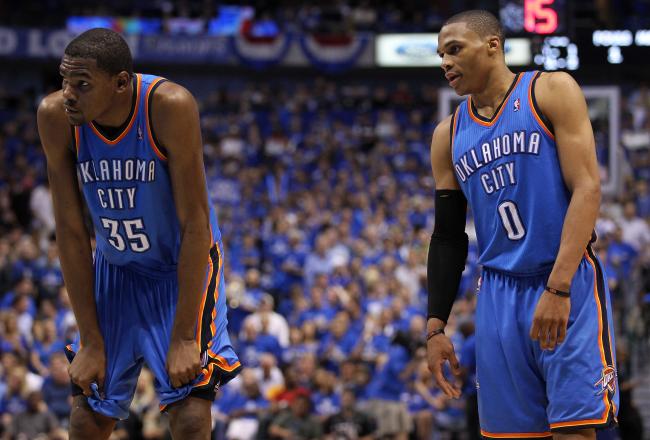 OKC will take an 11-point lead into the fourth quarter of tonight's game. Lakers only hope to comeback is if the Thunder shooting goes cold and/or Kobe has one of his classic 20-point quarters.
Here is another tweet from out favorite Lakers sideline reporter, @LakersReporter (Mike Trudell):
"World Peace was able to push Durant around in playoffs 2 years back, but no more. Durant footwork too good, knows spots better."
Even more scarier time for the Lakers now. Down by 11 with two minutes left in the third. If the Lakers aren't careful, it could be a "garbage time" fourth quarter. With plenty of Luke Walton and Josh McRoberts for everyone.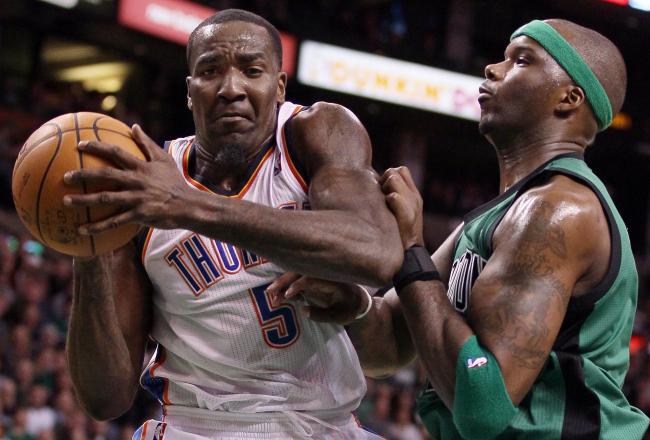 At what point do fans, writers and pundits start contemplating whether the Kendrick Perkins trade was a bust for the Thunder? Boston was the perfect niche for Perk, playing alongside KG.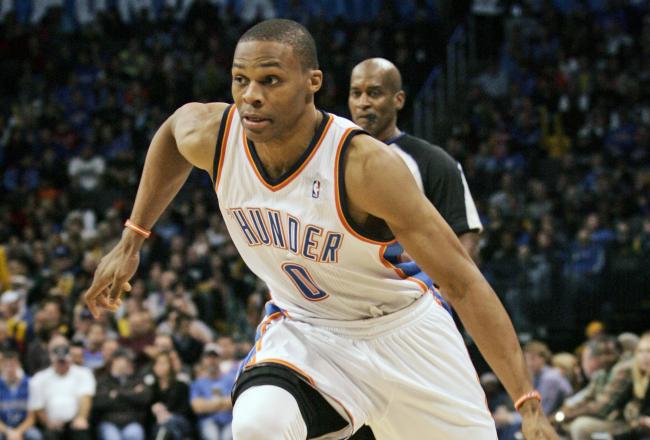 Beautiful lob from Westbrook to Durant. Scary time for the Lakers right now... I feel a big Thunder run coming...
Here is an article from Peter Owen on Kevin Durant's aforementioned 51-point game against the Denver Nuggets last Sunday.
Kobe is lucky the foul was called on that last play. If Durant's block would have counted, instead of Cook's foul, the crowd would have went into total pandamonium.
Bynum has not had a shot attempt since early in the second quarter...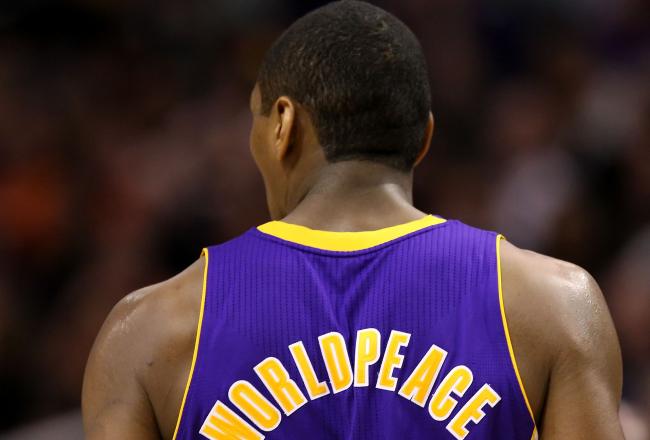 Metta World Peace just made his third three-pointer of the game. I think he had three combined in the first 33 games of the season...
I personally cannot watch Kevin Durant and not think about his monster slam against the Dallas Mavericks in last spring's Western Conference Finals. In case that beautiful image was erased from your memory, check out the video below.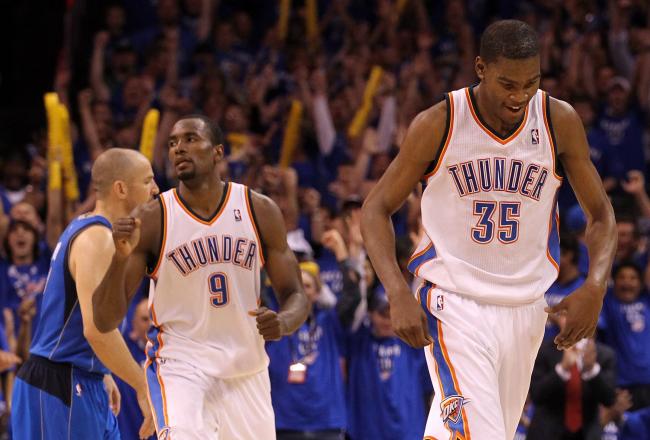 Once again, here is a tweet from Lakers beat writer, @KevinDing, talking about the length of the Thunder:
"Here's what I'll say about tonight sitting courtside closer to the side the Lakers shot at in 1st half: Long, long OKC arms. Everywhere."
The Thunder score five points in under a second to head into halftime with a three point lead, 46-43. Durant leading all scorers with 20 points. Gasol leading the Lakers with a baker's dozen.
If you are interested in some good halftime reading, check out Gabe Zaldivar's article on why the Lakers should consider adding Michael Beasley.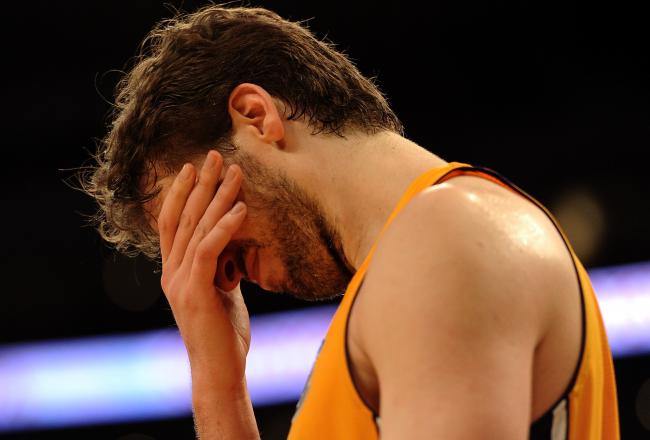 Gasol just slammed the ball down with fervor. I have not seen the big Spaniard throw one down with that much force in quite sometime.
At this point James Harden is a shoe-in for Sixth Man of The Year Award, imo. As a Lakers fan, that makes me miss Lamar Odom all the more. He was are Harden the last three-four seasons.
Here is what @ESPNLandOLakers (the Kamenetzky brothers, ESPN Los Angeles Lakers Bloggers) tweeted about one of the Lakers' recent shot attempts:
"That's a textbook example of the shot they absolutely don't want to take." BK
This article is
What is the duplicate article?
Why is this article offensive?
Where is this article plagiarized from?
Why is this article poorly edited?

Los Angeles Lakers: Like this team?