Mike Wallace: How Will Pittsburgh Steelers Keep Free-Agent Wide Receiver?
February 24, 2012

Jared Wickerham/Getty Images
When the Pittsburgh Steelers make a player an offseason priority, more often than not, they follow through and lock him up to a long-term deal.
A little over a month ago team president Art Rooney told the Pittsburgh Post-Gazette that Mike Wallace would be a priority, and general manager Kevin Colbert reiterated that Thursday at the NFL combine (via ESPN.com).
We want Mike to finish his career with the Steelers and we're pretty sure he wants to end his career [with the] Steelers...We're going to do everything we can to make sure that Mike Wallace remains a Pittsburgh Steeler and I think that's Mike's belief as well. Usually when you have two parties that share the same goal, it's easier to achieve that goal.
Though Colbert said that the Steelers were willing to "do everything" possible to keep Wallace, Pittsburgh is limited right now.
At the very least, Wallace will receive a $2.7 million first-round tender as a restricted free agent. It is very possible that a team will give Wallace a contract offer that the Steelers could not match. Though they would lose a first-round pick, it would be worth it to pick up one of the league's top deep threats.
Pittsburgh does not want to let it come to that, meaning that they may have to clear enough cap space to sign Wallace prior to free agency beginning on March 13 or place the $9.4 million franchise tag on him by March 5.
The Steelers have continued to free up cap space with Ben Roethlisberger restructuring his contract. According to the Pittsburgh Post-Gazette, the restructured contract will save the Steelers about $8 million this year, which puts them near the salary cap ceiling.
Even with this move, the Steelers will still need to clear enough space for offers for Wallace as well as other restricted and unrestricted free agents and draft picks.
Pittsburgh will likely continue to restructure contracts. They have already done that with five players, including Roethlisberger, LaMarr Woodley, Lawrence Timmons, Ike Taylor and Willie Colon.
Several other players are candidates for contract restructuring, including Casey Hampton, James Harrison and James Farrior.
Hampton is the most logical choice for a contract restructure. He is scheduled to have a cap hit over $8 million, an unacceptable number for an over 30-year-old defensive tackle with an ACL injury.
Colbert expects Hampton to return (via Pittsburgh Post-Gazette), and he should be brought back at a reduced rate.
The other interesting name is Farrior, who is the leader of the defense but is also 37 years old. With a large cap hit for a part-time player, Farrior will have to take a pay cut if he wants to return in 2012.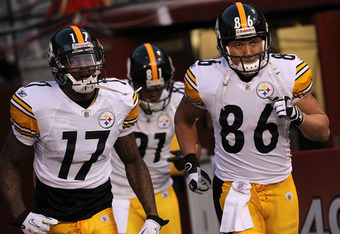 Karl Walter/Getty Images
Hines Ward is another story entirely. The Steelers still have not made a decision on his status for next season, though Ward said that he is willing to take a pay cut to remain with the Steelers (via ESPN.com).
If the cap situation is too tight and keeping Ward means losing Wallace, Ward will be released along with a number of other veterans, according to Colbert.
"We've already had terminations," Colbert said, referring to Bryant McFadden and Arnaz Battle (via Pittsburgh Post-Gazette). "There will be more to come."
Chris Kemoeatu lost his starting job and is a prime candidate to be released given his salary, and Larry Foote may be a cap casualty, particularly if the Steelers believe Stevenson Sylvester can step in at a much cheaper price.
Jonathan Scott and Will Allen are two other veterans who can be released and replaced relatively easily with cheaper backup options.
That only leaves Aaron Smith. His status is still unknown, but after spending more time on the injured reserve than he has on the field the past several seasons, he will be best served to retire. If he wants to continue to play, Pittsburgh has no choice but to release him or bring him back at a significantly lowered rate.
These moves would provide the Steelers, at least temporarily, enough room to place the franchise tag on Wallace, leaving the Steelers with time to work out a long-term deal.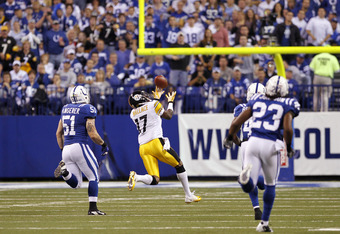 Joe Robbins/Getty Images
Though not the ideal scenario, many of these moves are going to be made one way or another. Aging veterans and backups can be replaced with cheaper (and possibly better) options. An elite deep threat and legitimate No. 1 receiver cannot be replaced so easily.
It will be a lot of work, but the Steelers are masters at keeping their young stars in place, and they will do whatever is necessary to keep Wallace in Pittsburgh.
Follow me on Twitter @ChrisG_FC