Mountaineer Football: Ranking West Virginia's Football Uniforms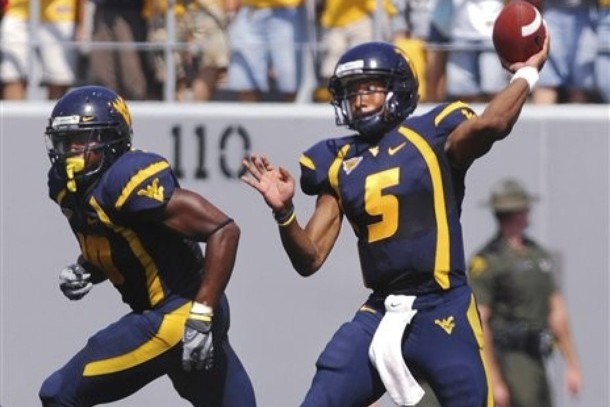 There have been a lot of different WVU football uniforms. What I have done here is try to rank them. Please remember this is just my personal opinion and that I am no fashion expert. You give me a good pair of jeans, boots and a t-shirt and I am pretty content with the world.
Without further delay here are my favorite Mountaineer football uniforms in order from one to five.
Begin Slideshow

»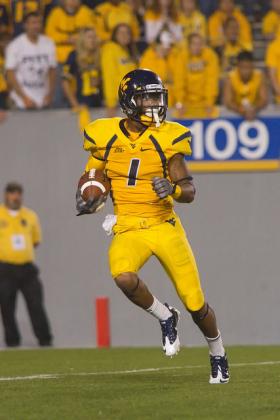 The solid gold uniform is definitely my favorite. It may have been ranked among ESPN's worst college football uniforms but there's something about that loud, eye-burning, obnoxious gold that just makes me proud. West Virginia may not have the best record in this color scheme, but I assure you that most Mountaineer fans love it and would appreciate its continuance in the future.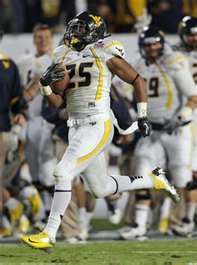 The solid white is something WVU has used for away games more than home games. The Orange Bowl will more than likely be the most prominent victory WVU has in the solid white scheme, but the future is bright in Morgantown and if WVU were to make it to another national title game it would be difficult to predict what uniform the Mountaineers would use.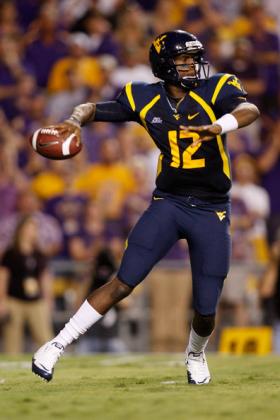 West Virginia's solid blue is a staple in Milan Puskar Stadium and for away games. It represents the school's and the state's primary colors of gold and blue, with blue being the prominent color here.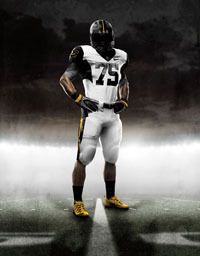 The Nike Pro Combat Uniform was a real treat for WVU. It was a rare uniform that for the most part did not represent the school's colors. This uniform did however pay homage to West Virginia's primary occupation of coal mining. Its coal black and gray scheme represented a profession that most Americans would rather avoid. Coal mining however is an important industry for our country and state; it employs many West Virginians and keeps the lights on in many American communities.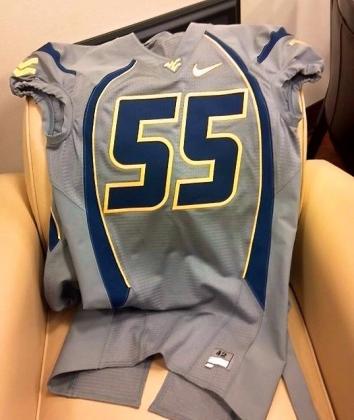 It was recently released that there exists a new uniform that is going to be used in the future. The new gray uniform is something that we have not seen before, and it should be something that will be received optimistically. However, it will be the fans that decide if this new gray uniform will be successful.
I for one feel that as long as the school colors of gold and blue are being used in it, then there should not be a problem. However the helmet in the link provided looks a little "shady" in my opinion. Hopefully the actual product looks more like the Pro Combat helmet.
Some fans have expressed issues with coaches using the solid black polo with gray flying WV. I do not have a problem with this. Most of the concern has come with Coach Holgorsen using this scheme and not wearing our school colors, however there seems to be less of a concern when Coach Huggins does this. Coach Huggins more than likely gets some slack in this situation because he has some past history with West Virginia where Holgorsen does not.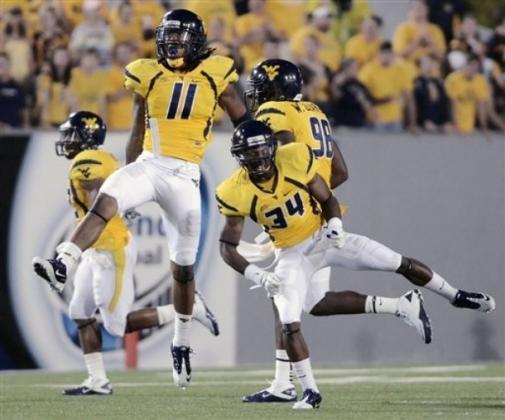 Honorable mention: Blue jersey with white pants, white jersey with blue pants, blue jersey with gold pants, gold jersey with white and blue pants, etc.
There are so many color schemes to mention that it could make your head spin. However those were my personal favorites. What is your favorite WVU football uniform? Any ideas for future uniforms or color schemes?