College Football 2012: 25 Teams, Players and Coaches We Don't Believe In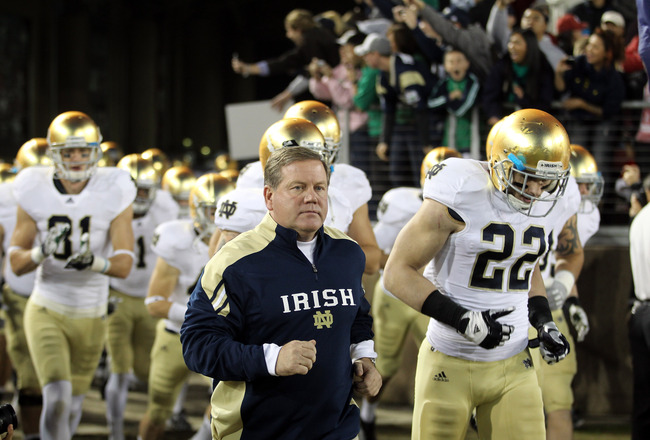 Ezra Shaw/Getty Images
Some names, like Nick Saban, USC and Montee Ball, just naturally inspire confidence.
And then there are names like Charlie Weis and Mississippi State. These are the names that have more hype than substance coming into the 2012 season. Some of these teams are great powers of the past that threaten to return to power, but never seem to despite having the talent there.
What are those names? Read on.
Maryland Terrapins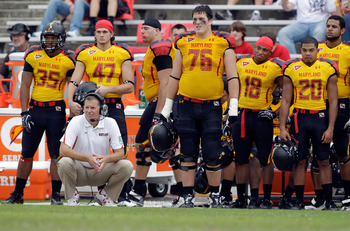 Rob Carr/Getty Images
Unless you have a really good reason, you shouldn't fire a coach that goes 9-4 and wins a bowl game as well as the conference Coach of the Year award.
The reasons Maryland gave for firing Ralph Friedgen certainly didn't justify that action.
Maybe it's just karma that the Terrapins finished 2-10 in 2011.
I'm not sold on Randy Edsall and it's just a matter of time before Maryland will dump him as well. And don't get me started on those uniforms...
Frank Spaziani, Boston College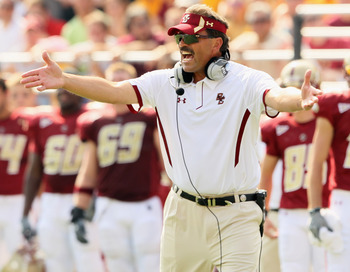 Elsa/Getty Images
Boston College has gotten progressively worse since Frank Spaziani took over as head coach. He's coming into his fourth full year, and another bad year will certainly mean that Spaziani will need to seek employment elsewhere.
Year four is a great indicator for a coach, as it's the first year that a coach will have recruited all of the players on the team. Spaziani went 4-8 in his third full season, so the pressure is on now.
Texas A&M Aggies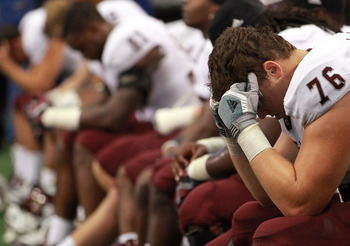 Ronald Martinez/Getty Images
Texas A&M has gotten a taste of playing SEC West teams over the last few years, but now it's going to have to play all of them.
And with no Ryan Tannehill and a brutal schedule, including games at Alabama and at Auburn and home against LSU and Arkansas, the Aggies may regret rushing out of the Big 12.
Well, at least in year one.
Mississippi State Bulldogs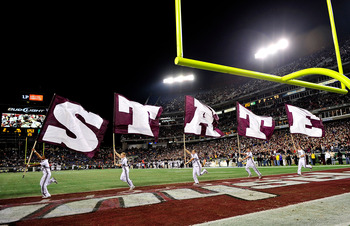 Grant Halverson/Getty Images
Sorry Mississippi State, but finishing No. 5 in your division is not a great achievement, even if it is the SEC West.
Particularly when it means that the only team you did better than was Ole Miss, who—by the way—won a grand total of one game in conference over the past two seasons.
Even Kentucky and Vanderbilt can do better than that.
Once you start actually pushing into the top three, then we'll talk.
Jeff Tedford, Cal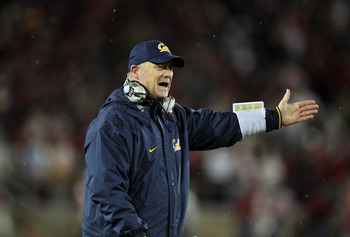 Ezra Shaw/Getty Images
Jeff Tedford is the No. 18 highest-paid coach in the FBS according to this well-put-together chart from Coaches Hot Seat. His compensation totals $2.8 million. That's more than the likes of Virginia Tech's Frank Beamer or Michigan's Brady Hoke, both of whom went to BCS bowls last year.
So given his 7-6 record, that means he's getting paid about $400,000 per win. Compare that to Alabama's Nick Saban, who gets paid $5 million per year and with 12 wins that translates to $416,666 per win. Of course, there's a national championship in there.
Sounds like Cal isn't getting its money's worth.
Dayne Crist, Kansas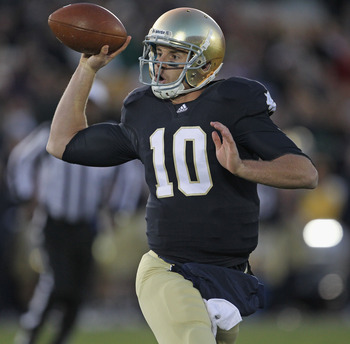 Jonathan Daniel/Getty Images
Some people made a big deal about former Notre Dame QB Dayne Crist transferring to join former Notre Dame head coach Charlie Weis at Kansas. Personally, I'm not too impressed.
After all, Crist started a grand total of one game in 2011 and was benched after going 7-of-15 for 95 yards, no touchdowns and one interception.
True, he was the No. 25 recruit in the 2008 Rivals 100, but he's a senior now and he really hasn't accomplished much. After all, players don't win by potential alone.
Charlie Weis, Kansas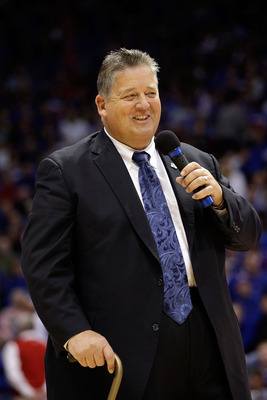 Jamie Squire/Getty Images
Speaking of Kansas, I love the guy as an NFL coordinator, but I don't understand why Charlie Weis keeps on wanting to come back to college.
After all, if you can't make it as the head coach at Notre Dame with its tradition and almost unlimited resources, what makes anyone think he's going to cut it for the Jayhawks?
Besides, did you see the Florida offense last season?
New Mexico Lobos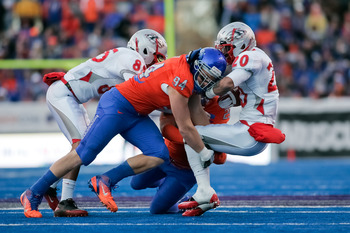 Otto Kitsinger III/Getty Images
Hiring Mike Locksley was an unqualified disaster for New Mexico both on and off the field. He won only two games over 2.25 seasons, hit an assistant coach and was hit with a lawsuit.
And so to help clean up the program the Lobos got...Bob Davie?
Davie didn't exactly have a clean reputation while at Notre Dame. He too got hit with a lawsuit from a former assistant coach. Davie had some success with the Irish, but his teams were wildly inconsistent.
I hope that New Mexico still doesn't expect to win many games.
Mike Riley, Oregon State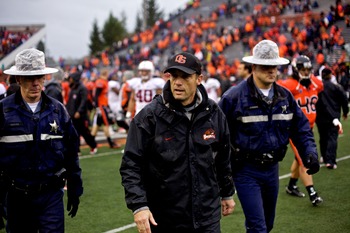 Craig Mitchelldyer/Getty Images
Mike Riley had a great run between 2006 and 2008 in which the Beavers won three bowl games and finished ranked in the Top 25 three years in a row.
Things haven't been so great for Oregon State since then. Riley just had the worst year of his career, finishing 3-9.
And Riley can't count on returning to Corvallis a third time should he decide to leave for the NFL again.
UCLA Bruins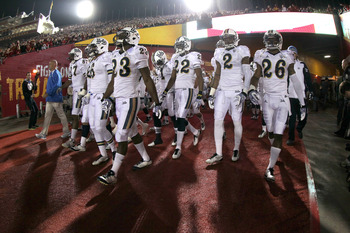 Stephen Dunn/Getty Images
Despite the fact that USC lost scholarships and was under a postseason ban for the last two years, the Trojans' football monopoly in LA has never been stronger. That doesn't speak well for the Bruins. Rick Neuheisel may be gone, but UCLA has a long way to go before they can take LA back.
Baylor Bears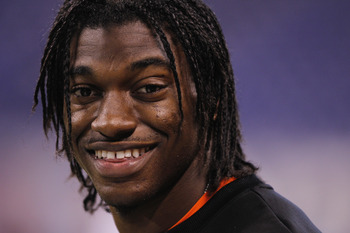 Joe Robbins/Getty Images
Robert Griffin III was the player of a lifetime for the Bears. His terrific performance at the 2012 NFL Scouting Combine underscores that. But Baylor was a bottom-dweller before Griffin and they're going to have a tough time staying out of the gutter now that he's gone. Particularly since the Bears don't have a defense to speak of.
Will Muschamp, Florida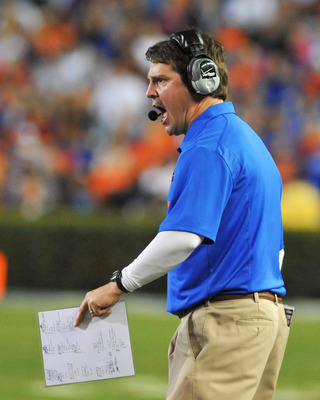 Al Messerschmidt/Getty Images
No one can doubt Will Muschamp's passion. He let the refs, as well as his own players, have it when they crossed him. But he's already gone through one offensive coordinator, and like many I was never sold on Charlie Weis.
At any rate, Muschamp is no Urban Meyer.
Houston Cougars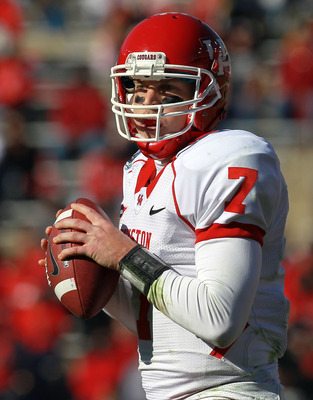 Ronald Martinez/Getty Images
If Houston was a stock, I'd sell it as fast as the Internet would permit. Like Baylor, the Cougars had a once-in-a-lifetime player in Case Keenum and a great coach in Kevin Sumlin. Now, they have neither.
Even with both Sumlin and Keenum, Houston wasn't able to beat Southern Miss for the C-USA championship. The Cougars may come back, but not in 2011.
Miami Hurricanes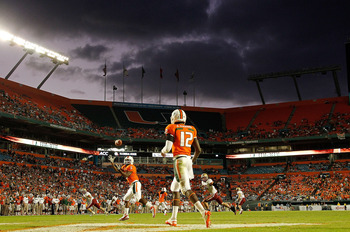 Mike Ehrmann/Getty Images
The full storm has not yet arrived for the Hurricanes. No matter what gains Al Golden is making with Miami, there's still the NCAA to deal with. And with former booster Nevin Shapiro continuing to hurl allegations at the Hurricanes, it's going to get uglier before it gets better.
I've got a feeling that Miami is still experiencing the relative calm before the storm.
Rocky Long, San Diego State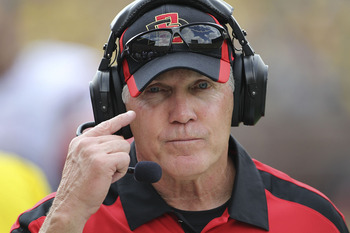 Leon Halip/Getty Images
Rocky Long is a seasoned veteran coach. He put together a winning program at New Mexico, which is no small feat. But don't forget that he's never won the MWC or broken into the top tier of that conference.
And now Ryan Lindley and Ronnie Hillman are both off to the NFL, both players that Coach Long didn't recruit. Long's a decent coach, but decent doesn't win championships.
Florida State Seminoles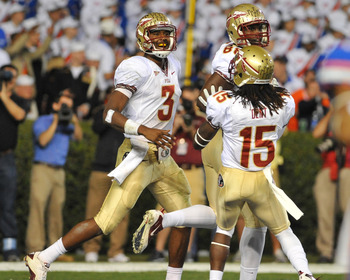 Al Messerschmidt/Getty Images
It's way too easy to get sucked into believing that a one-time powerhouse is ready to return to glory. Florida State was one such team in 2011. And once again, the Seminoles failed to deliver a division title, much less a conference or a national one.
Florida State's going to need to do more to prove it's really back.
Michael Dyer, Arkansas State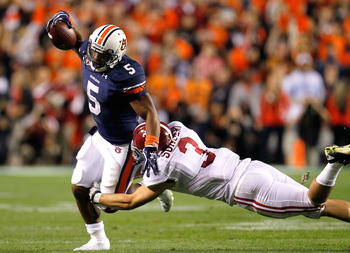 Kevin C. Cox/Getty Images
Great players don't transfer from a SEC team that won a national championship not too long ago to a Sun Belt team like Arkansas State without a great reason. And following Gus Malzahn doesn't strike me as being a good enough reason.
Transferring to ensure you won't be suspended, however, is a logical explanation for Dyer's actions. I don't doubt his ability on the field, just his ability to stay on it. He clearly wasn't able to do that at Auburn. Why should we trust him to behave for the Red Wolves?
Missouri Tigers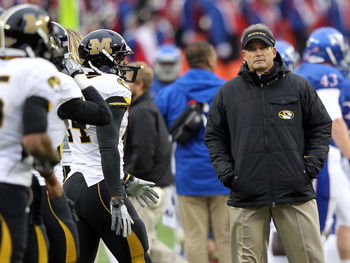 Jamie Squire/Getty Images
I hope Missouri is ready for teams that emphasize defense. It's true that the SEC East is a notch or two behind the West, but Georgia and South Carolina are no slouches. And frankly, I doubt the Tigers have any idea of what they just got themselves into.
Penn State Nittany Lions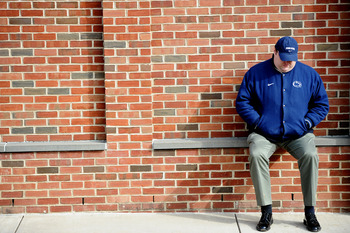 Patrick Smith/Getty Images
After the Jerry Sandusky scandal and the death of Joe Paterno, it's clear that Penn State will never quite be the same.
Hard times lie ahead in Happy Valley. It's going to take some doing to rebuild the Nittany Lions on the field as well as Penn State's tarnished reputation.
Eventually Penn State will be back, but the wounds inflicted on this once-proud program are too deep to heal overnight.
Pittsburgh Panthers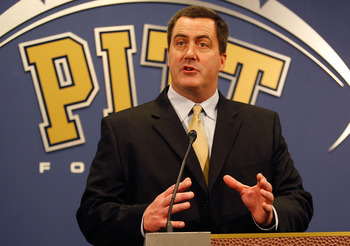 Jared Wickerham/Getty Images
Pitt has had more head coaches in the last year than some Hollywood stars have ex-wives/husbands. Paul Chryst is just the latest in a line of coaches fit for a soap opera, with the last one leaving his Panthers behind with nothing more than a text message crafted by a PR expert (don't worry, we'll get to Mr. Graham in a minute...).
Even if Chryst is the best guy for the job, it's going to take a while for Pitt to recover from what they've been through this last year.
Todd Graham, Arizona State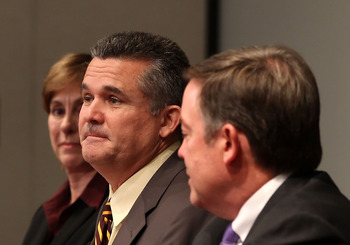 Christian Petersen/Getty Images
Call me a cynic, but I don't trust Todd Graham.
He already has a reputation for job-hopping. He spent only one year at Rice before spending four years at Tulsa, then one year at Pitt before getting on the first plane out of town to Arizona State without even completing a full year or giving his players a proper goodbye.
If I wanted loyalty as a player, Graham certainly wouldn't be my first pick
Tommy Tuberville, Texas Tech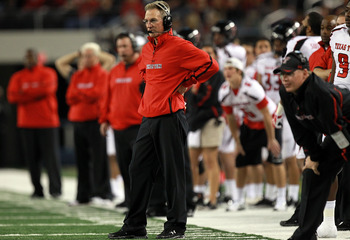 Ronald Martinez/Getty Images
If I had to pick between Mike Leach and Tommy Tuberville, I'd take Leach any day of the week.
Yes, Tuberville should have gotten a shot at the national championship while he was at Auburn in 2004, but the Tigers let him go for a reason.
If the Red Raiders want a coach that is going to match or surpass what Leach did, Tuberville is not their man. This season's 5-7 finish says just that.
Landry Jones, Oklahoma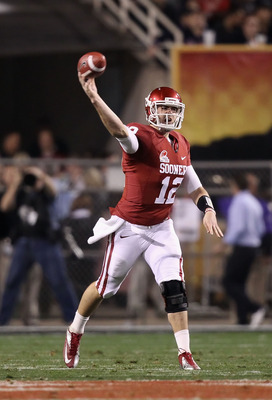 Christian Petersen/Getty Images
There's no question that Landry Jones can throw for massive amounts of yards. The man does have 12,379 yards and 93 career passing touchdowns to his credit.
But don't forget that Oklahoma was supposed to be the best team coming into 2011 with Jones, Ryan Broyles and a whole host of offensive weaponry returning. A great brand like Oklahoma combined with an arm like Jones' is supposed to equal a bid to the BCS National Championship Game.
Well, that's not what happened.
Things are only going to get harder as Broyles is not coming back this season, and we got a glimpse of post-Broyles Jones as Broyles got injured and did not play the final four games of the season. During that stretch, Jones threw six interceptions to just one touchdown.
That doesn't exactly inspire confidence.
Notre Dame Fighting Irish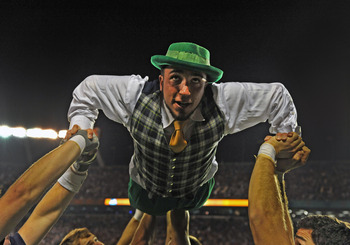 Al Messerschmidt/Getty Images
Every preseason we get sucked into believing that this year Notre Dame will finally return to national relevance.
And every year, the Fighting Irish fail to do so.
Yes, I know that Notre Dame has plenty of talent. But they're Notre Dame. They should have tons of talent and they should be getting to BCS bowls every year.
Except they don't really deliver with the BCS bowl part.
Tell you what: As soon as the Irish at least can get a BCS bid, I'll start caring about them. Until then, Notre Dame's getting no premature love from me.
Derek Dooley, Tennessee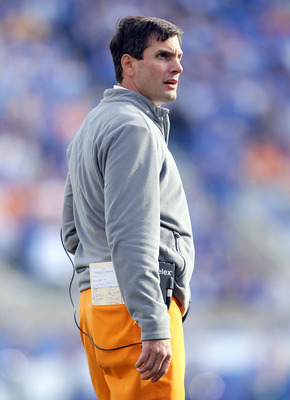 Andy Lyons/Getty Images
There's no question that Derek Dooley inherited a mess after Lane Kiffin's one-and-done. But Tennessee was supposed to do better than 5-7 last season.
The Volunteers return 20 starters, so Dooley must prove himself this season or find himself in serious hot water. And honestly, I haven't been impressed with what I've seen thus far.
Keep Reading