Manchester United vs. Ajax: 5 Tactical Observations in Europa League Game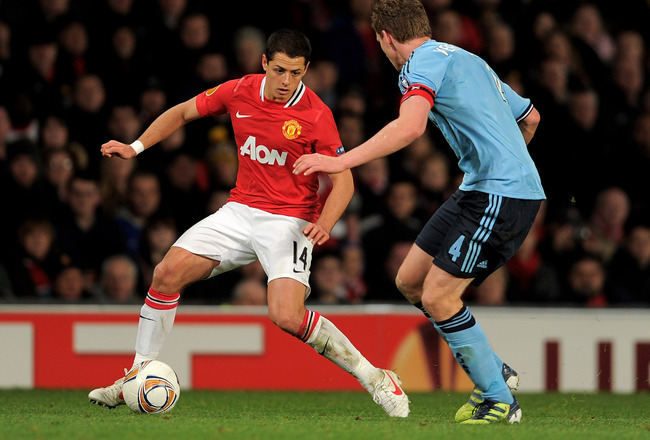 Javier Hernandez: Manchester United Sought Mexican to Finish Off Play
Michael Regan/Getty Images
As Manchester United secured their place in the last 16 of the UEFA Europa League with a 3-2 aggregate win, their performance against Ajax not only felt like a defeat—it was a defeat.
The Red Devils, who will face Athletic Bilbao in the next round after winning the first leg away at Ajax 2-0, lost 2-1 at home in a game they very much should have won.
Especially after Javier Hernandez put them in front with just six minutes on the clock.
Tactically United were brilliant in the first half, and had many chances to kill the game off.
But when Aras Ozbiliz scored that sensational equaliser on 37 minutes, Ajax grew in confidence and carried their late momentum into the second period, where they executed Frank de Boer's tactics perfectly, leaving Sir Alex Ferguson's side unable to get a hold on the match or even just retain possession.
Here are five tactical observations on the game at Old Trafford.
Dimitar Berbatov Was Javier Hernandez's Supplier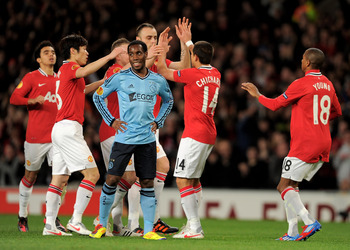 Michael Regan/Getty Images
Javier Hernandez was deployed by Sir Alex Ferguson as the man to get on the end of everything Manchester United created.
The Mexican is usually the Ruud van Nistelrooy-type of goal-poacher anyway, but tonight that was his only main role, with the other aspect to his game—running channels—not required thanks to United's lineup.
Dimitar Berbatov was given a rare start, and his priority was to help Hernandez score, which he did with the assist for United's only goal scored by the 23-year-old.
All of the Red Devils' play was focused on threading the ball into Berbatov to give to Hernandez, or sometimes vice versa depending on the situation, to finish off the play and put the ball in the net.
The 31-year-old Bulgarian was given license to roam in between the Ajax defence and midfield lines, and was often found receiving the ball on either wing in the final third.
It was a great way to play, conducive to counterattacking football, which United are so successful at, and was good knowledge of his opposition by Sir Alex given that Ajax have indeed struggled when facing the counterattack this season.
However, as the manager found out, when the Eredivisie side grew in confidence, it was also the reason why United failed to retain possession in the final third during the second half.
Both Teams Sought High-Tempo Start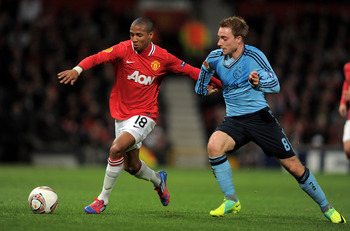 Michael Regan/Getty Images
Sir Alex Ferguson set his Manchester United team up to go out and show they mean business.
Frank de Boer set his Ajax side up to do exactly the same.
Combined with the other tactics and United's mental advantage at the start of the match, it worked out better for the home side, who took the lead after just six minutes.
But the visitors' high-tempo start meant they created some good chances, so when they then got an equaliser in the match, which combined with the good play they fashioned earlier, it really boosted them and gave the players the psychological ascendancy.
De Godenzonen's fast-paced start was key in them later taking a 2-1 lead, as it provided a base of encouragement for them to subsequently progress from.
Had Ajax scored that elusive third goal, this tactic would have been a moment of genius from the manager.
Ajax Sought High-Tempo End
Michael Regan/Getty Images
"Forget fatigue ahead of the weekend, I'm going to push our players until the end," is probably what Frank de Boer thought in the second half of this match as he sought a golden opportunity to defy the odds and beat United.
Ajax certainly sought a high-tempo end to the game, and managed to achieve it, putting United under a lot of uncomfortable pressure.
It was a brave tactic from the manager, given that Ajax lie sixth in the Eredivisie right now and face a potentially tricky tie away to Excelsior this Sunday.
But it was one that almost worked, with United toothless up front in the second half—barring Nani's effort on the crossbar—and unstable in defence.
The home side were looking weaker and weaker as the game went on, and had it not been for a sensational and instinctive save from David de Gea, denying captain Jan Vertonghen a headed goal, Ajax would have won the game and progressed to the last 16 of the Europa League.
And progression in Europe, as well as victory over Manchester United, is something any manager would take any day of the week, no matter the cost.
Ajax Equaliser Allowed Them to Play Tiki-Taka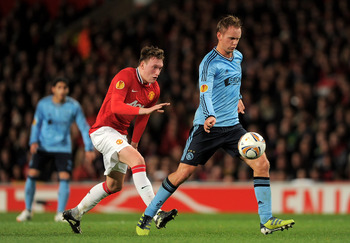 Michael Regan/Getty Images
When Aras Ozbiliz scored the stunning equaliser for Ajax, not only did it give them the momentum psychologically in the game, but it also allowed them to execute their tiki-taka style of play.
Often described as a poor man's FC Barcelona, the club have always stuck to their footballing principles, and now like to really keep the ball on the floor, passing it around, retaining possession and waiting for the chance to strike.
As the Ajax players gained increased self-efficacy, they had more trust in the manager's tactics and played tiki-taka, passing the ball along the defensive and midfield lines, waiting for a player to pick up a pocket of space in between the lines to start a succession of movement and link up passes to dissect the Manchester United defence.
And not only did they do that, but they executed it at a high tempo also.
When you're playing away to Manchester United, who are one of the world's best on the counterattack, that's a very brave thing to do.
Not even FC Barcelona themselves are that confident.
But Ajax, with nothing to lose in this match, were that confident and it almost paid off.
Manchester United's Closing Down Almost Cost Them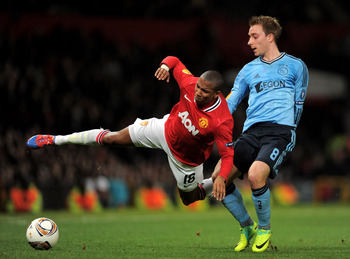 Michael Regan/Getty Images
Manchester United only closed down in their own final third—throughout the game, whatever the situation, Sir Alex Ferguson was unwavering in his decision to not alter this tactic.
Of course at 2-0 up after the first leg, the tie seemed plain sailing, especially after Javier Hernandez's early opener, so this seemed very logical.
Even after Ajax's equaliser it was still the logical idea to only close down in their final third.
After all, by keeping the closing down of opposition players with the ball to just the areas where it really matters, United were avoiding extra fatigue in a very important part of their season—which could be crucial in the long run.
However, it almost cost them dearly, as their lack of closing down just gave Ajax more and more belief, and made it easier for them to split United's defence with quick attacks.
Manchester United managed to hold on in the end, but they didn't do themselves any favours towards the final stages, and almost shot themselves in the foot completely.
Keep Reading

Manchester United: Like this team?