Trent Edwards: Philadelphia Eagles Make Vince Young Expendable with New Signing
February 23, 2012

Rob Carr/Getty Images
The Philadelphia Eagles have made it clear that Vince Young is not coming back.
That's the only conclusion that can be drawn with the recent news that the team plans on signing former Buffalo Bill Trent Edwards. Via ESPN's Adam Schefter:
Eagles are signing former Bills and Jaguars quarterback Trent Edwards to a one-year deal.

— Adam Schefter (@AdamSchefter) February 23, 2012
Edwards couldn't even make a roster in 2011, but it looks like Philly prefers him over Young at this point. 
It makes sense that Philly is ready to part ways with their 2011 backup. Young was the guy that uttered the infamous "dream team" phrase that ended up sticking with the underachieving team for the entire year. He displayed a shoddy work ethic and did nothing to dispel the notion that he's no longer capable of being a starter in this league.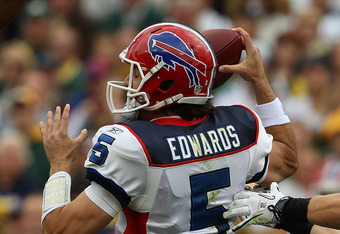 Jonathan Daniel/Getty Images
Young was 1-2 in three starts and never threw for more than two touchdown passes in a game. He finished with an abysmal 60.8 QB rating and looked very tentative in the pocket throughout the season. His four-interception performance against the Seattle Seahawks was one of the worst games by a quarterback all season long. If you followed the NFL closely in 2011, that's saying quite a lot.
Young is an unrestricted free agent and the odds of him re-signing with the Eagles are virtually obsolete with the Edwards signing.
What's Next?
The Eagles are comfortable giving the immobile Edwards the backup job to the ultra-mobile Michael Vick. It's wishful thinking that Edwards could run a Vick-based offense, but with Vick's injury history, he just might have to. 
Young's days as a starter are long gone, and finding a decent backup gig is his only option at this point.
The Denver Broncos immediately come to mind as a team looking for backups that can handle a Tim Tebow-led offense. While Young can't run the option, he is certainly the sort of running quarterback Denver needs.
That's what the No. 3 overall pick in the '06 draft has to hope for at this point—the chance to back up a quarterback that completes less than 50 percent of his passes.
How the mighty have fallen.