Manchester United: Red Devils Won't Put a Strong Emphasis on Europa League
February 23, 2012

Michael Regan/Getty Images
After a strong second-half performance against Ajax in their first Europa League match propelled them to a 2-0 win, Manchester United lost 2-1 at home against Ajax to advance into the round of 16 against Athletic Bilbao.
United took an early lead through Chicharito Hernandez, yet some inspiring play from Ajax allowed the Dutch side to claim their first ever victory in four attempts against the Red Devils.
Not counting Champions League competition, this is the first loss that the Red Devils have suffered at Old Trafford in European play in 31 matches. With a critical trip to Norwich City this weekend, it certainly appears that United just wanted to use the smallest amount of energy needed in order to advance.
Yet this performance and result shows us that United probably will not put a strong emphasis on the Europa League and will instead focus on the Premier League.
This is a completely different approach to the one that Manchester City are taking. Last night, City drubbed Porto 4-0 at Eastlands, using many of their stars to ensure the win.
Even though the scoreline got inflated due to Porto's desire to overcome City's lead late (which caused City to double their goal total), City showed us that they will take this competition seriously.
Now City do have a deep squad that is filled with fantastic players and will be able to handle playing players in both competitions, but United's players did not show the flair that their neighbors exhibited, which was a major reason why United lost.
Now United do have an important Premier League match this weekend, but at the same time, the Red Devils' performance was pitiful to watch. After Chicharito's early goal, there was very little offensive intent and creativity, both deciding factors in why United advanced in an ugly fashion.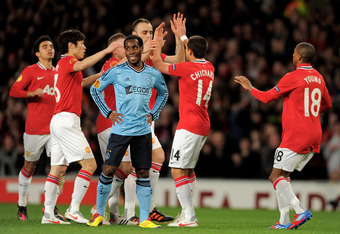 Michael Regan/Getty Images
This season, Ajax have been a shell of what they were last year when they won the Eredivisie. Yet Ajax showed much more flair than United and showed that they had much more respect for the competition. Of course, Ajax have been in the Europa League/UEFA Cup in every year since the 2006-07 campaign and understand the competition's spirit more than United.
Man. United do not play another Saturday Premier League match this season, which should help increase their overall performance in the Europa League. Yet, it will be interesting to see if the Red Devils will advance over Athletic Bilbao in the next round.
We already know that the first leg of this tie will take place at Old Trafford, with the second half of the tie getting played in Spain. United do have a strong home record in Europe, but it is unlikely that they will be able to simply rely on Old Trafford throughout the remainder of the Europa League.
Follow me on Twitter @Andrew_Jordan