Why Washington Redskins Must Trade with Rams, Move Up to Draft Robert Griffin
February 23, 2012

Ronald Martinez/Getty Images
According to Adam Schefter of ESPN, the St. Louis Rams may be willing to trade out of the No. 2 overall position in the 2012 NFL Draft:
Multiple teams already have had preliminary discussions with St. Louis about the possibility of trading for the St. Louis Rams' second overall pick, according to league sources.
That being said, if there's one franchise with a top 10 draft pick that desperately needs a quarterback, it's the Washington Redskins.
Yes, other franchises like the Cleveland Browns, Miami Dolphins and Jacksonville Jaguars could each use Robert Griffin III as well. However, none need him more than the Redskins.
So before we get to Washington, let's quickly take a look at these franchises and see what we get.
Cleveland Browns
Colt McCoy certainly has not been overly impressive. But lest we forget, he has arguably the NFL's worst receiving corps and the Browns were mauled by key injuries in 2011. The running game was significantly underachieving, and other than linebacker D'Qwell Jackson, no one on the Browns' defense knew how to consistently stop the run.
Before the Browns' game against the Pittsburgh Steelers in Week 14, McCoy had over 2,500 passing yards with 14 touchdowns to just nine picks. Get the guy healthy and some legit receivers and Cleveland will be okay.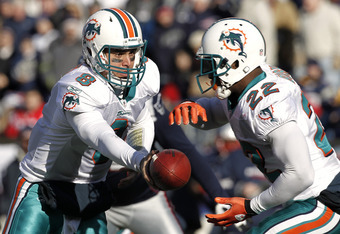 Winslow Townson/Getty Images
Miami Dolphins
Chad Henne appeared to be the answer after matching Tom Brady punch-for-punch against New England in Week 1. Then, not only did Henne under-perform thereafter, but his injury also paved way for Matt Moore.
Moore played well for the Dolphins by throwing 16 touchdowns to nine picks and a rating of 87.1. With developing talent around him along the offensive line, the rushing offense with Reggie Bush and tight end Anthony Fasano, it's only going to make Brandon Marshall that much more dangerous.
Include new head coach Joe Philbin, and, although RG3 certainly fits with Miami, the Dolphins aren't so desperate. If anything, expect them to check out free agency.
Jacksonville Jaguars
The Jacksonville Jaguars, if any of the three, need Griffin as much as Washington. They finished dead last in passing offense and Blaine Gabbert didn't look like the long-term answer.
Favoring Gabbert, however, is Jacksonville's lackluster receiving corps that, much like Cleveland, fails to consistently beat single coverage and mostly relies on running back Maurice Jones-Drew to carry the load, which MJD proved he's more than capable of doing.
Get Gabbert at least one decent receiving target and search free agency. If Gabbert disappoints, then put in the free agent because the Jaguars' defense will win them games as long as Jones-Drew controls the tempo.
Washington Redskins
The biggest question for Washington is whether to make a move for Matt Flynn or Peyton Manning during free agency. That is, if one or both become available.
And even if so, the Redskins are better off developing and molding a quarterback of their own from the start. Plus, Manning has health issues and will be 36 years old before 2012 begins. Meanwhile, Flynn has proven his value in just one game.
The concern there, however, was the Detroit Lions' abysmal pass defense in a meaningless Week 17 home game. As for making the move to snag the No. 2 spot, obviously the first part is swapping picks with the Rams.
So, we'll see St. Louis become the No. 6 pick and Washington move up to No. 2. Additionally, the Redskins will likely have to add in a receiver like Jabar Gaffney and/or Santana Moss.
That's at the very least, because the Rams may be interested in some of the Redskins' defensive studs like Brian Orakpo or DeAngelo Hall to boost their No. 22 ranked defense (which allowed 358.4 total yards per game).
Jeff Gross/Getty Images
Regardless, Griffin to Washington allows Mike Shanahan to develop what he had going with Jay Cutler in Denver. Back in 2006, Cutler sat behind Jake Plummer for most of the year but was the full-time starter in 2007.
After the 2008 season, Cutler set a Broncos franchise record with 4,526 passing yards. RG3 not only has that kind of potential, but also his accuracy and mobility is better than Cutler's while his arm strength is just as good.
Also, can we really expect Rex Grossman or John Beck to be the Redskins' go-to guy in 2012? Grossman is the better of the two and remains his usual inconsistent self.
Griffin didn't have much talent around him at Baylor (he made Kendall Wright into a potential first-rounder) and arguably had the worst defense in all of college football. Still, the Bears finished 10-3 and third in the Big 12, not to mention notching wins over Oklahoma, Texas and TCU.
Considering that Washington also has a second fourth-round pick—courtesy of the Oakland Raiders and Jason Campbell—in a cornerback-deep draft, refilling that role won't be nearly as difficult as finding a potential franchise quarterback.
Robert Griffin III can be that guy for the Redskins, and with their potential cap room, assisting him via free agency won't be too much of an issue either.
John Rozum on Twitter.