Philadelphia Eagles 2012 Mock Draft: Buying or Selling Drafttek's Latest Picks
Ezra Shaw/Getty Images

The Philadelphia Eagles enter the 2012 offseason in great position to really become a Super Bowl-caliber team. The Eagles could have anywhere from $12 million to $29 million in cap space heading into free agency depending on a few key factors. T
The Eagles also have 10 picks in the 2012 NFL Draft, including three in the first three rounds, and that number could go up if they decide to trade DeSean Jackson and/or Asante Samuel. They also could receive a second-round draft pick if another team tries to sign current restricted free agent Antonio Dixon.
The Eagles already have a good nucleus of young talent, but could use upgrades at linebacker, depth at the offensive line, an actual kickoff returner and a solid red zone target.
I'll take a look at Drafttek's latest mock draft and buy or sell every single Eagles' pick based on the value of the pick, the talent of the player and the need at that position.
Begin Slideshow

»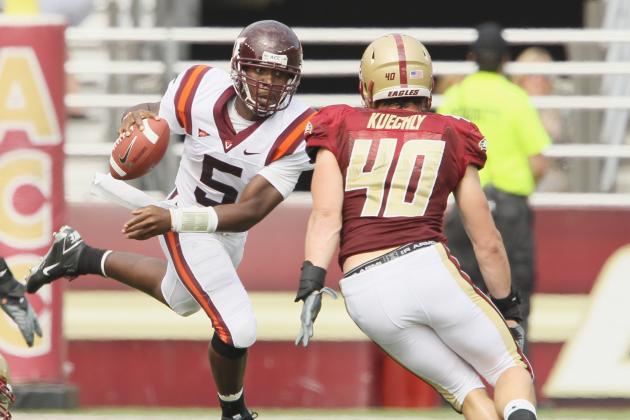 Elsa/Getty Images

Big surprise here, the Eagles are projected to take Luke Kuechly in just about every single mock draft right now.
Fletcher Cox, a defensive tackle out of Mississippi State was starting to gain some momentum as a potential choice, but the re-structuring of Cullen Jenkins probably rules out Cox at this point. Both players are very similar, and the Eagles are pretty set at defensive tackle now with Jenkins, Mike Patterson, Antonio Dixon and most likely either re-signing Derek Landri or Trevor Laws.
If you were to pick for the Eagles in a mock draft based solely on need, which most mockers do, Kuechly would make the most sense. Jamar Chaney and Casey Matthews both didn't cut it as starting middle linebackers last season. Kuechly is the best at the position, and despite being a little undersized, he was incredibly productive.
I like Kuechly and believe he will be a 10-year starter for somebody right away, but I can't buy this pick right now. I believe the Eagles will sign somebody in free agency to take over at middle linebacker. There are too many good free-agent middle linebackers this year to take on a rookie as your starter for a team that expects to go far in 2012.
In a loaded draft class that should have Mohamed Sanu, Melvin Ingram, Mike Adams, Mark Barron, Michael Floyd and possibly even Trent Richardson available at the Eagles' 15th overall pick, it would be crazy to just draft based only on need in the first round.
Until the Eagles strike out in free agency at middle linebacker, I would have to sell the drafting of Luke Kuechly with their 15th overall pick.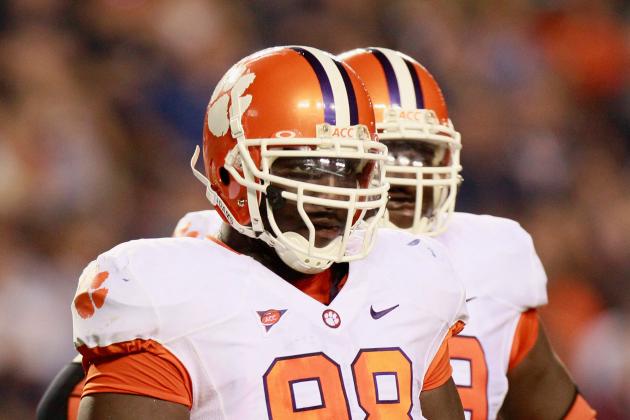 Kevin C. Cox/Getty Images

This would be one of those picks where you just can't pass up on a guy this talented in the middle of the second round. Brandon Thompson is a guy who would fit in well with Jim Washburn's attacking defensive line scheme with his very explosive burst off the snap and very strong upper body.
Thompson is a first-round talent who should go very late in the first round or very early in the second. His pass-rushing skills and strength should give one of the Eagles' defensive tackles a pink slip come training camp. The Eagles will probably be happy with Cullen Jenkins, Mike Patterson and Antonio Dixon, along with either Trevor Laws and Derek Landri, going into the draft, but I don't see how they could pass up on Thompson in the second round.
Thompson could team up with Jenkins in passing situations to form a very solid tackle duo in Washburn's rotation. You have to buy this pick when you get great value in the second round on a potential first-round talent.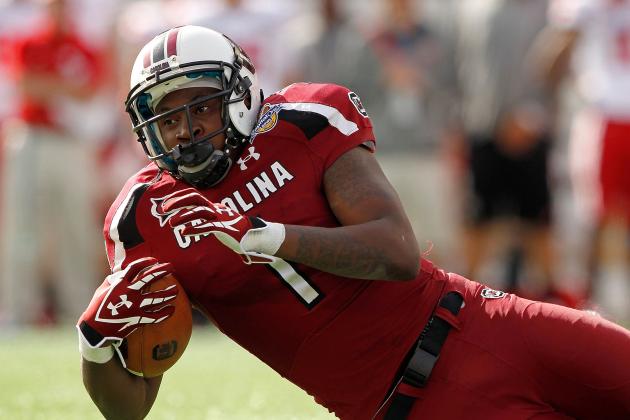 Mike Ehrmann/Getty Images

If the Eagles want to go after a player to be an immediate red zone target, they should look no further then Plaxico Burress. According to a recent report, Burress wants to play for Philadelphia next season. Burress isn't the same type of receiver he was with the Giants or Steelers, but he is one of the best red zone targets in the league.
Burress finished 2011 with eight touchdowns in his first season back from prison. He could be had for a incentive-laden two-year deal where he is mainly a role-player in the red zone. The Eagles could try and work out a deal for DeSean Jackson or try to sign someone else in a loaded wide receiver free-agent class.
Drafting a slow jump ball-type receiver like Alshon Jeffery doesn't make sense here. His production has gone down, and he basically is a younger but unproven version of Burress right now. There is too much talent in the second round, such as a Brandon Boykin or Vinny Curry.
I would sell this pick in a heartbeat and hope that the Eagles go for the best available player on the board who fits their scheme rather than taking a need-player who may not be ready to make a big impact in Year 1.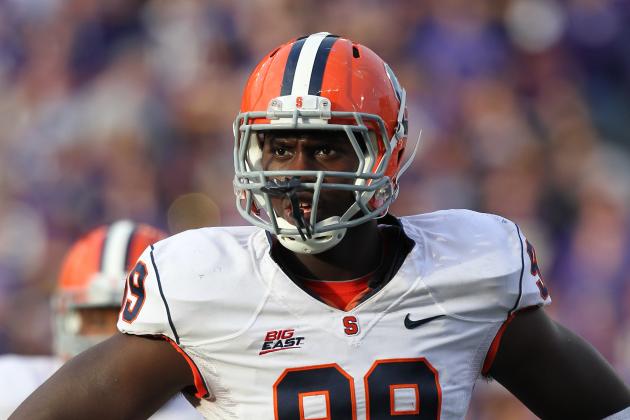 Otto Greule Jr/Getty Images

I would buy the selection of Chandler Jones in the third round on one exception: DeSean Jackson remains an Eagle in 2012.
If not, you have to take Joe Adams in the third round, maybe even the second round.
Adams is a very speedy receiver with similar punt return ability that Jackson has. Adams isn't as fast as Jackson, but he is more willing to catch passes over the middle and can break tackles with surprisingly good strength for a 175-pound receiver.
If Jackson is back, then this is a great pick. Jones is a long defensive lineman at 6'5" and has very quick burst off the line. And he doesn't rely on just speed to get past an offensive tackle; he can use his strength just as well as his athleticism.
Jackson could find a permanent spot in the Eagles' rotation with Brandon Graham at left end in 2013, making Jason Babin very expendable.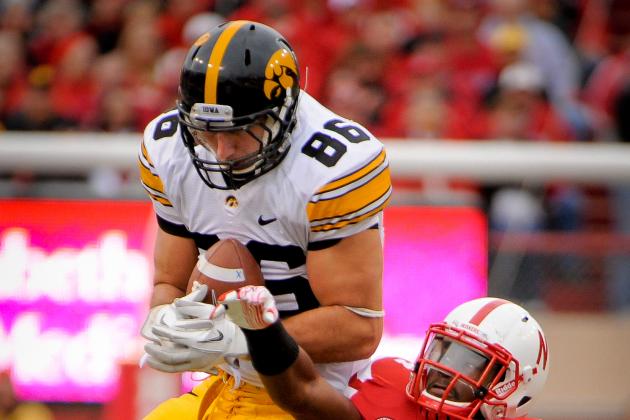 Eric Francis/Getty Images

Not a player the Eagles would expect to take in the draft, but in the fourth round, he would be hard to pass up. At 225 pounds, David doesn't have the size you would want in an every-down linebacker, but he has good potential as a weak-side linebacker in a 4-3 defense and some ability as a safety as well.
David could be a nickel linebacker for the Eagles early on and really challenge Brian Rolle for that weak-side linebacker spot. David is really solid in coverage, possesses good speed and is fluid with his hips. He could really up his draft stock with a good showing in the 40-yard dash and the agility drill at the combine.
David also plays with a great deal of intensity and drive that would be very welcomed by the fans in Philadelphia. Not an ideal pick in the first two rounds because of his lack of size, but he could be a steal in the fourth round.
I'd buy this pick and be really interested to see exactly how the Eagles would use David in their defense—weak-side linebacker, a nickel linebacker or even a hybrid safety.
Christian Petersen/Getty Images

It's probably a year too early to draft a developmental quarterback Andy Reid would envision to replace Michael Vick down the road. The draft class is weak at the position once you get past Ryan Tannehill, and Vick should give the Eagles at least three more good years if he can limit his mistakes in the red zone.
Nick Foles isn't an ideal fit for the Eagles' offense. His biggest strength is his size—not great arm strength. Foles' throwing motion is slow, and his decision-making is poor. He finished his college career at 15-18 as a starter and seemed to regress in 2011.
It would be ideal for the Eagles to wait another season before thinking about drafting the quarterback of the future. We need to see if Vick can learn how to take care of himself and stay healthy for a whole season. We also need to see if he can better manage games and limit his mistakes.
I would sell the pick of such a project quarterback like Nick Foles.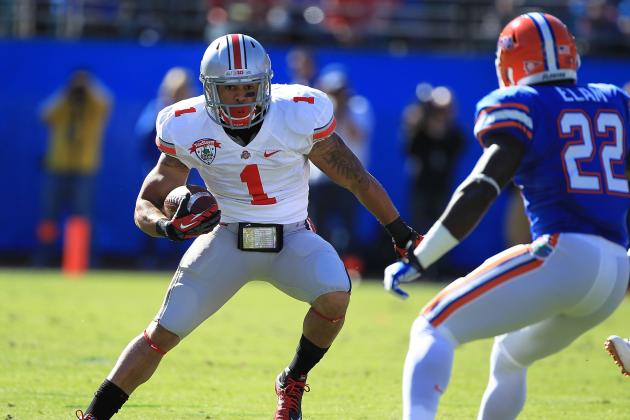 Scott Halleran/Getty Images

If the Eagles don't add a third running back in free agency, Dan Herron would be a good fit in the draft. He is a good receiver with a lot of room to grow as a back, and he is a very high character guy who works hard and was very productive at Ohio State.
He isn't the kick returner the Eagles need, but Herron does have some experience in that area. He has just one lost fumble in his college career while racking up more than 3,000 total yards in 40 career games at Ohio State.
According to Drafttek's mock draft, David Molk—a center out of Michigan—would still be on the board here. It would be hard to pass up on Molk since he compares very well to current starting Eagles center Jason Kelce. With some coaching up from Howard Mudd, the Eagles would feel very confident at center with a very capable backup behind Kelce.
Molk could develop into a very deserving starter by the time Kelce's rookie deal is over, giving the Eagles all the power in negotiations.
I still would like the pick of Dan Herron in the fifth round, but would rather see Molk being taken here if he is still available.
courtesy of newerascouting.com
The Eagles may have some depth at corner right now, but adding a player with some potential would be a smart move. Nnamdi Asomugha and Dominque Rodgers-Cromartie are the obvious starters. Asante Samuel will be shipped out, it's just a matter of when and what they get in return.
Joselio Hanson is the slot corner, while Brandon Hughes, Curtis Marsh and Trevard Lindley round out the depth chart. Lindley was drafted in the fourth round in 2010, but was cut last year in training camp. He was re-signed after the season and will really have to prove himself in camp to get a spot on the roster.
Marsh was the Eagles' third-round pick last year, and Hughes is a castoff from the Chargers and Giants who has shown some promise. The Eagles probably keep five corners this season, which means either Lindley, Hughes or someone like Micah Pellerin will round out the roster.
Pellerin is really raw right now and would need a year or two deep on the depth chart before he will be ready to make an impact. He is long at 6'0" and gets to his top speed very quickly.
I'd prefer the Eagles to draft a corner earlier, but I like Pellerin's potential, so I would buy this selection right now—especially if the coaches believe Marsh can make a bigger impact in 2012.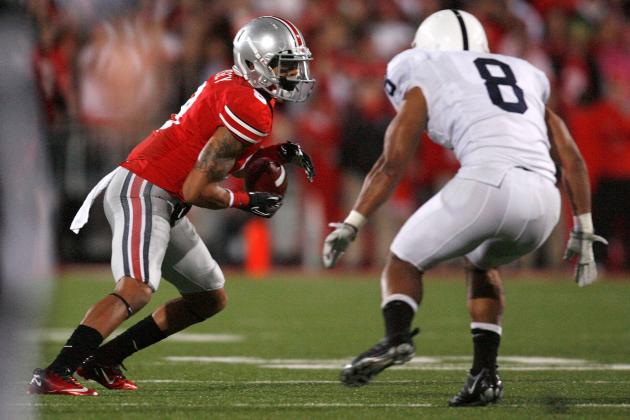 Kirk Irwin/Getty Images

D'Anton Lynn was a cornerback at Penn State, but most scouts view him as a safety at the next level. It's debatable right now whether or not he will be a late-round draft pick or even drafted at all. He will get a chance to make an NFL roster somewhere, though.
Lynn really hurt himself at the Senior Bowl, where he really struggled in coverage. He has good size at 6'0" and 208 pounds, with good speed for the free safety position, but if he doesn't show some growth in coverage at both the combine and his pro day, he could drop out of the draft altogether.
The Eagles don't need a safety of the future, just a capable backup for Nate Allen who can contribute on special teams. I have no doubt Lynn could do well in special teams, but he would be a major liability if something were to happen to Allen in 2012.
I would sell the Eagles taking a free safety here. They should be able to find a capable backup pretty cheap in free agency.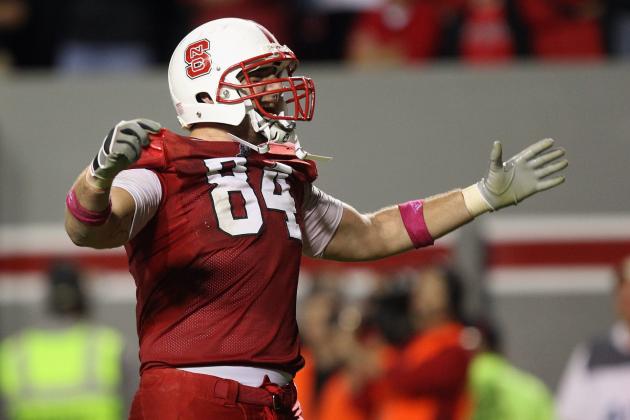 Streeter Lecka/Getty Images

Probably not a realistic pick for the Eagles, as Andy Reid hasn't shown much interest in block-first tight ends. Bryan does have some ability as a pass-catching tight end, but he doesn't posses enough speed or agility to get open at the next level on a consistent basis.
The Eagles are pretty set at tight end with Brent Celek and Clay Harbor, who are both capable receivers and have really grown as blockers as well. If the Eagles were to draft a tight end in 2012, it would be someone who can come in and make this offense really dynamic from Day 1, like an Orson Charles or a Ladarius Green.
I would sell Bryan at any point in the draft. He has undrafted free agent written all over him. He is a tough tight end with good size (6'5", 265 pounds) who could make an NFL roster, but his skill set won't jump out at anybody enough to spend a draft pick.