UFC 144: Anthony Pettis vs. Joe Lauzon Breakdown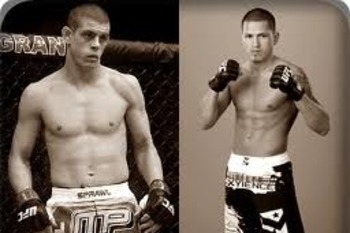 As the UFC makes its return to Japan at this Saturday's UFC 144, most of the attention has been focused on headliners Frankie Edgar and Benson Henderson, who will be battling for the lightweight crown.
However, another pair of exciting 155ers will be fighting for a chance to climb up the contenders' ladder as former WEC champion Anthony Pettis takes on surging submission ace Joe Lauzon.
Although both fighters are still a ways away from a shot at the title, a win in Japan will certainly solidify a spot among the best in the division.
Here's the head-to-toe breakdown for this early Fight of the Night candidate.
Begin Slideshow

»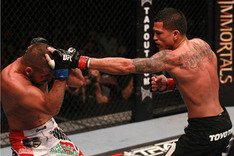 Image courtesy of UFC.com.
One of the most creative strikers in MMA today, Pettis possesses a wide array of attacks to baffle his opponents. An unorthodox kicker with good boxing, the former WEC champion can strike with anyone and will have a huge advantage against Lauzon on the feet.
Lauzon prefers going to the ground and will likely look to do the same against Pettis.
Advantage: Pettis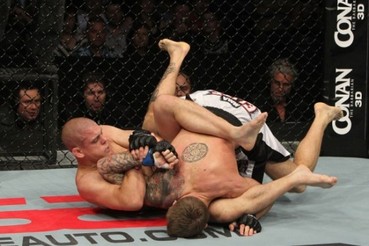 Image courtesy of UFC.com.
Grappling is Lauzon's domain as the Brazilian Jiu-Jitsu ace has an advantage against almost any lightweight on the ground.
Constantly attacking from his guard, Lauzon is a huge threat off his back as well.
Pettis also possesses a solid guard and is constantly looking to transition to a better position, but Lauzon's years of grappling experience gives him the edge.
Advantage: Lauzon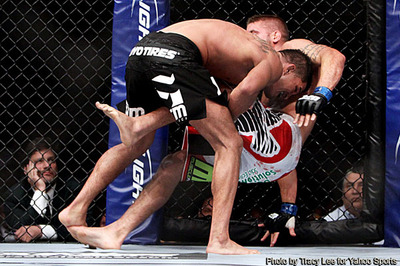 Image courtesy of Tracy Lee/Yahoo! Sports.
In terms of pure wrestling, Pettis has shown great improvement in this area since his loss to Clay Guida last year.
Returning to the Octagon to face Jeremy Stephens, Pettis was able to take him down repeatedly throughout the fight in order to take a split decision. This new wrestling game can be credited to Pettis' work with former Olympian and current Bellator champion Ben Askren.
Lauzon has great takedowns but prefers to work off his back to obtain the submission.
Because of the vast improvement in Pettis' game, he gets the edge.
Advantage: Pettis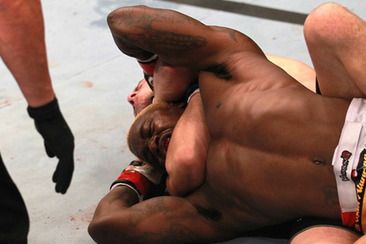 Image courtesy of MMAMania.com.
Lauzon is one of the slickest submission aces in the entire UFC.
With 17 of his 21 wins coming via submission, Lauzon has been on a tear lately, submitting Melvin Guillard and Curt Wartburton back-to-back in Submission of the Night performances.
Pettis is also a solid tap out artist, but Lauzon's long history of coming out victorious via submission gives him a huge advantage.
Advantage: Lauzon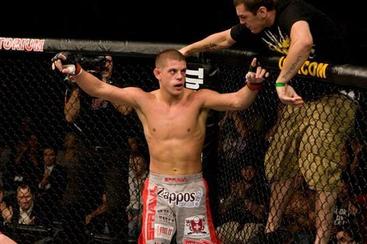 Image courtesy of MMAFrenzy.com.
Surprisingly, both Pettis and Lauzon have only gone to a decision a combined six times out of 43 total fights. Despite this, both are supremely conditioned athletes that can go the distance.
Pettis has a bit more experience than Lauzon in going all the way, being the only one out of the two to fight in a five-round title fight.
Strength wise, both are lanky fighters with a similar build, making it pretty even.
Advantage: Even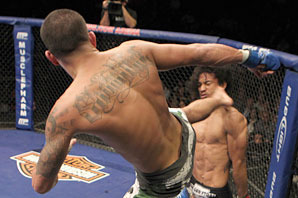 Image courtesy of Josh Hedges/WEC Productions LLC.
Pettis: For the former WEC champion, he will have to do whatever he can to keep the fight standing. Lauzon is a dangerous fighter off the ground, and although Pettis has never been submitted, this would not be a fight to take to the ground.
Having worked with Bellator champ Ben Askren to improve his wrestling, Pettis will need to have a solid takedown defense in this fight. If Pettis can utilize his creative attacks while avoiding the ground, he should be the likely victor.
Lauzon: If his past fights are any indication, Lauzon will look to get the fight to the mats so he can work his tricky submissions. Pettis will be a tough challenge as Lauzon doesn't have the same wrestling skills as a Clay Guida.
Even if Lauzon has to work off his back, that would be a better situation than trying to strike with Pettis.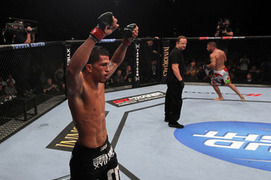 Two very different yet exciting styles will collide when Pettis and Lauzon enter the Octagon tomorrow night.
An avid striker, Pettis will definitely use some creative attacks and try to keep the fight standing. Conversely, Lauzon will want to go to the ground so he can show off his amazing submission skills.
This fight has all the makings for an exciting show as it will be a back-and-forth battle, especially on the ground.
In the end, though, Pettis' superior striking and ability to stuff Lauzon's takedowns will be the difference.
Prediction: Pettis via split decision (Fight of the Night).