Green Bay Packers: 3 Trading Chips in Thompson's Pocket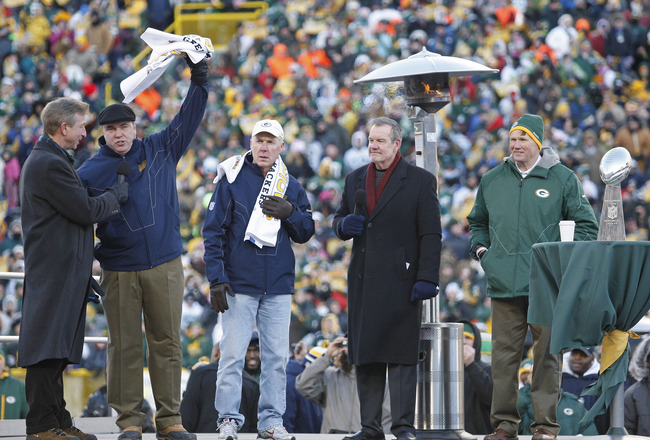 The Packers brass from left to right: HC Mike McCarthy, GM Ted Thompson and, far right, President Mark Muphy.
Matt Ludtke/Getty Images
In light of Jermichael Finley's recent signing for a two-year, $14 million deal, I began thinking through some reasonable trade chips the Packers may now have on a deep and talented roster heading into the NFL's free agent and draft period.
This story features one chip that could net the Packers a top pick, another current Packer who could net a second-to-fourth rounder and another that would land a late-rounder.
Check it out and share your thoughts.
Quarterback Matt Flynn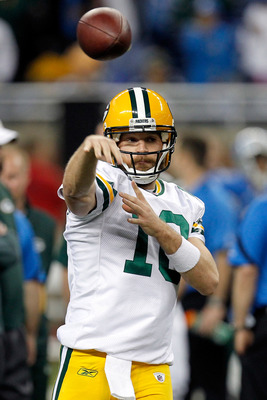 Gregory Shamus/Getty Images
Utilizing his highly-acclaimed quarterback school and background as a quarterbacks coach, Mike McCarthy has worked some magic with countless NFL quarterbacks over the years.
For the Packers, when Matt Flynn was picked in the seventh round it was a foregone conclusion that the second-round pick in the same draft, Brian Brohm, would be far more talented and eventually push Flynn to the margins of the NFL landscape.
Today after a few years of seasoning, tutelage and patience, Flynn is in prime position for a major payday and a chance to lead a franchise on his own out from the giant shadows No. 12 casts as the NFL's MVP.
As I wrote about in this article, Flynn could allow the Packers to trade up in the first round or add an outright early second-round pick much like the situation with Matt Cassel going from New England to Kansas City in 2009.
Note: Though it's a foregone conclusion, the Packers brass is adept enough to find a trading partner to work out a franchise tag or sign-and-trade, but we can't be sure this would happen. For now, Flynn is technically a free agent who would net the Packers a compensation pick if he left.
ILB A.J. Hawk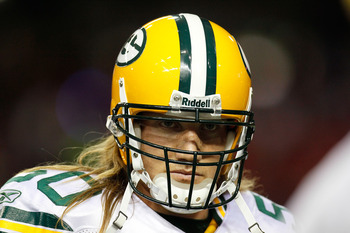 A.J. Hawk would bring reliability and leadership to team looking to rebound in 2012.
Kevin C. Cox/Getty Images
While Hawk surely hasn't lived up to the expectations of a sixth overall pick, he's also a great teammate, quarterbacking the defense who earned Thompson's trust enough to warrant a misguided extension.
In other words, Hawk's situation is complicated.
I think nearly all of Packer nation (including Thompson) must be thinking the team can improve at ILB after Hawk's let-down year in 2011.
The tough part is unloading Hawk's fairly large contract which means the Packers won't gain any where near an early-round pick by trading him.
Hawk could be seen as very valuable on a team that is rebuilding and in need of a positive veteran presence. In all honesty, Hawk's game isn't terrible either; it's just disappointing when you have a 15-1 roster like the Packers do.
Trading Hawk, even for a sixth-rounder, would be a win-win. Enabling younger guys to compete for the spot or possibly even allowing the Packers to take a top-tier ILB talent in the draft like Donta Hightower or Vontaze Burfict.
Playing alongside the hammer of Bishop, a hyper-athletic, strong ILB like Hightower or Burfict would be a great upgrade.
If not addressed in the draft, early signs suggest small school 2011 draftee D.J. Smith has potential as well.
The Gluttony of Receivers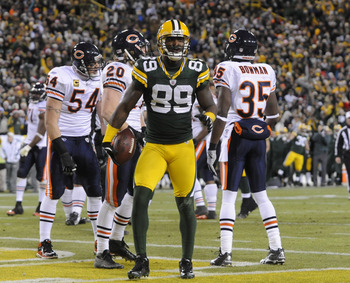 David Banks/Getty Images
While many of us (myself included) can't picture Donald Driver in another uniform, the time may come soon where the Packers either turn the page by releasing Driver for cap room or possibly even trading him.
I think the latter scenario is just about in the category of "never to happen" given the healthy relationship Driver has with everyone in the Packers franchise and the fanbase.
More likely, Driver restructures his contract to stay with the team as he can still contribute and still be a great locker room leader for the younger guys.
From there, the Packers still have a glut of talent at receiver.
While it's unlikely, since Thompson loves to stock up weapons for Aaron Rodgers and company to thrive, don't put it past Thompson to see this depth as an opportunity to improve through trade if the right situation came along.
Who would be the candidates?
I think the most likely trading chip would be James Jones. He's a proven receiver who could be another team's No. 2 receiver. For the Packers he's there third or fourth receiver, and if you think about it while including Finley as a top target, Jones is probably the fourth or fifth target.
For the Packers, replacing Jones wouldn't be impossible, either through the draft or by allowing fifth receiver Randall Cobb to play a more prominent role in his second season.
That leads us to Cobb.
Could Cobb be trade bait? Not likely since Thompson likes to keep his own, and he invests heavily in the draft. As a second-rounder with elite athleticism, a great head on his shoulders and rare play-making ability, expect Cobb to be on the team. Furthermore, his return abilities are off the charts, making his value to the team very high.
That said, if the right situation presented itself, the Packers fifth receiver (it seems hard to believe doesn't it?) could be another team's dream come true while netting the Packers a gain if they were so inclined.
My prediction: If anyone is trade bait on the WR corps, it's Jones. Jones would net a second-rounder I would think and isn't too expensive for another team to take on. Established WRs with Jones' play-making and underneath abilities aren't a dime a dozen.
Trade Chips and the Future of a Franchise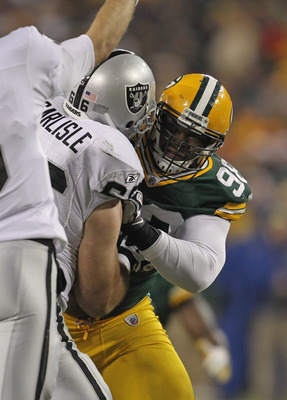 C.J. Wilson may be a fine player, but is he a 3-4 DL starter? Was the Packers roster balanced in 2011?
Jonathan Daniel/Getty Images
While all three of these trade chips possess talent most NFL teams would want on their roster, the Packers have to address the question of "what tough moves might make the overall team even better than they were in 2011?"
It's not often that a team feels a key starter is expendable, but in the Packers case, someone like Hawk might be the exception to that rule.
With that in mind, the Packers also can't have a fire sale just because they had one disappointing playoff game.
When a roster is talented and deep, the danger is overlooking how a position could look very thin due to one or two injuries in the rough-and-tumble NFL year.
The other danger is being too deep in one area and thin at another position, wasting the talent at the deep spot and being anemic at another.
In 2011, it could be argued the WRs were overstocked and the defensive line was understocked.
Another angle in this analysis: Thompson's history with trades.
Thompson has no history of trading established players and demonstrates an immense loyalty to his draft picks.
Thompson either lets his guys walk if he thinks they're overpriced in free agency or makes sure to secure his best for years to come.
However, one never knows when the pattern can break, and it's certain Thompson is well aware what his options are and how to best utilize those transaction options.
We should be in for some wild weeks coming up in Packerland with free agency here and the draft not too far away.
Keep Reading

Green Bay Packers: Like this team?