Ranking the 2012 All-Star Class with the NBA's Best of All Time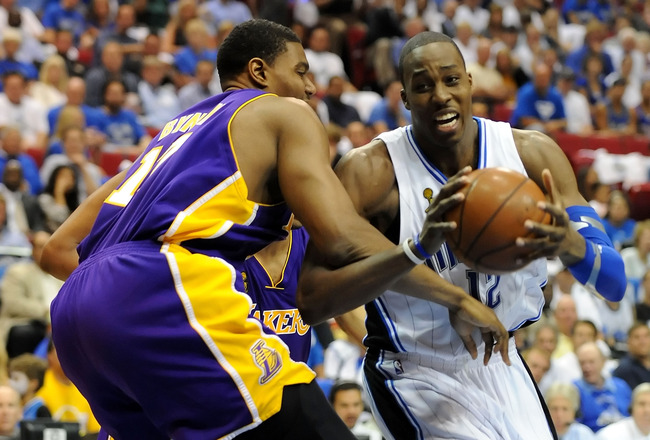 Ronald Martinez/Getty Images
The 2012 NBA All-Star Game is upon us, and with that comes the midway point of the season and a whole lot of speculation on potential trades and signings.
But there's something we tend to overlook when the annual winter break comes in the NBA.
The All-Star Game gives a snapshot of each season that we wouldn't normally have. It offers a clue of who is having a great season up to that point, which also signals who trailed off and who kept playing strong.
We get to see who the great players of that season were, who the breakout players were in the first half of each season and even who made an impact on the league who we wouldn't normally think would have that impact.
So what's the deal with this season's All-Star Game compared to the rest of them? This year, to me, is one of the top 10 All-Star classes of all time. We are hitting a point in basketball history where a talent boom is causing the league to thrive, kind of like in the mid-to-late '80s when Larry Bird and Magic Johnson were at their peak and Michael Jordan was starting to become dominant.
Let's take a quick look at this All-Star class in comparison to some of the best of all time.
10. 1982 or Eras Overlap
East Starters & Key Bench Players: Julius Erving, Larry Bird, Tiny Archibald, Isiah Thomas, Artis Gilmore; Robert Parish, Bob Lanier, Sidney Moncrief.
West Starters & Key Bench Players: George Gervin, Gus Williams, Kareem Abdul-Jabbar, Adrian Dantley, Lonnie Shelton; Jack Sikma, Magic Johnson, Moses Malone, Bernard King, Alex English.
I love the years that have overlap between eras—they happen a few times every six or seven years and usually make for a good look at players who were great either early or late in their careers.
1982 in particular saw Kareem at the midway point of his Laker years and Magic Johnson in just his third full season. It was Lakers guard Norm Nixon's best season, as he was averaging nearly as many points and assists as Magic in middle of the Lakers title run.
The West was punctuated by Moses Malone coming off the bench in a season that would become his second of three MVP campaigns.
The East rocked a starting lineup that provided entertainment galore. Everyone in the starting lineup from Bird to Thomas to Archibald could all lob passes to Dr. J.
Beyond that, it displays Sidney Moncrief in the year before the Defensive Player of the Year Award's creation, of which he would win the first two.
Bird went on to win the MVP Award for this game, scoring 12 of his 19 points in the final six minutes to lead the East over the West, 120-118.
9. 1996 or the Appearance of the Legendary Terrell Brandon
East Starters & Key Bench Players: Penny Hardaway, Shaquille O'Neal, Grant Hill, Scottie Pippen, Michael Jordan; Reggie Miller, Patrick Ewing, Glen Rice, Alonzo Mourning
West Starters & Key Bench Players: Hakeem Olajuwon, Charles Barkley, Shawn Kemp, Jason Kidd, Clyde Drexler; Gary Payton, Dikembe Mutombo, Karl Malone, John Stockton, David Robinson
In the late '90s we saw the NBA's talent pool thin out, as the players of the early '90s were either retiring (Michael Jordan) or, more likely, aging like milk (Hakeem Olajuwon). However, there was a year smack dab in the middle of that decade that featured the greats of the early years and a few choice players of the next generation.
Even better about the mid-'90s, there always seemed to be one player who made the All-Star Game that made you look and just think, "Huh?" This year it was Terrell Brandon.
The East was loaded with teammates this season, as it was the final year for Shaq and Penny in Orlando and the first full year back fro Michael and Scottie in Chicago.
The West had probably the best display of big men of the decade with Olajuwon, Barkley, Kemp, Mutombo, Malone and Robinson.
Somehow, the East was able to overcome the height disadvantage and win the game. Jordan ended up winning the MVP Award, although he didn't play in the fourth quarter and was outplayed by Shaq in the game.
Along with that, it was the year of the worst jerseys of all time.
8. 2012 or No Reason to Be Upset with a Short Season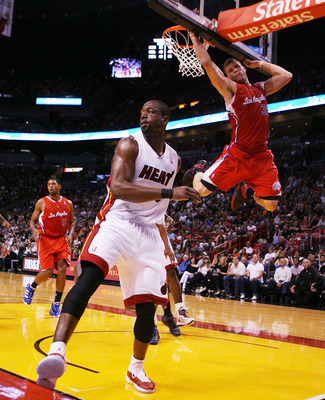 Marc Serota/Getty Images
East Starters & Key Bench Players: LeBron James, Carmelo Anthony, Dwight Howard, Derrick Rose, Dwyane Wade; Chris Bosh, Deron Williams, Paul Pierce, Andre Iguodala, Rajon Rondo
West Starters & Key Bench Players: Kevin Durant, Blake Griffin, Andrew Bynum, Kobe Bryant, Chris Paul; Kevin Love, Russell Westbrook, Dirk Nowitzki, Steve Nash, LaMarcus Aldridge.
It would seem that a shortened season would make for a skewed sample size in the All-Star game. In this particular season, however, it seem like the rosters have worked out pretty well.
The starting lineups for this year's All-Star Game display, legitimately, eight of the 10 best players in the league. Usually there is at least a player or two that sneaks in who wouldn't be considered one of the top 20 or so players, but this year it has been pretty accurate.
The benches are displaying the transition between eras yet again, with Rajon Rondo and Paul Pierce playing on the East and Dirk and Nash alongside Aldridge and Westbrook for the West.
This year looks like it's going to be a great game.
7. 1977 or Too Much to Even Imagine
East Starters & Key Bench Players: Bob McAdoo, Julius Erving, George McGinnis, Pete Maravich, Doug Collins; Earl Monroe, George Gervin, John Havlicek.
West Starters & Key Bench Players: Paul Westphal, Norm Van Lier, David Thompson, Bobby Jones, Dan Issel; Rick Barry, Kareem Abdul-Jabbar
This was a year that featured a West team that turned out to be a lot stronger than it looked. Westphal was just starting to peak, Thompson was having a stellar NBA debut season, Van Lier was being his normal balanced self, Jones was having one of his best years and you know Issel was having a special season to get voted as a starter over Kareem.
However, the real draw of this game was the East's team. With The Pistol and Dr. J in the starting lineup alongside McGinnis and McAdoo, one can only imagine what went on in this game. Plus, they had Earl the Pearl passing to the Iceman off the bench and the second-to-last All-Star Game for the ageless Havlicek.
What's interesting, however, is that the West won this game after Westphal scored twice in the waning minutes, putting them on top, 125-124.
This year was the first All-Star Game following the NBA-ABA merger, and it led to the infamous Dr. J dunk on Kareem that you can watch in the video above.
6. 1988 or Michael Jordan's Explosion
East Starters & Key Bench Players: Larry Bird, Dominique Wilkins, Michael Jordan, Isiah Thomas, Moses Malone; Patrick Ewing, Charles Barkley, Kevin McHale
West Starters & Key Bench Players: Magic Johnson, Karl Malone, Fat Lever, Hakeem Olajuwon, Alex English; Clyde Drexler, Kareem Abdul-Jabbar, James Worthy
After a disappointing game the previous season, Michael Jordan took it upon himself to win the game for the East this year. His Airness put up 40 points (16 of which came in the final six minutes) and grabbed eight boards on the way to a 138-133 East win in Chicago.
This year also saw Kareem pass Oscar Robertson as the all-time leading scorer in All-Star Game history with 247 points.
This was a display of players who revolutionized the past decade (Bird, Thomas, Moses Malone, Johnson, English, Kareem) and the stars of the decade to come (Jordan, Ewing, Barkley, Karl Malone, Olajuwon, Drexler).
5. 1992 or Magic Puts on a Show
East Starters & Key Bench Players: Michael Jordan, Isiah Thomas, Charles Barkley, Scottie Pippen, Patrick Ewing; Dennis Rodman, Joe Dumars, Mark Price.
West Starters & Key Bench Players: Magic Johnson, Clyde Drexler, Chris Mullin, Karl Malone, David Robinson; Tim Hardaway, Hakeem Olajuwon, John Stockton, Dikembe Mutombo.
This year the All-Star Game was more than a spectacle—it was a moment that transcended basketball. Every once in a while, you'll see an old player come out and play like he did at his peak or a young guy step up and win a big game for his team, but this was so much more.
Magic Johnson had retired before this season started, but the Lakers left him on their roster so he could be voted into the All-Star Game. What did Magic do after not playing a single game all season long? He scored 25 points and dished out nine dimes.
The game included one of the most memorable endings to a 40-point blowout ever. Okay, maybe it was the only memorable ending to a 40-point blowout. Magic stopped both Isiah Thomas and Michael Jordan from scoring, then he went up against them on the other end of the floor before hitting a three pointer over the both of them.
You can't make this stuff up.
4. 1972 or the Most Balanced All-Star Game Ever
East Starters & Key Bench Players: Dave Cowens, Walt Frazier, John Havlicek, Billy Cunningham, Lou Hudson, Dave DeBusschere, Jo Jo White, Wes Unseld
West Starters & Key Bench Players: Jerry West, Spencer Haywood, Kareem Abdul-Jabbar, Bob Love, Gail Goodrich, Oscar Robertson, Wilt Chamberlain, Connie Hawkins.
These rosters were real teams in every sense of the word.
The East had a group of hard workers (which is code for guys from the Celtics) and key players who knew what role to fill coming off the bench.
In the West, there was a great balance of grizzled vets (West, Robertson, Chamberlain), peaking players (Love, Hawkins Goodrich) and great young players (Kareem, Haywood).
Both teams combined had 15 players in double figures with Frazier and Havlicek leading the game with just 15 points. 17 players scored eight points or more and in a time where assists were harder to come by, each side dished out at least 60.
The West won the game 112-110 with a balanced attack and Jerry West's unforgettable game-winner at the top of the key.
3. 2011 or a Near-Perfect Year
East Starters & Key Bench Players: LeBron James, Derrick Rose, Amar'e Stoudemire, Dwight Howard, Dwyane Wade; Rajon Rondo, Ray Allen, Paul Pierce, Chris Bosh
West Starters & Key Bench Players: Kevin Durant, Kobe Bryant, Chris Paul, Carmelo Anthony, Tim Duncan; Pau Gasol, Blake Griffin, Kevin Love, Dirk Nowitzki
Last year's All-Star Game was nearly as good as it gets, but not quite.
The voting was nearly perfect, and the reserves selected were all the right players with perhaps the exception of LaMarcus Aldridge.
The guys on the far side of the country ended up winning the game in a thriller, 148-143, as Kobe Bryant put up a game that rivaled Michael Jordan's 1988 performance with 37 points and 14 rebounds, 10 of which were offensive.
Meanwhile, Durant threw up 34 points and LeBron doled out one of his patented triple-doubles.
This team featured Love, Griffin and Westbrook in their breakout seasons along with roughly 14 players either in their peak or at one end of it. What a year.
2. 1962 or Wilt and Oscar in Their Seasons to Remember
East Starters & Key Bench Players: Wilt Chamberlain, Bob Cousy, Richie Guerin, Tom Heinsohn, Dolph Schayes; Bill Russell, Hal Greer, Paul Arizin
West Starters & Key Bench Players: Elgin Baylor, Oscar Robertson, Bob Pettit, Jerry West, Walt Bellamy; Cliff Hagan, Jack Twyman.
I'm not sure how much more you need to mention about this team besides that they had Wilt Chamberlain, Oscar Robertson and Bill Russell.
This, of course, was the year that Chamberlain famously averaged 50 points per game and Oscar averaged a triple-double. However, neither of them took home any kind of trophy at the end of the year, as Bill Russell was the one to win the MVP Award that season.
It's interesting to look back and truly see who the league thought was more valuable to their team at that time. It speaks loads to what Russell did for the Celtics if he was able to beat out two of the greatest seasons in NBA history.
This game featured quite a bit of back-and-forth between Pettit (25 points, 27 rebounds) and Chamberlain (42 points, 24 rebounds), but the West pulled out the game and Pettit went home the MVP.
1. 1987 or MJ, Bird and Magic Get Down
East Starters & Key Bench Players: Moses Malone, Larry Bird, Julius Erving, Michael Jordan, Dominique Wilkins; Kevin McHale, Charles Barkley, Bill Laimbeer, Robert Parish.
West Starters & Key Bench Players: Magic Johnson, Tom Chambers, Hakeem Olajuwon, James Worthy, Alvin Robertson; Kareem Abdul-Jabbar, Mark Aguirre, Alex English
What a year this was. Players were emerging as superstars left-and-right, and the guys playing in the game actually cared about it. What a concept.
Michael Jordan was in the midst of the season that would define the early part of his career (the 37 point per game bender) and Magic Johnson was having his best season statistically in what would become the first of his three MVP seasons.
Larry Bird was having a season with LeBron James-like numbers (28 point, nine rebound, seven assist averages) and Steve Nash shooting percentages (53 from the field, 40 percent for three and 91 from the line).
Aside from that, Dominique Wilkins was in the apex of his peak, as were Aguirre, Chambers, Rolando Blackman, McHale, Thomas, Laimbeer and Parish.
The best part about the game? It totally lived up to expectations, ending with an unforgettable overtime finish for the West.
Actually, my favorite part about it has to be that with all of these huge names, Tom Chambers took home the MVP. Major Tom put up 34 points to overshadow the array of superstars he was playing with.
Plus, this was the year of one of the best dunk contests of all time (Jordan v. The Field) and Larry Bird's second straight Three-Point Contest win.
What a weekend to be in Seattle.
If you are one of those twitterers, you can follow me @JDorsey33.
Keep Reading