Lakers Trade Speculation: Does Metta World Peace Have Any Trade Value Left?
February 23, 2012

Harry How/Getty Images
To call Metta World Peace's play for the Los Angeles Lakers this season underwhelming would be an understatement.
Peace, who is making nearly $7 million this season, has been unable to find his touch on the offensive end of the floor regardless of his role.
The veteran is posting career-low numbers in shooting percentage (33 percent), three-point percentage (21.2), rebounds (2.8), steals (0.8) and points (4.8) in just under 23 minutes per game.
After a failed experiment as the sixth man, World Peace hasn't been able to put his early-season struggles behind him and remains a major reason as to why Los Angeles has endured inconsistent production from its small forward position.
In the middle of a five-year deal, the player formerly known as Ron Artest is owed more than $14 million over the next two seasons through 2013-14.
Does he hold any trade value? Please. His lucrative deal prevents that as a realistic possibility.
He's not playing the style of defense that garnered him a reputation as a lockdown defender, nor is he contributing at the offensive end of the floor.
World Peace is making terrible decisions with the ball in his hands, is taking ill-advised jumpers and continues to chuck up three-point attempts despite sinking just 14-of-66 this season.
Some would argue that he'd benefit from being more aggressive in putting the ball on the floor and attacking the rim, but he's converting at an embarrassingly-low 51.1 percent clip.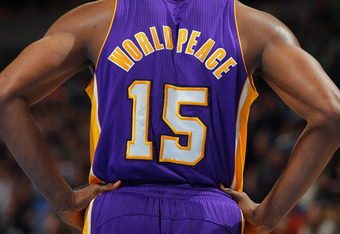 Doug Pensinger/Getty Images
In other words, that's just 1.8 percent higher than Dwight Howard. Yikes.
Since his insertion into the starting lineup, the Lakers have amassed a respectable 9-4 record, but World Peace has played in more than 30 minutes just three times.
Despite the favorable record, World Peace's scoring (4.0 ppg), field-goal percentage (32.7) and free-throw percentage (35.7) are all down while he's been a member of the starting five.
Scoring in double-digits just three times since the beginning of 2012, there has been mounting frustration among the fanbase about when World Peace might turn the corner.
But this isn't a new trend.
His offense began to slide during the 2010-11 season, and it's gone even further south during the 2011-12 campaign.
After being a critical component to the championship run during the 2009-10 season, World Peace just hasn't been the same player for Los Angeles over the last year and a half.
Los Angeles could look to explore the market for World Peace, but the team would find that there is just no interest in a declining 31-year-old forward who isn't playing up to par considering what he's being paid.
It's tough to blame the other 29 teams. The value just isn't there.