Anaheim Ducks
NHL Rumors: Teemu Selanne Shows Enormous Loyalty with Ducks' Recommitment

Bruce Bennett/Getty Images
February 23, 2012
It doesn't happen often, but Teemu Selanne's recent comments prove athletes can put loyalty above all other criteria when deciding where they would like to play. 
It was inconceivable just weeks ago, but the Anaheim Ducks may see Monday's trade deadline come and go with famed winger and long-time star Teemu Selanne staying with the club. 
The reason is as simple as wins and as sappy as hope. Selanne has confidence that the Ducks can close in on a playoff spot, something that just wasn't possible a few weeks back. 
Eric Stephens of the OC Register writes that times have changed and so has the status of the 41-year-old winger Selanne.
Several contending teams and their fan bases relish the idea of adding a future Hall of Famer with 657 goals on his resume but Selanne told the Register on Wednesday that he is not thinking about waiving his no-trade clause to seek a deal.
The end is near for Selanne and nobody would fault him for one last playoff push for Stanley Cup glory. There would be a few teams that would jump at the chance for the talent and experience Selanne still brings that would be invaluable in the postseason.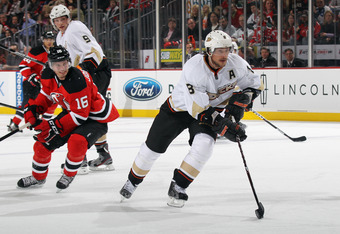 Bruce Bennett/Getty Images
Instead, the Ducks have gone on a remarkable streak of success and have seen their stock rise to a playoff contender, sitting just six points shy of the current eighth seed and neighbors the LA Kings.
It's all due to a string of fortuitous finishes as the Ducks have gone 12-6 over the last month-and-a-half, and in doing so, have made the postseason something they can now target.
The momentum has not been lost on Selanne who has spent 13 of his 18 NHL seasons in Anaheim. He tells the OC Register the following about a potential trade. 
We haven't even talked about that. There's good things going here right now. We all really believe we can make it to the playoffs. It hasn't been on my mind at all. 
Good fortune will yield a fine ending to the Ducks' season. Even without a playoff berth, they will fight to the bitter end with their leader, and that is the only fitting way for Selanne and the Ducks to end the season. 
Sometimes there are more important things than chasing championship glory. Selanne is at home. 
Like the new article format? Send us feedback!